In 1996 a group of people living in Kensington and Chelsea decided to help people sleeping rough in shop doorways on the King's Road.
Today, their legacy is Glass Door, a charity providing night shelter in west London's churches for the a rising number of people experiencing homelessness.
Together, the church network acts as the largest emergency shelter in the capital.
Melissa Kerschen, Glassdoor's communications manager, also provides a friendly face to the people who find themselves in need of support.
At the charity's King's Road headquarters in Chelsea Methodist Church, she explained: "In the early days we always used to say that we hoped we wouldn't exist in five years time.
"We had a plan in place and were hopeful that there would be an end in sight, but unfortunately that hasn't been the case."
Throughout 22 of the coldest weeks in winter, from November to April, Glass Door's churches offer shelter to people who otherwise would find themselves without a bed for the night.
This year, Melissa and her team expect to provide shelter for a 500 or more – the highest number in their history.
The charity does not proselytise and has an open door policy – but limited space coupled with a steep rise in homelessness means the number of people needing help is much higher than the space available.
Last year, only six of every 10 people on their waiting list for shelter eventually found a place, with some having to wait up to two weeks before a place opened up.
The accommodation provided may be basic – a sleeping bag and pillow on the floor, an evening meal and breakfast the next day – but the support is invaluable.
In the kitchen, volunteers prepare supermarket-donated food including fresh fruit and vegetables.
In the courtyard a man with a trimmer is offering his services to give anyone a quick cut or shave.
Downstairs, washing machines and tumble dryers are on cycle as tea and coffee is served.
There are many reasons why people find themselves homeless but the biggest misconception, says Melissa, is that it is through some fault of their own.
More than ever, the charity is helping people struggling to keep apace with London's escalating housing market and its exorbitantly expensive, insecure tenancies.
"The numbers definitely bear out the fact that homelessness in London has worsened," explains Melissa, "in the past ten years the number has tripled."
Last year, 8,100 people were recorded as sleeping rough for at least one night in London, according to the charity Trust for London.
Glass Door began life 20 years ago in Kensington and Chelsea, and expanded across Hammersmith and Fulham.
Last year, growing demand led them to open shelters in Wandsworth and there are plans to grow further south.
Melissa says: "The number of people turning to their local council saying my short term lease has ended, my landlord is hiking up the rent and I can't afford it anymore, has shot off the roof.
"It's never been so clear that there are just regular people struggling through no fault of their own who are unable to maintain their tenancy."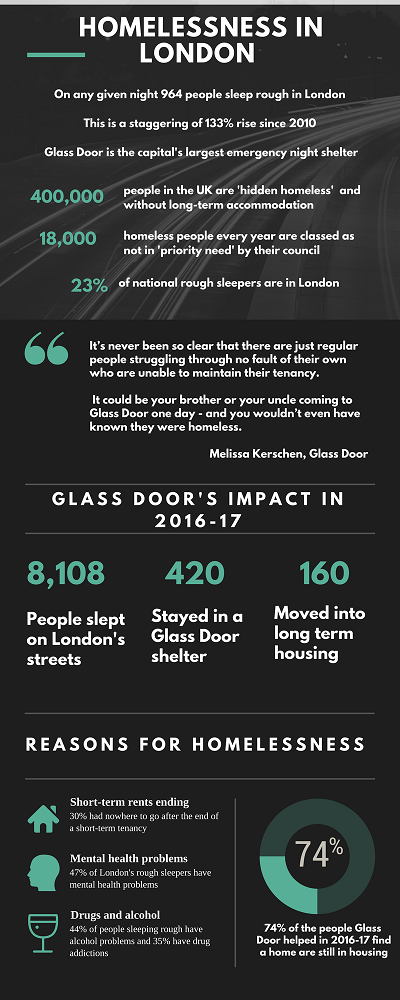 The people bedding down for the night include those struggling on zero hours contracts, people whose businesses have collapsed and women fleeing domestic abuse.
Mental health issues and relationship breakdowns are other common stories.
The charity says that 74% of the people they helped get into housing from October 2016 to October 2017 are still in accommodation a year later.
But it is unlikely the problem can be fixed quickly, even in this affluent borough.
Only about 50% of the people who arrive at Glass Door looking for shelter are classed as 'verified' rough sleepers.
The rest are people who have been staying with friends, 'couch-surfing' and trying to sleep on night-buses, often keeping their predicament a secret from family and friends.
And many are not eligible for government support, becoming what has been labelled London's 'hidden homeless'.
The Housing Act, 1996, made it the statutory duty of housing authorities to help people who are homeless – with emphasis placed on moving "priority need" people into permanent housing.
Groups classed as "priority need" include families with children, pregnant women and young people who have recently left the care system.
According to Thames Reach, which collects statistics on rough sleeping in the capital, the onus is often on the individual to prove that they need priority help from the council which then completes an assessment.
Many inevitably fall through the cracks, struggling with providing evidence that they are in danger, or suffering violence.
This winter, Glass Door is appealing for cash donations to help support its guests.
But Melissa admits that a long-term solution is unlikely to come soon.
"It all comes back to housing – and the lack of it in London.
"The stock of affordable housing is the underlying issue. We're not going to get to the bottom of it all unless we can solve it.
"It could be your brother or your uncle coming to Glass Door one day – and you wouldn't even have known they were homeless."
Glass Door regularly publishes a list of food, clothing and other items they need, as well as seeking cash donations.
If you would like to donate or volunteer at one of their shelters, visit www.glassdoor.org.uk