Popular Kingston fisherman revealed how he has acquired a newfound sense of purpose after losing his houseboat and possessions on the River Thames last month.
Warwick Salzer, 40, had lived on the Thames for 18 years when his houseboat partially sank spilling diesel and contaminating the river on November 24.
Since the incident, Mr Salzer has been living with friends and relying on the kindness of strangers to help him return to normality.
Reflecting on what happened, he said: "It has been one of the best things that has ever happened to me.
"Out of something so tragic, it taught me the only things you can leave this world with are your memories, your experiences, what you've seen in life. And your tattoos."
He added: "It has shown me how to live my life and how to love my life more than I ever have.
"I had nothing in the beginning, and I have most of it left.
"I've got nothing to lose and the world at my feet."
Mr Salzer confirmed the issues that caused the boat to sink, starting with wet wood which weighed it down enough to let water to seep into a tiny hole in its hull, meaning the boat's outer seal started to leak, and ultimately causing the exhaust pipe to spil fuel.
He said: "Once the exhaust pipe went, it was game over.
"I lost everything in my life in less than five minutes."
After what he went through, Mr Salzer expressed a desire to make a positive impact in the community after being inspired by those who helped him.
He said: "It has made me want to be a better person.
"I want to change lives on a daily basis."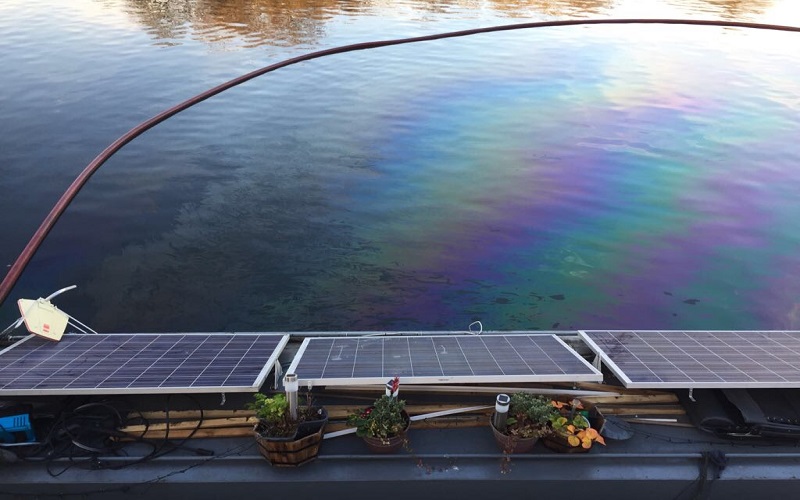 Mr Salzer explained how the local community had rallied around to help and how it had restored his faith in humanity.
He revealed people who didn't even know him were donating clothes to keep him warm in the run up to Christmas.
He said: "The memories I am going to have will be of the people who came down to help me."
A JustGiving crowdfunding page, "to help restore Warwick's sunken houseboat and get his life back together", was set up by Toby MacGregor.
On the page, Mr MacGregor explained how the local boating community had come together to source various pumps and ratchet straps which enabled them to raise the 38 ft narrowboat out of the water, but sadly all of Mr Salzer's possessions were damaged, including his ID and documents.
Mr Macgregor said: "Warwick is a popular character on the river and is well-known for taking people out for fishing trips, he also does balloon sculpture and is a children's entertainer.
"He has brought joy to many peoples' lives and it is saddening to see the sinking of this boat turn his life upside down.
"With your help we can help him put his life back together before Christmas."
Commenting on the page, supporter Thomas Finney also said: "Hope to get your boat up and going again in time to catch some beasts."
Fellow donor Emmaline Burgoyne wrote: "Best of luck, you'll get through this. Absolute legend."
And Katarina Lukackova, who gave £50, said: "Make sure you can rock your boat again."