Kensington and Chelsea, Hammersmith & Fulham, and Wandsworth again hold three of the top ten places nationally in an annual survey of 'profit' from council parking operations.
The surplus revenue generated by council parking operations in England has reached a record high of £756 million in the 2015-16 financial year according to research findings released this month.
London boroughs appear 13 times in the top 20 largest surpluses making £332 million between them – 44% of the English total – even though London only has 10% of the total cars in England.
Steve Gooding, director of the RAC Foundation which analyses data from statutory returns that councils make to the Department for Communities and Local Government (DCLG), said: "These numbers might seem eye-wateringly large, but in part they reflect the growing competition for space in many of our towns.
"The good news is that any profit generated by councils from on-street parking must by law be spent on transport-related activities, and as every motorist knows there's no shortage of work that needs doing."
'Profit', or surplus, is calculated by taking income from parking charges and penalty notices and then deducting running costs.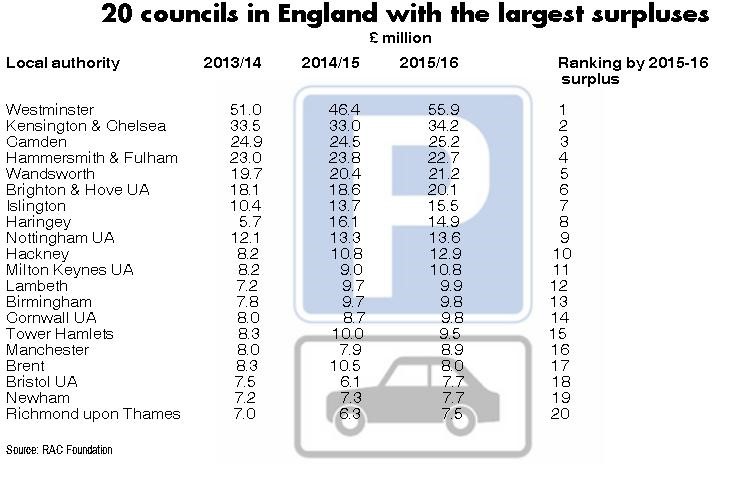 Kensington and Chelsea has again ranked second only to Westminster for its parking surplus.
A Kensington and Chelsea Council spokesman said: "It is no surprise to see us featuring towards the top of this league table.
"There is a greater demand for parking spaces in Kensington and Chelsea than practically anywhere else in the country."
Local Government Association transport spokesman Cllr Judith Blake stressed that councils do not make a profit from parking.
She said: "Income from on-street parking charges is spent on running parking services and surpluses are spent on essential transport projects, such as tackling the £12 billion roads repair backlog, creating new parking spaces and providing subsidised bus travel for children or elderly residents."
Local authorities are required to submit details of their finances to the Department of Communities and Local Government (DCLG) each year in a standard format.
Under the Transparency Code 2015 councils in England are required to publish on their websites annual parking reports which explain what their parking policies are, income and expenditure and how surpluses are used.
London Assembly Member Caroline Pidgeon has called for greater transparency still.
She said: "Councils should provide firm evidence that they are properly using every penny they raise from parking charges for transport projects."
According to the RAC Foundation, many councils are not yet following the code and the data they publish does not necessarily agree with the return made to the DCLG.
Wandsworth is one of the better authorities when it comes to providing their parking report in a way that is easy to find and that can be clearly understood.

Chair of the Transport Committee of the London Assembly Ms Pidgeon added: "In London it is vital that far more money is spent on transport infrastructure, from improving road surfaces to increasing electric charging points and increasing space on trains and tubes.
"With revenues rising from parking charges, alongside it there must be an increase in transport investment."