A Banksy-esque painting in Battersea that was discovered yesterday has proven to be an illustration on a sticker by an unknown artist.
The design on Chesney Street portrayed Alex Salmond as William Wallace, both figureheads in the fight for Scottish independence, complete with the iconic blue face-paint.
Portraying Scotland's First Minister as a warrior is a political satire worthy of the enigmatic Banksy.
The caption 'Och aye the no' accompanied the image, predicting the referendum result that was finalised in the early hours of this morning.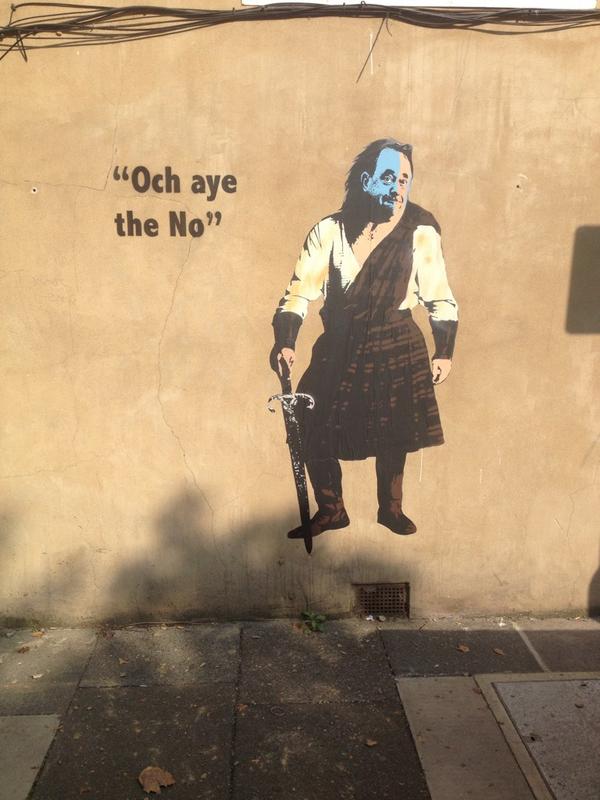 The sticker initially caused a stir but clearly showed peeling at the corners and an uneven surface, revealing it wasn't a classic stencil in true Banksy style.
If the painting had proven to be genuine it would have been the first Banksy in London south of the river and would have been very valuable.
A recent artwork by Banksy, 'Mobile Lovers'  sold for more than £400,000 after it was daubed near the Broad Plain Boys Club in April.
A row ensued over ownership between the boys club and Bristol City Council, with Banksy intervening on behalf of the youth club to allow them to keep the profits of the sale and secure their future.
The elusive Bristolian graffiti artist often has copycat works credited to him, most famously a caricature of Max Clifford with his pants down exclaiming 'I can make you famous!' after the PR guru's arrest on sex charges.