A former Olympic rower has recorded "off the scale" water pollution in west London since he started testing in the Thames seven weeks ago.
Adam Freeman-Pask, 38, who became Fulham Reach Boat Club CEO last July, found water pollution levels near Hammersmith Bridge consistently exceeded the range allowed by the European testing kits he used.
The boat club, which aims to increase access to rowing for children who would not usually have access to the sport, originally tested the water with kits a European environmental charity FreshWater Watch gave them and works with 12 schools in the area to conduct this research.
But the club, which celebrates its ninth year on 24 October, had to invest in new kits as pollution levels were so high.
He said: "We are significantly over the scale for what would be normal testing measures in Europe."
The European kits ranged between 0-10 parts per million (ppm) for nitrate and 0-1ppm for phosphate and the new kits have recorded nitrate and phosphate levels consistently between 50ppm and 100ppm.
Safe drinking water levels for nitrate and phosphate are 10ppm and 40ppm respectively.
Freeman-Pask, who studied Environmental Engineering at Imperial College and rowed at the London 2012 Olympics, started testing when he became CEO as he found national data unreliable, noting the national river health check will be delayed by 6 years.
He also believes water companies are failing to keep the river clean.
Freeman-Pask said: "Policymakers, water companies, central government, local government isn't taking this seriously enough in our opinion.
"So we were like: let's collect our own data on this and keep tracking it.
"We wouldn't be taking all our household rubbish dumping in the park, so why would we pump our toilets out into the river?"
The club also litter picks on the banks at low tide and want to expand their water testing and treating, with plans to install a rubbish collector on their site which will gather waste flowing down the river.
Other sports groups using the Thames were dissatisfied with the river's cleanliness.
Stephen Hargrave, head of racing at Putney Bridge Canoe Club, said: "I've only been here the last four years and I think I can say it's actually got worse since I've been here.
"When I got here, I wasn't impressed by the standard of cleanliness of this river, and prior to London, I was living in Bangkok and in Vietnam and those rivers are quite renowned for being really quite dirty."
This comes as construction of the Tideway Tunnel, a 'super sewer' that will capture 95% of the sewage flows into the Thames, nears completion and is set to begin operating in 2025.
The tunnel will intercept the spill points in central London and divert sewage through a new 25km system of pipes to be treated at Beckton sewage works in East London.
The Thames has sewage problems because of London's Victorian combined sewer system, meaning when it rains, rainwater and sewage mix together, flood the sewers, and overspill into the river.
The current system was designed for a maximum population of four million and nearly nine million people now live in London, so the system regularly gets overwhelmed .
An overspill happens weekly on average, in comparison to once or twice a year in Victorian times.
Taylor Geall, the project's Media Relations Manager, said: "It's not just raw sewage [entering the Thames] but it's anything people flush down the loo, so it can be any sewage-derived litter, which can be wrappers, can be condoms, can be cotton buds, can be anything.
"Almost every time it rains, the system fills up and that goes directly into the Thames and that's disgusting."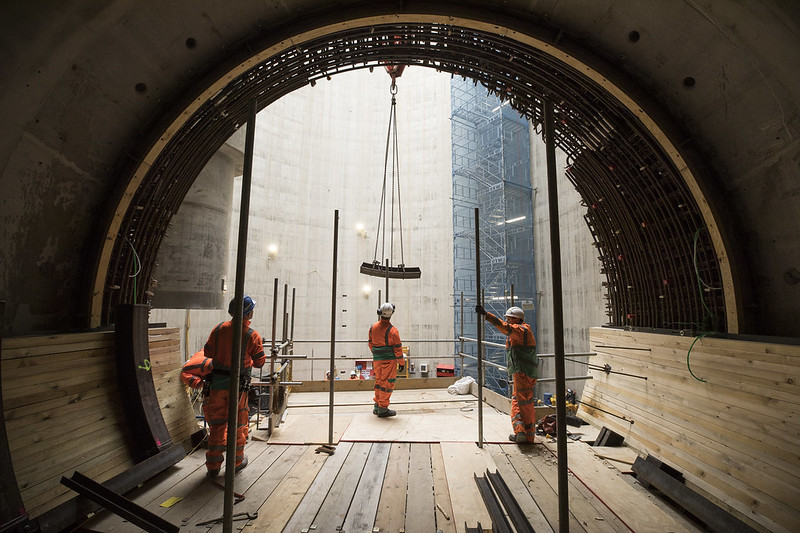 When Thames Water takes over operations of the tunnel in 2025, Freeman-Pask hopes the tunnel will reduce water pollution levels and said he is keen to monitor any change at Fulham Reach.
"We're very close to the water, it means a lot to us and we value the blue space in London and we think everyone should too, so obviously we want to highlight the issue.
"Our principle asset is the river, so it needs to be protected."
A Thames Water spokesperson said: "Taking action to improve the health of rivers is a key focus for us and we want to lead the way with our transparent approach to data. 
"We're the first company to provide live alerts for all untreated discharges throughout our region and this 'near real-time' data is available to customers as a map on our website and is also available through an open data platform for third parties, such as swimming and environmental groups, to use. 
"Of course, what matters most is stopping the need for the discharges and we have published plans to upgrade over 250 of our sewage treatment works and sewers.
"In London, we have started the £100 million upgrade of Mogden sewage treatment works, which will increase capacity and reduce the number of storm discharges from the site, and we're also spending £145 million upgrading Beckton sewage works.
"We're also currently increasing sewage treatment capacity at a number of our other sewage works across the Thames Valley, including Witney and Chesham to be completed by 2025. 
Image credit: Li Peng
In-text image credit: Tideway London