A group of Tooting residents, who have spent the last 12 years making over Streatham cemetery, are hosting an open day this Sunday to showcase their work.
The Friends of Streatham Cemetery have 12 active volunteers who have picked up litter, rebuilt roofs and conserved wildlife habitats since their formation.
As bats feed on insects near the graves and butterflies are commonly seen on the grounds, the group hosts guided walks to take families through the space's ecology.
Streatham cemetery, in Tooting, looked unkempt and abandoned when Lucy Neal, 64, decided to walk into the burial site in 2008.
Inspired to re-imagine the cemetery as a community resource, Lucy and others formed the Friends group, collaborating with Lambeth and Wandsworth councils to get biodiversity officers to work on the grounds. 
Lucy said: "'We want to be a group of volunteers that honour the dead and cherish the living."
The group harvest their own honey – named 'Dead Good Honey' – out of hives in the apiary.
The honey takes four to six hours per week to extract and package.
The Friends have previously donated jars to Tooting community kitchen and will be giving out tasters at the open day on Sunday.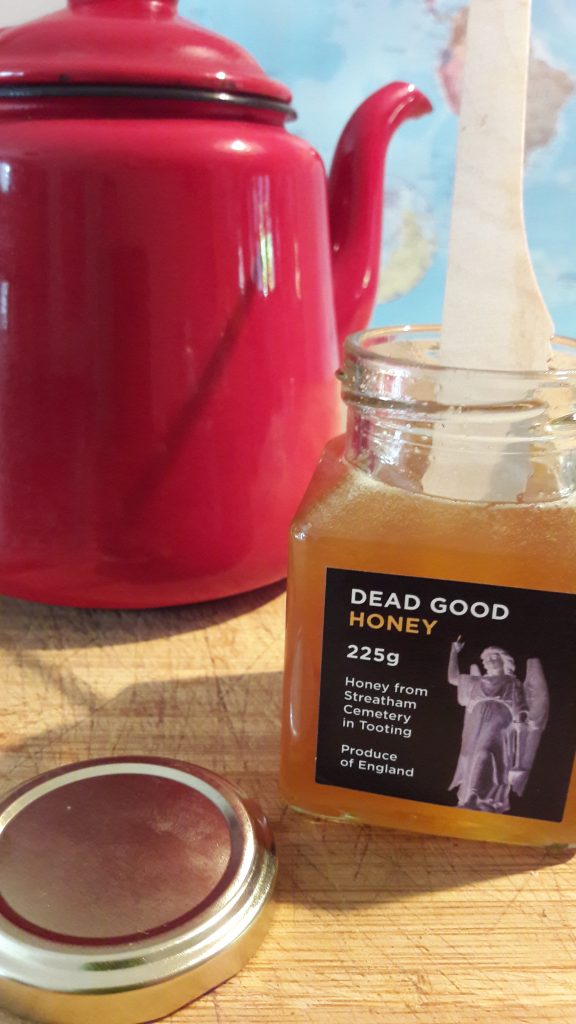 In 2014, the group also managed to get the Broadwater Road gate opened for the first time, raising funds to host a celebratory day of its reopening.
Some Friends of Streatham Cemetery are residents who have loved ones buried on the grounds.
Kath Church, whose parents are buried in the cemetery, has extremely painful memories of her first visit there.
She said: "People took us in cars, and when I got there, they were burying my dad. It was very emotional."
Since joining the Friend group, Kath has helped to organise recreational activities, which have changed the way she views the space.
She added: "Walking around and spotting butterflies is a very enjoyable thing to do.
"Some people want to push the idea away. They don't want anything to do with cemeteries because of the connotations. But death is part of life."
The Friends hope to encourage commuters and families to regularly use the space, pushing for a 'Green Lanes' project that would connect Springfield Hospital to Fishponds playing field with a path through the cemetery.
Lucy, who has lived in Tooting for 35 years, said that: "We're all rather proud of what we've managed to achieve over the years
"It's about quietly fitting in and being together enjoying the space. It's a habitat, and we're part of that habitat. We're there to find peace."
The cemetery open day will run from 2-4pm on Sunday, September 19.
The Friends will be running walks and serving tea and cake, as well as handing out jars of their voluntarily produced 'Dead Good Honey', for a donation of £8.
You can find the group on Twitter at @FOSC_Tooting.
Feature image credit: Friends of Streatham Cemetery