A recent survey by The Royal Borough of Kensington and Chelsea revealed that 45% of women felt unsafe at night and 46% felt unsafe in Westminster.
Across the borough, an estimate of one in three women and girls have been affected by violence at some point in their lifetime.
Nationally on average, two women are killed every week by a current or former partner, with one in five women experiencing some form of sexual violence since the age of 16.
Westminster City and Kensington & Chelsea borough have also agreed a new commitment to help end violence against women and girls.
The five-year strategy sets out prevention, support for victims, partnership working and intervention to change abusers' behaviour.
The strategy has been researched and created with survivors of sexual violence and abuse.
Survivors working with the councils have said that professionals need to be well-trained to spot abuse so support can be made at an early stage.
SWL spoke with Shabana Kausar, Violence against Women and Girls Strategic Lead about the five-year plan.
She said: "The key thing is that this isn't a brand-new strategy, it very much builds on a long history of working to end violence against women and girls.
"I have been doing this work for 15 years and I am still upset by the fact one in three women and girls experience violence.
"Nobody should experience this or ever feel like they are suffering alone, it's still shocking.
"As ambitious as it sounds, we felt our priority was to always end violence against women and girls as this ultimately must be the end goal.
"We developed a theory of change model which breaks down the steps we think as a partnership will get to this goal.
"No one agency or person can end violence, but we can do it collectively.
"It's friends, businesses and communities not just the police or health services' job to end violence.
"If we all collaboratively work together, we can be in a much better position to help victims and their families and to hold abusers to account."
The council undertook a residence survey to hear from the general community.
They reached out to businesses, faith groups, friends and families in Westminster, Kensington, and Chelsea neighbourhoods.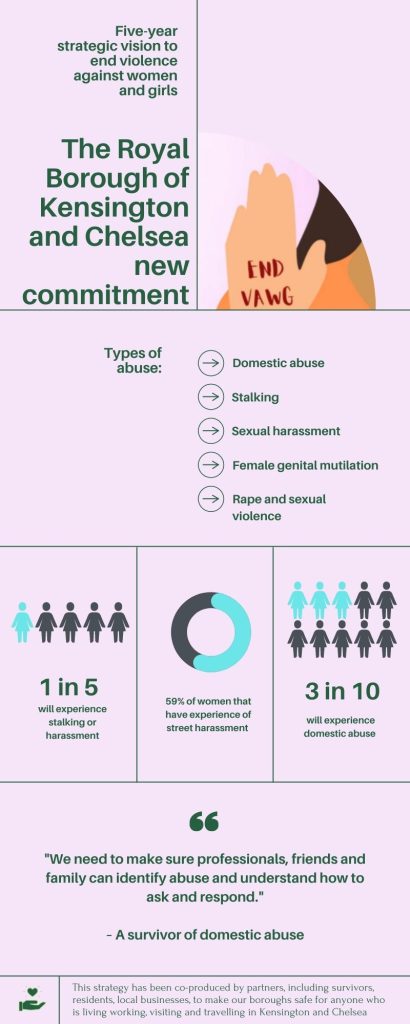 Kausar believes there is a misconception that the strategy is just for women about women but in reality, men and young boys also play a vital role in supporting this commitment.
She said: "We got a really good response. Sometimes people think an increase in data is bad as an increase in data means an increase in women being abused.
"But it can also mean that as we raise awareness, more women and girls come forward from feeling more comfortable to talk.
"The trend in the data we saw around covid has been quite interesting in that we are seeing peaks and troughs in terms of the lockdown.
"Going forward, our emphasis is to better people to reach out and get in touch for support.
"Sadly nationally, people who have experienced sexual violence, convictions rates are incredibly low.
"People should get access to justice."
VAWG plans to make sure violence against women and girls is prevented, survivors are supported, partnership working, and abusers are held to account.
The strategy and action plan will link up and support other strategic priorities to include safety.
Cllr Heather Acton, Westminster City Council Cabinet Member added: "Everyone has a right to feel safe in their homes and on the streets and this continues to be a top priority for us as a council.
"We have already taken so many important steps to protect women and girls in Westminster but there is still so much more we need to do to end VAWG.
"This strategy is vital in setting out our priorities and commitments and how we will work together as part of our coordinated community approach.
"It is crucial we see a behaviour change in society and address the root cause of violence against women and girls and to stop it from happening in the first place."
Photo by Elijah O'Donnell from Pexels