Gordon and Tana Ramsay are fronting the 2015 launch of 'Bake It Better' next week as part of their mission to raise dough for Great Ormond Street Hospital.
The Wandsworth power couple are urging people to hold bake sales across the UK for the cause as part of a new partnership between the Gordon and Tana Ramsay Foundation and the Great Ormond's Street Hospital Children's Charity.
Bake It Better week runs from October 19 –October 25 and aims to raise £200,000 for the children's hospital.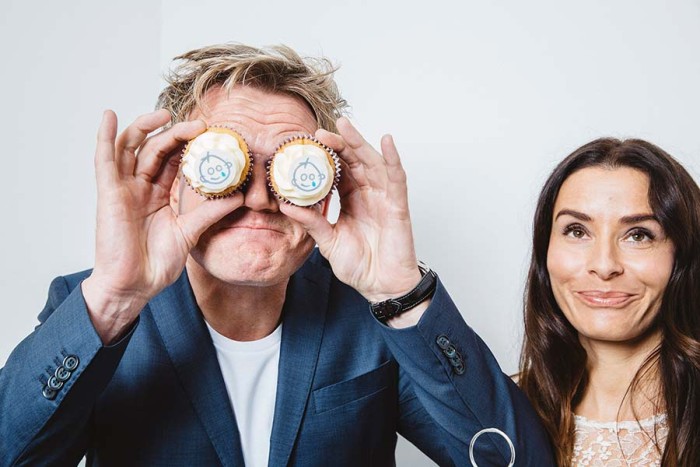 BAKE IT OFF! Gordon goofs around with charity cupcakes while Tana looks on
The campaign is going ahead after the celebrity chef suffered a dramatic collapse at the Ironman World Championships on last Saturday as part of his ongoing efforts to raise cash for the charity.
He was competing in the bike leg of the mammoth Hawaii triathlon when he was taken ill.
The couple recently visited the hospital's Eagle Ward to join children facing dialysis treatment in stress-busting play and cake decorating fun.
Chief Executive of the charity, Tim Johnson, said: "Every cupcake or cookie sold will help us make a real difference for the seriously ill patients from across the UK at Great Ormond Street Hospital."
Gordon said: "It was very special to meet the amazing staff, children and families. Tana and I are delighted to support such an extraordinary place."
"Tana and I are delighted to support such an extraordinary place."
Every £35 raised could go towards a pair of chemical scissors for chopping up DNA and researching inherited diseases, while £110 can enable the charity's play team to design a day of enjoyable activities for the children to aid their recovery.
Diners at Gordon's restaurants are also being asked to add £1 to their bill to go towards the charity until October 31, including SW11's London House on Battersea Square.
For more information or to donate, visit www.gosh.org/gtrf