A survey of working parents between March to April 2020 in the US and Europe found that women spend on average 15 more hours on domestic labour than men each week.
Almost half the respondents of a Boston Consulting Group (BCG) survey of more than 3,000 working parents in the US, UK, France, Germany, and Italy felt that their performance at work had decreased as a result.
Marianne Cooper, co-author of the 2020 Women in the Workplace Report wrote in her article for the Atlantic that 'working mothers are at unprecedented risk of experiencing a pandemic-size motherhood penalty'.
Although the survey was conducted from March to April 2020, the situation is much the same now with schools unlikely to reopen in England until Easter.
The Women's Organisation (The WO), the UK's largest female enterprise agency set up in 1996, were unsurprised by BCG's findings, as it believes the pandemic has disproportionately affected working mothers.
A representative said: "Historically, the expectation is that women automatically assume responsibility for the tasks associated with running a home and taking on the lion's share, if not all the additional domestic labour.
"It was bad before the pandemic, and it's gotten much worse due to the lockdown.
"The UK's 600,000 entrepreneur mothers have been mandated to prioritise childcare over business resilience. Without a targeted injection of support to enable business resilience, we fear that women's businesses and their mental health will be collateral damage from Covid-19."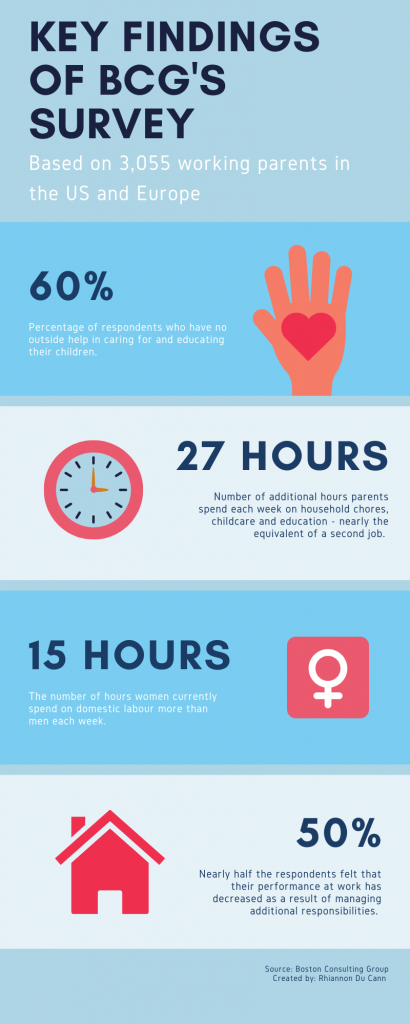 Additionally, women have been hit by unemployment worse than men with VoxEU coining the downward turn as a result of the pandemic, a 'shecession' (she-recession).
Although only 15% of entrepreneurs in Europe are female, UENI's 2020 report on Gender and Small Business found that from the 22,257 businesses surveyed, approximately 7,205 were launched by female entrepreneurs, an increase of nearly 16% from 2016.
Rebecca Saunders is the founder and CEO of Seekology, a company which supports independent beauty and wellness brands.
Saunders said that more than 90% of Seekology's brands are women-led or partly women-founded, and many of them are finding it difficult to maintain focus and the intensity of their businesses.
A mum of two, Saunders closed her shop in Richmond in mid-March, which coincided with the birth of her son and the launch of her new website.
She said: "Not only did we have a new baby but a toddler causing havoc at home. I'm very glad that time is behind me.
"It was really hard work but you have to do what you have to do."
However, Saunders feels that being a mother has made her more executive with her time.
She explained: "A minute working on the business is a minute I'm not spending with my children."
Naomi Dulfer launched Heka Aromatherapy two years ago and runs it single-handedly: "It's a one woman band."
Dulfer has had to prioritise her four-year-old daughter and nine-year-old son during the lockdowns.
She said: "I just didn't have the capacity to think about much else during the day.
"My husband is the breadwinner, so I am happy to be doing the majority of the child care. He is doing a lot more in the house and helping ease the load in other ways.
"We need to work out a balance because schools aren't going to go back until possibly Easter which is another seven or eight weeks of schooling.
"It's not manageable for me to be doing it all, all the time from a business and emotional point of view. It's quite challenging."
Helena Chapman co-founder of Rosalena Skincare and mother of three said: "As much as my default setting is to try to be positive there are days when it is just so hard.
"The workload is exponential, because the homeschooling is not only logistically challenging, it's emotive.
"You can't hide your frustration and as Michelle Obama says, 'a mother is only as happy as her least happy child'.
"There are definitely times where it's overwhelming being pulled in so many directions. Prioritising work over children makes you feel bad and then you prioritise a child and your work doesn't get done so you're falling down between them."
Chapman misses working with and sparring off her business partner, Helen – the pair have five children between them.
She said: "It is such a nice antidote to the domesticity of running a household."
However, both try to make time for themselves as they fervently believe in following their own mantra: 'you cannot pour from an empty cup'.
Chapman said: "I think it's more important than ever to carve out those times."
She does however feel that there have been positives to lockdown, as her children have better insight into and a newfound respect for her and her business.
She said: "It's important that I have an identity out of motherhood and they have been able to see that."
The WO think businesswomen can be better supported through access to child care, tax breaks for working mothers, and more investment into accessible training and support.
It is also hoping to realise a programme of women-led business support that enables women-led enterprise to thrive.
For help and support available for women from The WO call 0151 706 8111 or visit www.thewomensorganisation.org.uk.