A second plot to bamboozle residents and business owners in Merton with bogus letters has been uncovered, just one week after a similar scheme came to light.
Information sent from the same fictitious Merton councillor Stephen Keary, who was quoted in the previous prank as reported by SW Londoner, claimed that as of December 1 certain types of shop sign will be prohibited in Merton.
The erroneous information told baffled businesses that aluminium-framed, plastic and neon shop signs and fascias had to be removed and would face maximum fines of £5,000 if they did not adhere to the ruling.
Councillor Stephen Alambritis, Merton Council leader, said: "The council has contacted the Police and will be working with them to get to the bottom of these letters.
"Residents and businesses who receive a letter through their door with the council logo claiming to be from Future Merton, making suspicious or unreasonable statements, are advised not to do what is requested."
The letter quotes the 'Town and County Planning Regulations 2007' as the legal reasoning behind the eccentric changes, saying proprietors must revert to old-fashioned wooden signs.
The final part of the hoax correspondence announces that residential and commercial areas in Tooting will be renamed as 'Tooting Village' as of January 1 2015.
In this fabricated rebranding, the rules on signage will 'follow stricter rules' as the area will become a conservation area from the start of next year.
The hoaxers are possibly the same tricksters behind the postcode prank who sent out letters about the postcode changes in Tooting and Mitcham.
In both cases, Merton Council has labelled both letters as fakes and that the information enclosed should be ignored.
'futureMerton' however is a genuine council regeneration project in the London borough, aiming to improve the environment and economy in the area.
Merton Police Borough Commander Stuart Macleod urged that any concerns about these conservation claims should be made through the official, established channels.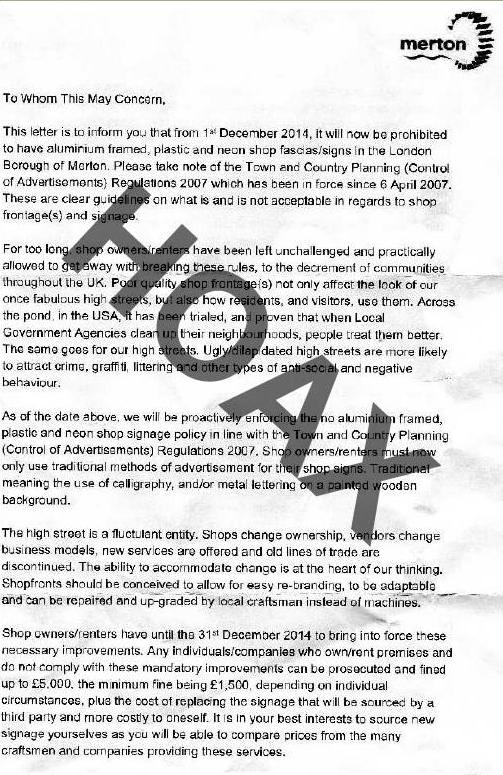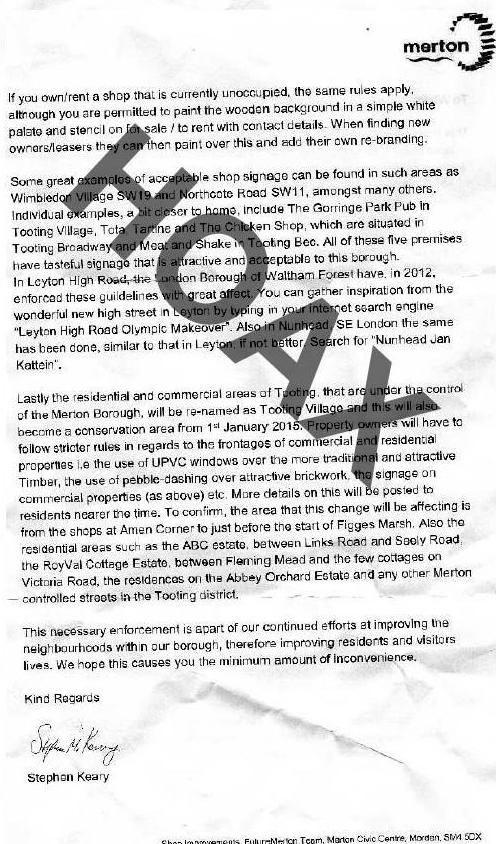 Picture courtesy of An Unreliable Witness, with thanks