Naked cyclists were cheered on in Clapham Junction on Saturday as they rode north to join other nude protestors in London's 12th annual World Naked Bike Ride (WNBR).
Crowds gathered to see the riders in the buff, who hoped to highlight cyclist vulnerability and speak out against car culture.
They painted slogans on their bodies such as 'can you see me now?', 'more bikes less oil' and 'less gas, more ass'.
Clapham marshal John Kirk, 40, from Croydon, said: "First of all we want to be noticed and hopefully if people see us all cycling by naked then they'll say 'oh wow, what's going on there?'
"We want to make people think about what they're doing when they drive because there are real problems such as oil dependency."
It was mostly a male turnout for the Clapham starting point, now in its third year, with female cyclists Nicola Peters, 29, and Olivia Kowk, 26, admitting they had hoped for a more even gender ratio.
Onlookers seemed to enjoy the spectacle, taking photos on their phones and posting them on social media – some even admitted they were tempted to take part next year.
Spectator Jason Williams, 48, owner of Chicken Deli from Balham, said: "I enjoyed it. It was lovely.
"It was my first experience of seeing it but I'm a cyclist as well so I'll support them.
"I would like to do it next year if I get the time."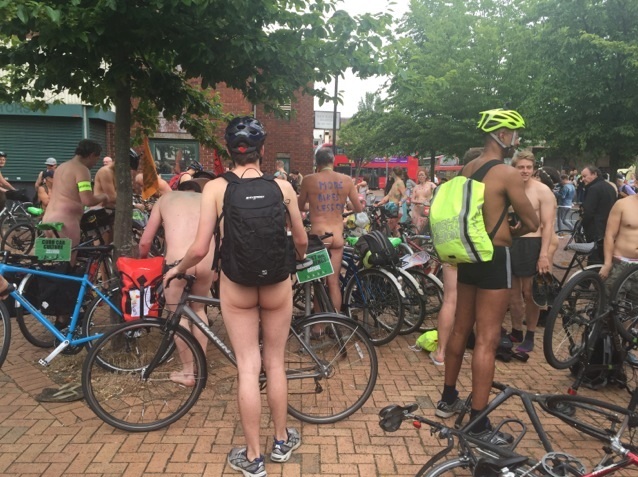 CHEEKY! Some of the Clapham bikers ahead of the ride
Tamara Renouf, 28, an event manager from Clapham, said she thinks the naked protestors have a good cause but their branding could be improved to get more leverage.
"It's a good way of getting attention and it worked. It made a lot of people come out and look," she said.
"But I think they should have put more logos on their backs. I put it on Instagram and I didn't know what to hashtag."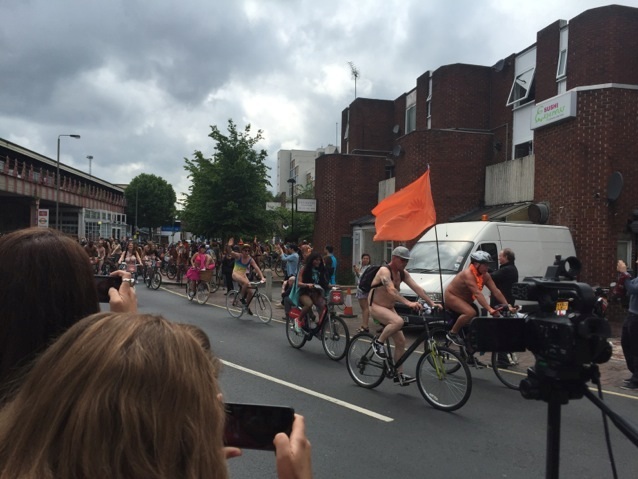 ON YER BIKE! Clapham cyclists bare all
Tamara said the ride was very entertaining and she'd be tempted to take part next year, as long as she could wear her underwear.
"I wouldn't do it naked, you're naked for a very long time and when you're stuck in the traffic there's people in their cars next to you!
"Maybe if it was a quick flash but not for a long period of time," she admitted.
"In London there are so many accidents so I think it's good that they're pushing to get more bikes on the roads."
Now in its 12th year, the London event of the WNBR seems to be increasing in popularity.
This year there were six different starting points and an estimated 1,000 cyclists took part overall which would be a British record for the most naked bike riders.