Hundreds of Michael Jacksons fans protested at Westminster's Channel 4 studios last week ahead of the release of a controversial documentary about the singer.
The programme, entitled Leaving Neverland, is based around the allegations of two men, James Safechuck and Wade Robertson, that Jackson abused them as children.
The documentary has been accused of one-sidedness, however, and fans made their feelings known outside Channel 4 studios on Wednesday 6 March, chanting 'facts don't lie, people do' and 'shame on you Channel 4'.
One protestor, Peggy Wolf, came all the way from Austria to be involved. "Although it is a long way to come I felt it was important to try to protect somebody who is dead and unable to protect himself," she said.
"We have to spread what's going on and expose the lies these two men are telling."
Another fan, Ocean Anderson from north London, said: "I can barely speak because I'm so emotional.
"The men involved just want money and to be famous. I don't even think it should be called a documentary because it is so fabricated."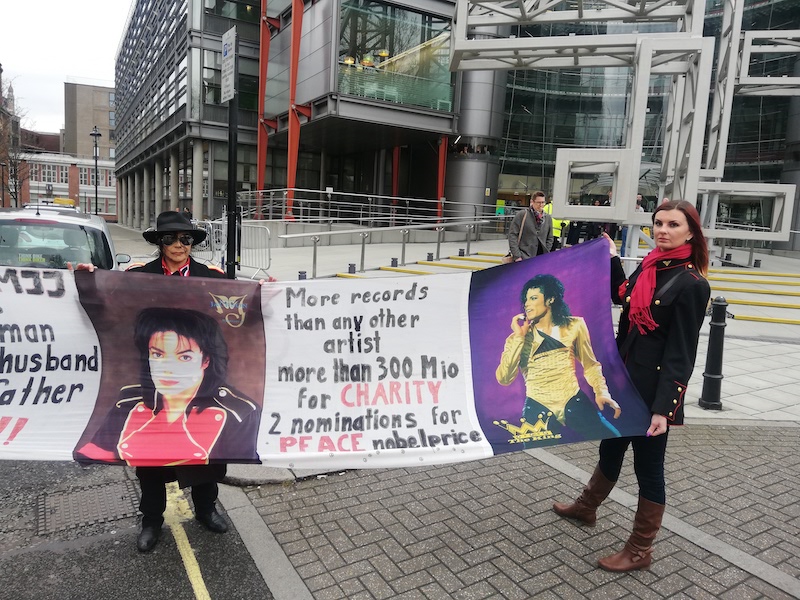 EMOTIONAL: Some fans had travelled far to protest against the documentary.
Laura Burt from Northampton met Jackson before his death and said: "He's just a good guy. He was very kind, very shy but very sweet.
"The facts these men are alleging don't stand up and it's just not right."
Channel 4's commissioning editor Tom Porter described Leaving Neverland as "an extraordinarily compelling, yet moving film about two men whose lives were changed forever by one of the most famous men who ever lived."

He said that Channel 4 was 'immensely proud to have commissioned this film'.
Leaving Neverland aired in the UK on Wednesday 6 and Thursday 7 March, and has already been shown in the USA on HBO.