An Afghan national living in Croydon who bought a Lithuanian woman for £700 from traffickers was jailed for five years at Southwark Crown Court yesterday.
Hussain Ali Rezaie, 22, was arrested at a flat on Whitehorse Road where a 22-year-old trafficking victim had been made to live with him.
He paid the sum to Lithuanian nationals Vita Ramonaite, 26, and her ex-boyfriend Robertas Ciuzas, 23, who trafficked Lithuanian women into the UK, with the intention of selling them to Asian men for 'sham marriages'.
They were sentenced to 16 years' imprisonment yesterday.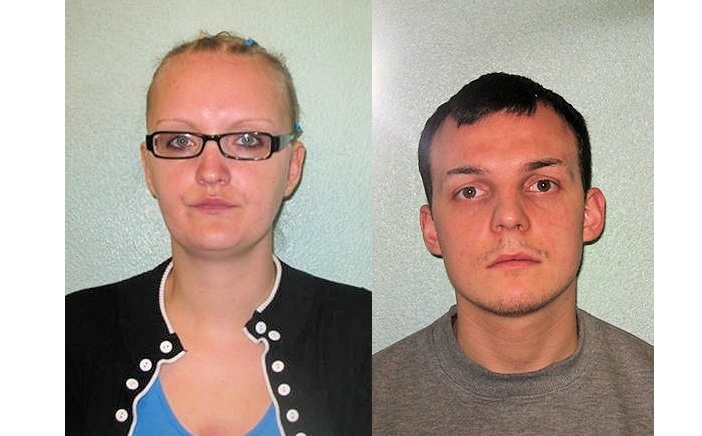 JAILED: Ramonaite and Ciuzas jailed for 16 years
The couple befriended two women in their home country and suggested they join them in the UK to work.
But once the women were in the country, Ramonaite and Ciuzas made them live with Asian men who were seeking a visa to stay in the UK.
The victims were made to attend registry interviews with the men they had been sold to, and encouraged to lie about their relationship with them.
Ramonaite acted as translator in some of these interviews as the victims were unable to speak English – one of the women was eventually married to a man.
A third victim, now 21, was introduced to Ramonaite in Ilford after being trafficked into the country by other, as yet unidentified suspects.
Ramonaite and Ciuzas made her work as a prostitute and threatened her that she would be murdered if she did not comply.
In September 2014, detectives from the Metropolitan Police's (Met) Trafficking and Kidnap Unit (TKU) launched an investigation after two of the victims, now both 22, teamed up to report their circumstances to police.
Specially trained detectives met with the victims who told the police how they were being used for marriages of convenience. This instigated a 10-month, international police operation.
Soon after, Ramonaite went back to Lithuania but – with the assistance of Europol, Eurojust and the Crown Prosecution Service – the Met initiated a joint investigation team with their Lithuanian counterparts.
They arrested Ciuzas, who was in prison serving a sentence for assaulting Ramonaite and in January 2015, police arrested Ramonaite as she arrived back in the UK.
All three pleaded not guilty to the offences but were convicted. Ramonaite was sentenced to 10 years' imprisonment, Ciuzas to six years in jail and Rezaie to five years.
Detective Sergeant Paul Wiggett of the TKU said: "These women were fed a story about job opportunities in the UK but in reality, they were being lined up for exploitation.
"They were sold to men, treated like commodities and taken advantage of.
"I must commend the victims who took the courageous step of telling police what they had been put through before relaying this in court.
"Their decision to report such appalling crimes instigated this investigation, resulting in the gang's imprisonment.
"Support from Europol, Eurojust, the CPS and our colleagues in Lithuania, was critical to the investigation, demonstrating the pivotal role of joint, international investigations when tackling modern day slavery."
Detectives continue to seek others victims of trafficking for sham marriages and urge them to call the Modern Slavery helpline on 0800 0121 700.