Fewer stray dogs have had to be put to sleep as, after a record high number of abandoned pets in 2012, numbers have fallen by more than 20% reveal figures exclusively obtained by SWL.
The number of dogs being returned to owners has increased and accordingly, the number of dogs sent to rescue homes has decreased by almost half from 60 in 2011 to 32 last year.
Lambeth animal welfare officer Claire McMahon-Adie said: "Seeing a dog so happy to see their owner always makes me smile; it's the reason I do this job.
"But for every 10 happy endings there seems to be one sad ending."
She was recently called out for an emaciated mastiff dog who she initially thought had been deliberately starved but after veterinary investigation found he was very old, had a tumour and had to be put to sleep.
She said: "It just breaks my heart as he was obviously a family pet and it should have been the owner who took him to the vet, who has known him all his life and comforted him.
"But instead it was me who had only known him for a week."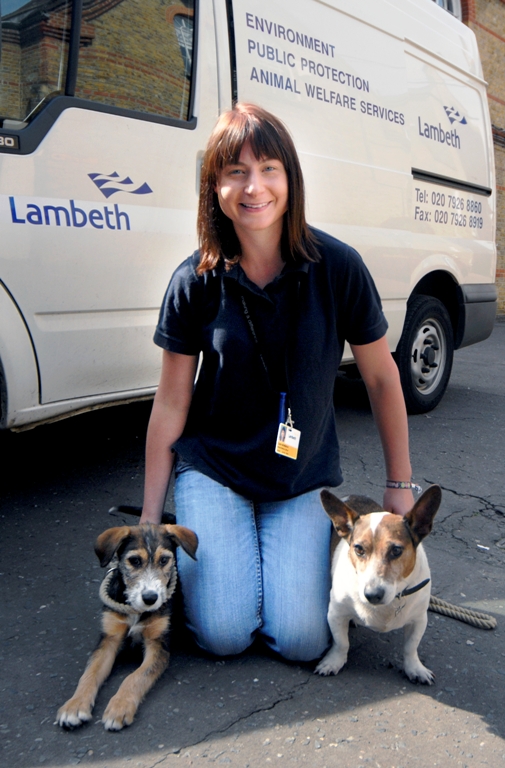 PUPPY LOVE: Claire McMahon-Adie and some of the dogs in her care
Microchipping, which will be a legal requirement from next April 2016 across England, Scotland and Wales, greatly improves the chances of returning a dog to its owner.
Ms McMahon-Adie said: "It's difficult to determine the exact reason for the decline in number for the strays.
"Anecdotally, officers from neighbouring boroughs are also finding a reduction in the number of strays, as are Battersea Dogs & Cats Home."
Lambeth Council often work with the RSPCA on animal welfare issues, including stray dogs.
Discussing their shared effort, an RSPCA spokesperson said: "We are very grateful for the work they do for animal welfare and are happy to help them in their work whenever they need us and we are able to."
Figures obtained by SWL through an FOI show the fate of dogs found abandoned:
Stray dogs found in Lambeth
       2011
       2012
       2013
       2014
total number of dogs found
158
160
141
122
microchipped and wearing a collar
34
45
35
33
wearing a collar
57
46
36
26
wearing a collar with an ID tag
0
1
1
0
microchipped
26
26
27
25
microchipped &
wearing a collar with an ID tag
1
7
7
3
had no collar/tag or ID tag
40
35
35
35
returned to owner
69
83
70
75
went to a rescue
60
49
40
32
rehomed by the local authority
7
4
1
3
seized by status dog unit
3
7
2
4
put to sleep
17
16
26
7
died
0
1
1
1
The Animal Welfare Act 2006 introduced tougher penalties for neglect and cruelty, including fines of up to £20,000, a maximum jail term of 51 weeks and a lifetime ban on some owners keeping pets.
According to Dogs Trust's Stray Dog Survey, 102,363 stray and abandoned dogs have been handled by local authorities across the UK between 2014 and 2015, with under half being claimed by their owners.
That equates to 280 strays being found across the UK each day.
Adrian Burder, chief executive of Dogs Trust, said: "To learn that over 47,000 unclaimed and unwanted dogs are left in council kennels should shock us as a nation of dog lovers.
"Abandoning a dog is simply unacceptable."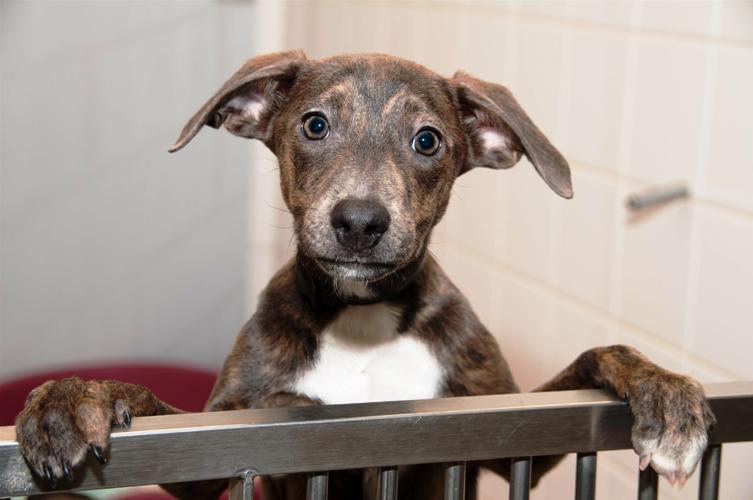 ROOM FOR A SMALL ONE? One of the pups taken in by Dogs Trust
Between 2014 and 2015, 5,142 stray dogs were put to sleep by UK local authorities, which is one dog every two hours.
The three main reasons for putting a dog to sleep are if the animal is a banned breed such as a pit bull type, has an aggressive and dangerous temperament or is too ill.
Lambeth Council provide a free dog microchipping service for Lambeth residents which can be done at home, contact [email protected] for details.
To report a stray dog in Lambeth Monday to Friday between 9am-5pm, call 020 7926 8860 or outside of office hours call 020 7926 1000.
Pictures courtesy of Lambeth Council and Dogs Trust, with thanks