A London woman who was faced with the unsightly view of a workman's builder's bum while he was renovating her home has launched a campaign for tradespeople to clean up their image.
Jenny Humphries, 59, from London, caused a stir in the building industry this week when she took to Facebook to rant about her builder's trousers.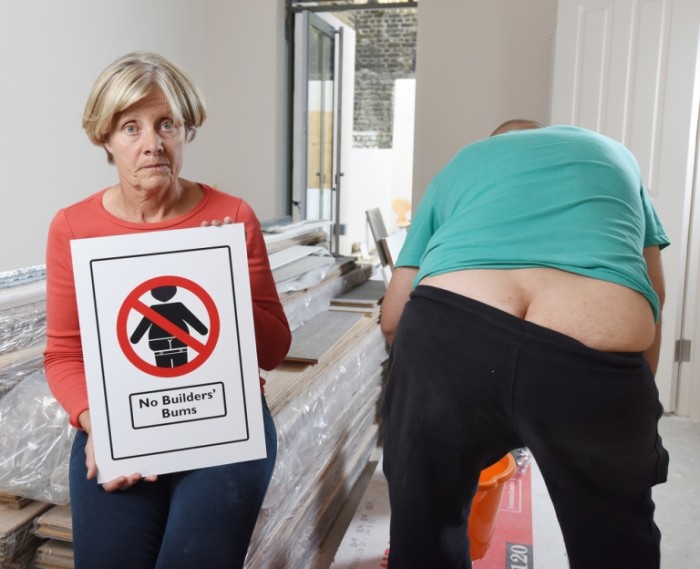 DIS-ASS-TEROUS! Jenny was plagued with this sight on a daily basis

She snapped evidence of the offending workman from Battersea Builders and uploaded it to Facebook where DIY chain B&Q took up the mantle to launch a crackdown on low-slung trews.
She posted: "I have been plagued by builder's bums during my home renovation … it would be great to get tips to put a stop to this as it's been a dis-ass-ter!"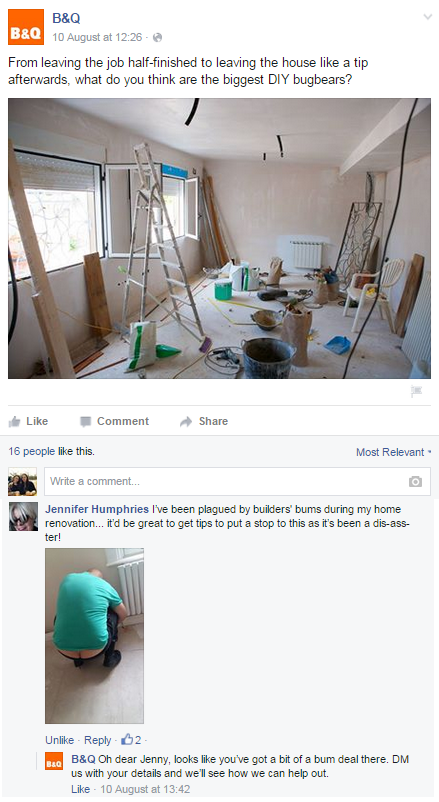 B&Q commissioned research showing that 'builders' bums' are damaging industry's bottom line to the tune of £3.5 billion.
The chain then teamed up with Jenny's building company and kitted them out with Rigour's 'anti-builder's bum' trousers which are designed to prevent unsightly 'rear reveals'.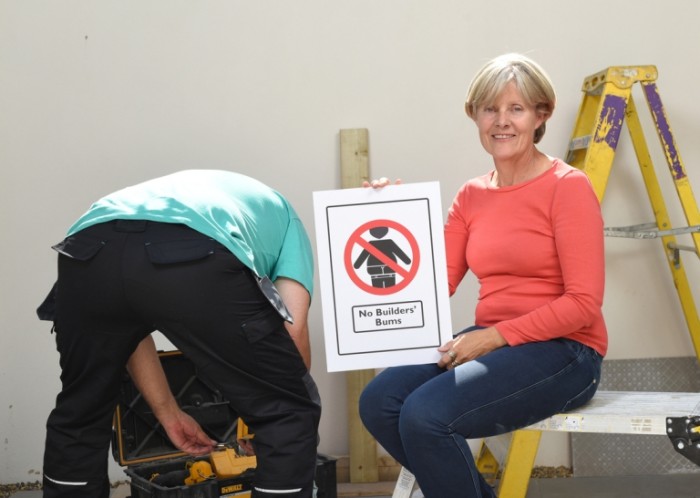 REAR-LY GOOD TROUSERS: Jenny's pleased with Battersea Builders' new trews

Will Gardener of Battersea Builders said: "We pride ourselves on exemplary work and customer service, so we took Jenny's experience very seriously.
"We are leading by example with this new policy that bans 'builders' bums' and will pull up our socks – or should that be trousers? – and improve the image of tradespeople."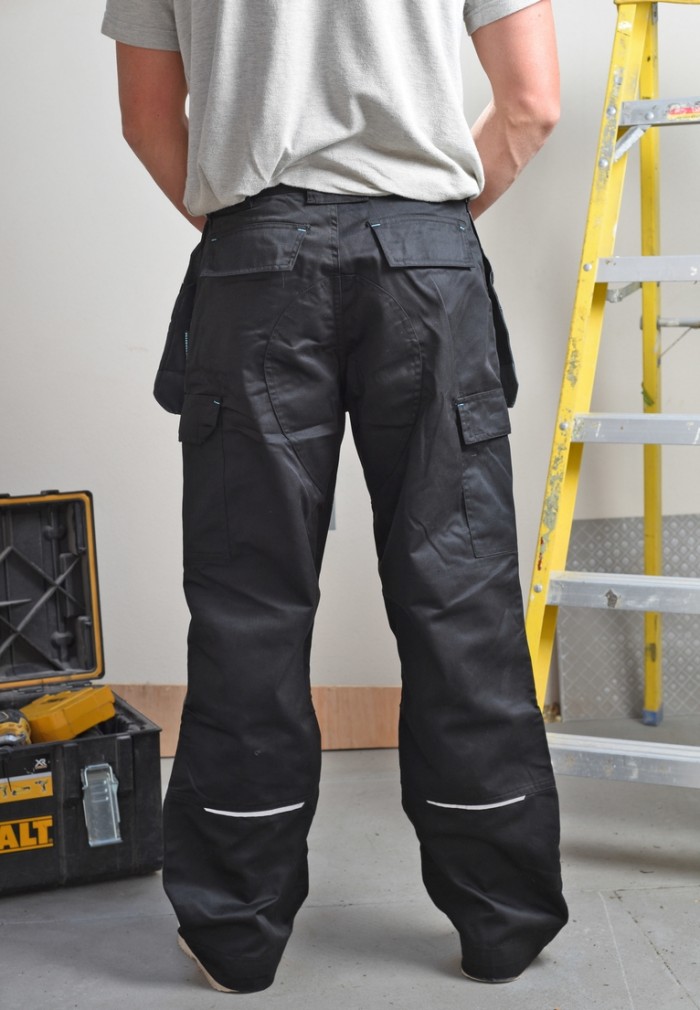 NOTHING TO SEE HERE: The trousers keep everything contained

B&Q also provided Jenny with new signage to enforce the policy in her home.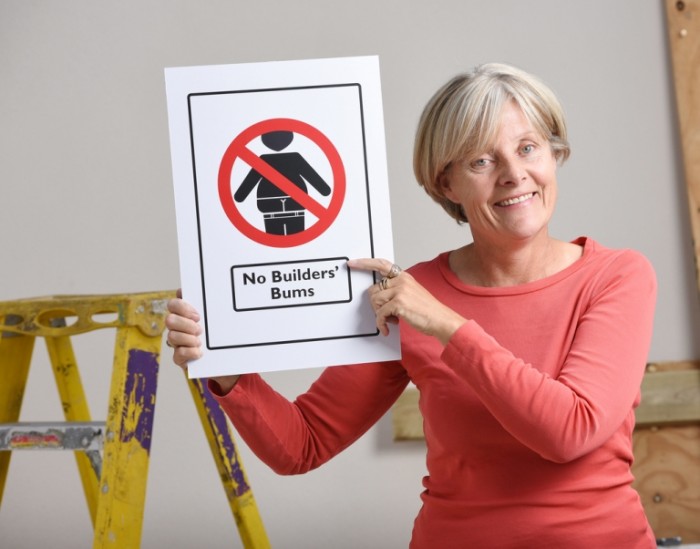 CRACKDOWN: Jenny proudly shows off her new sign
Jenny Humphries said: "I was delighted with Battersea Builders' work on my renovation but the level of bottom on show left me feeling like I'd got a bit of a bum deal.
"I'm glad that they took my comments on board as their new uniform looks great!"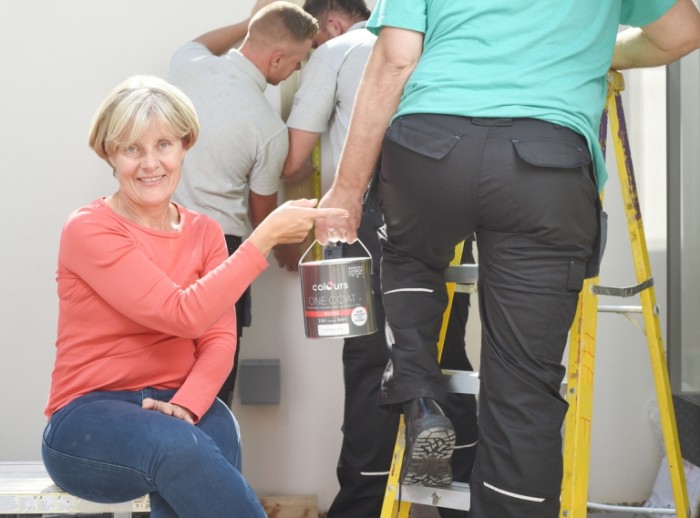 CRACKING JOB! Jenny's thrilled with the lack of bum cleavage on display

The research investigated the extent of the issue, revealing that Jenny is not alone in her 'ordeal'.
Results show that UK homeowners and renters hire tradespeople twice over a five year period, forking out an average of £1,081 per job.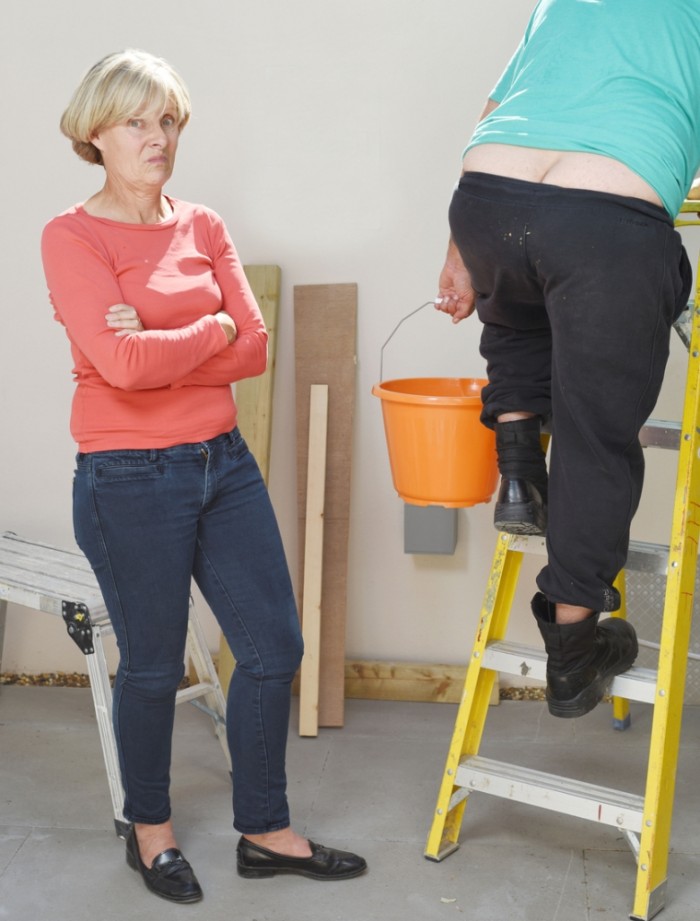 BARE-FACED CHEEK: Builder's bum is potentially costing businesses trade
Despite this hefty spend, 39% of us have been confronted with too much cheek from builders in their own home.
Around 30% admitted they wouldn't rehire a bum-flashing tradesperson which, in an industry worth £58.3 billion, totals up to an eye-watering £3.5 billion per year in lost business.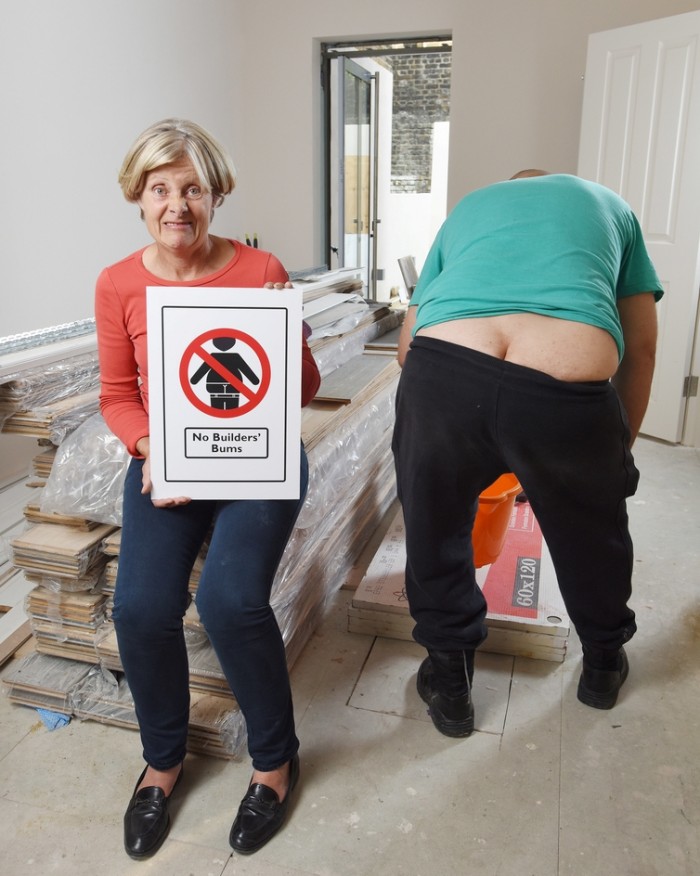 PUT IT AWAY! 30% of people admitted not wanting to hire someone baring their bum

A B&Q spokesman said: "While amusing, Jenny's experience has raised an interesting issue for the industry.
"Our Rigour trousers with a shirt grip in the waistband offer an ideal solution and we applaud Battersea Builders for being good humoured enough to introduce the new policy, rather than being the butt of the joke."