More than 6,000 cars have been impounded and destroyed in London over the last five years – with owners given only seven days notice, if any at all.
Cars taken off the road for minor infractions such as failure to pay road tax are impounded by local councils, and – if the registered owner does not claim them – authorised for disposal.
The issue, as some unlucky drivers discover, is that the notice sent to alert them to the impounding often takes longer to arrive than the window for claiming their vehicle.
This was 24 year-old Sam Harding's plight, when her beloved convertible Golf was impounded and crushed within two weeks – with all of her possessions still inside.
Harding, who works as an editorial assistant at a busy publishing house, had failed to pay road tax for three months – a mistake she sorely regrets.
Her black convertible was parked on a street nearby her home in south London when it was impounded on 6 April – but, as she takes public transport to work, she didn't notice it was missing until the 25th.
Panicked, and assuming it had been stolen, Harding called up the local authorities, who informed her the car had already been destroyed on 17 April.
Because of Royal Mail delays, the notice letter, though posted on the 12th, only arrived another two days later.
Harding is devastated and angry at what she says is a deeply inefficient and unfair process.
"I bought my Golf three years ago for £4,000, and it was in perfect working order – it only had around 60,000 miles on it!
"I just can't understand why they scrapped it," she said.
"I'm really devastated – I had a ton of super sentimental memories in the car, and all of my CDs and some clothes were still in there when they crushed it."
Harding says she's not currently in a position financially to buy herself a new car, which will make visiting her parents – who live in the countryside – very difficult.
"The whole process seems so unfair and impractical," she explained.
"Surely they need to be giving people more time to reclaim their cars?
"Particularly in the light of the current delivery services of Royal Mail and the possibility that the owner of the vehicle might be away from their residential address for some days."
According to data from the DVLA, less than a third of untaxed cars impounded in the Greater London area are returned to their owners.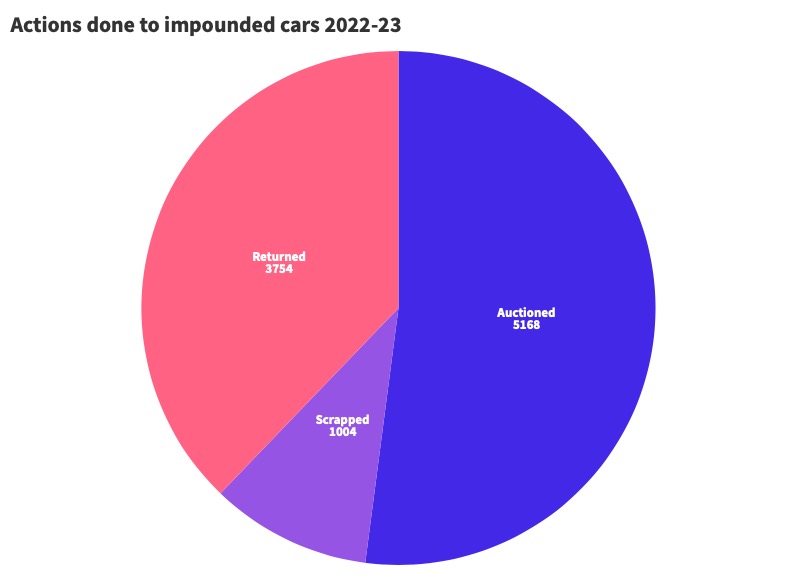 Since 2018, 30,113 vehicles have instead been placed for auction, with 6,433 getting scrapped.
Meanwhile, only 16,529 are successfully reclaimed by their owners.
Part of the issue may lie with the impounded vehicle notification (IVN) process.
Harding says that seven days – or, in her case, only five – is far too little notice for the surprisingly complicated process of reclaiming an impounded vehicle.
Entire Facebook groups are dedicated to guiding unlucky owners through the process – with some even building careers off of helping people retrieve their cars.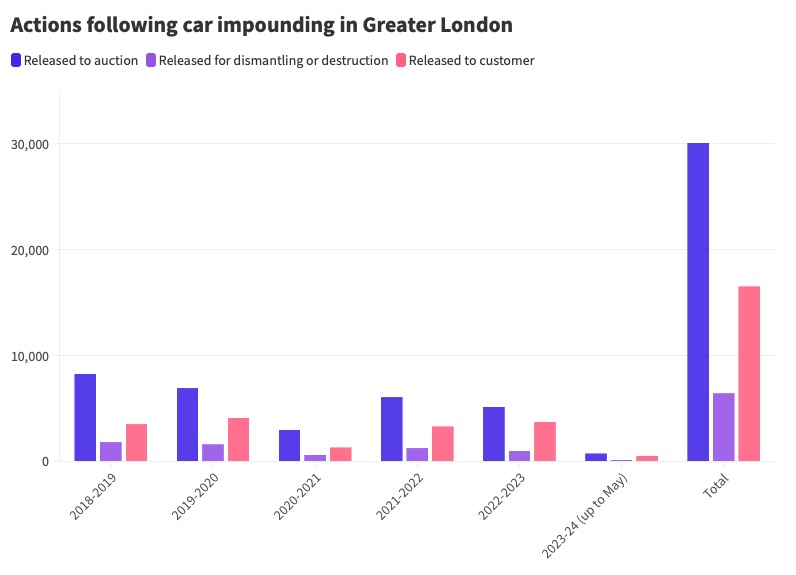 In Harding's case, furthermore, well-known delays in Royal Mail service failed to be accounted for.
According to the DVLA Wheelclamping Unit, "The Agency can only issue the required notifications but cannot be held responsible when correctly addressed 1st class mail fails to reach its intended destination in a timely manner."
Harding was instead instructed to take up the delay in receiving the IVN with the Royal Mail itself.
According to Lewisham Council, the scrapping of cars is considered the "most cost-effective way of dealing with abandoned vehicles, taking into account the associated costs of removal and storage."
A statement from the council clarified that "while newer vehicles with higher potential sale values will be resold, older cars with lower potential sale values are disposed of."
For Harding, however, the relatively low sale price of her beloved car did not justify its disposal.
She asked: "Surely the environmental impact of just scrapping cars that aren't deemed expensive enough should be held against the financial costs?"
Data provided by the DVLA also shows that between 1,000-2,000 fewer IVNs are sent than cars impounded each year.
The DVLA says this discrepancy is due to the fact that IVNs can only be issued where there is a registered keeper on their vehicle records.