Aptly named Legend, a four-year-old Akita became the 1000th dog to be taken in by Battersea Dogs & Cats Home this year.
Legend was well-loved by his family but was handed to the Battersea-based charity due to his owner's allergies last month.
Now the a-paw-able pup is looking for a loving new owner.
Battersea Dogs & Cats Home cares for more than 5,000 dogs a year across its three centres, with an average of 13 dogs arriving every day.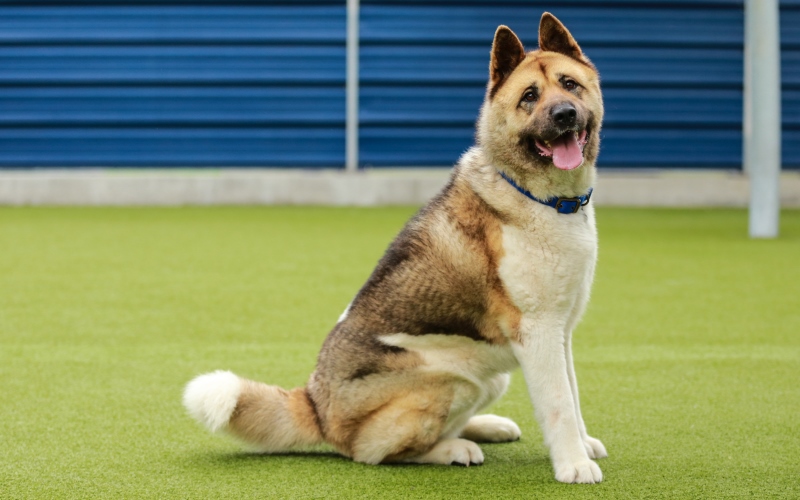 PAW-FECT: This preened-pooch is looking for a new home
Rob Young, London centre manager at Battersea Dogs & Cats Home, said: "Last year alone Battersea Dogs & Cats Home received more than 15,000 calls from owners who were looking at giving up their dogs.
"On top of this we received more than 18,000 emails.
"We see a number of reasons why owners can no longer look after their pets. Some of these reasons include illness, moving home and a change in circumstances just to name a few.
"While we understand there are genuine reasons people are forced to give up their pets, it's important to realise homing an animal is a full-time commitment.
"The dogs and cats we take in at Battersea need owners who are dedicated to their pets and we will endeavour to find new caring owners for Legend and all of the animals here at Battersea."
With less than half the year over, Battersea continues to open its doors to every cat and dog in need of help, caring for them until loving new homes can be found.
Legend is available for rehoming and is looking for a family who has time to play with this energetic dog and can give him plenty of love.
Images courtesy of Battersea Dogs & Cats Home, with thanks