With a bright smile and an obsession with cars, you probably think he's like any other seven-year-old but behind the mischievous grin lies a serious medical condition that will affect the rest of his life.
Sammy de Laszlo has Duchenne Muscular Dystrophy, an incurable genetic disorder that causes severe muscle wasting due to the body's inability to produce dystrophin, an essential muscle-building protein.
His family has teamed up with Tinies Childcare for three years in a row to organise 'Bake a Difference', a tea party to help raise awareness of the condition that affects 2,500 children in the UK.
This year, Muscular Dystrophy UK has decided to join in on the fun and hold other 'Bake a Difference' events around the country from September 12.
Oliver, Sammy's father, said: "We're very honoured in the fact that Muscular Dystrophy UK have added our event to their calendar and trialling it nationwide."
The main event, being held on September 16 in All Saints School in Fulham, is very close to the family's heart.
"It's very special to us because we started it on a zero budget. Whatever we do is purely word of mouth and social media," Oliver said.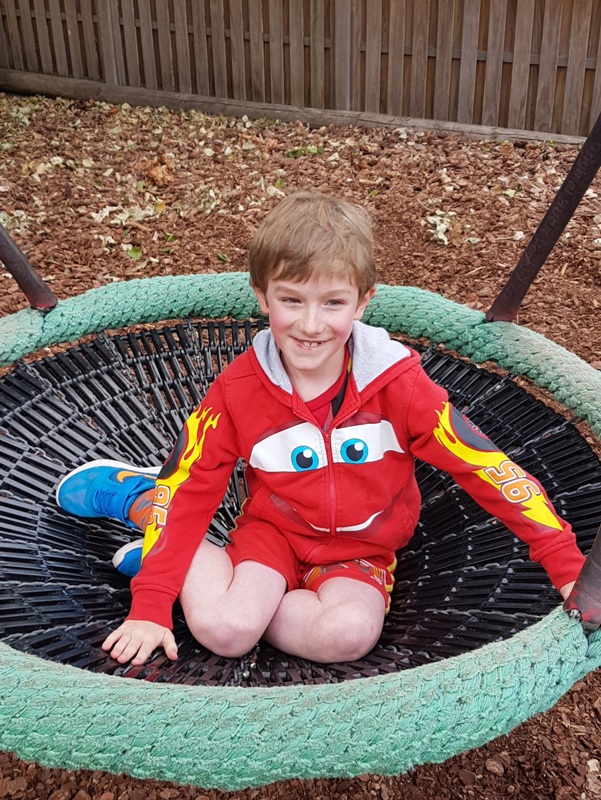 Oliver recalls when his son got diagnosed: "He had to do some tests. He was a bit slow from getting up and found stairs a bit tricky.
"We found out around Easter four years ago now. He was about three years old."
The family didn't know anything about the disease at the time, which is why they have decided to hold these events.
Public awareness is key to raising money for research, and this event helps hit two birds with one stone.
"When you consider the average young adult or child with the disorder is in a wheelchair by the age of twelve, and the life expectancy is anything between 35 to 40, there's not enough being done," said Oliver, who works for the Met Police.
"Especially now, with Brexit, which is going to have a colossal impact on medical research, because there is a huge amount being done in the EU.
"But with what's happening in the UK, they may find it difficult pushing drugs and treatments to the UK or getting licenses.
"The main key for us is that if we've told 10 people about the condition and its affects then that's 10 people that know now that didn't know before.
"We're doing this for families across the UK who are suffering with this condition, because not enough is being done.
"What is being done is truly amazing but it's a race against time because it's a progressive, life-threatening condition."
Last year, Martha Collison, a Bake Off quarter finalist in 2014 and the show's youngest contestant, came down to the 'Bake the Difference' event and met the children, reflecting the event's growth.
Sammy isn't really aware of his condition, says Oliver: "He knows he's got poorly legs as we tell him, but he doesn't know the issues that come with it.
"He's very well looked after by a team at Great Ormond Street Hospital. He's very lucky with the team he has, otherwise his life would be very different."
Thomas, Sammy's 10-year-old brother, isn't fully aware of his little brother's condition but is fiercely protective and they get along well.
Oliver's advice for the families of recently diagnosed children is to not tell them the full extent of their condition until their old enough to understand and comprehend it otherwise every day they'll be thinking 'OK when am I in a wheelchair, when is it going to happen?'.
Oliver said: "Sammy is amazing at all of his appointments and coping with the condition. He just gets on with it.
"And some of the stuff he has to do is not pleasant, like MRI scans, blood tests. He's amazing with how he just cracks on.
"What we do have to be aware of is he has slowed down a bit, he's prone to falling. If we're going for a day out, we have to risk assess everything. Like how we get there, how much walking we do. We have to obviously think of him."
Oliver reveals how the strong network of friends he's made across the globe that live with the condition means he has to be prepared for bad news every time he opens his Facebook page.
He said that two weeks ago one of his dear friends, who he had never been able to meet in person, died of the condition at the age of 35 in Canada.
"Until a cure is found there's people who won't see past the age of 35-38. That's the harsh reality."
But luckily Sammy has time on his side, and with the vast amounts of research being done in medical science, the family has hope.
Tinies Childcare comments: "We got involved because we felt it was important to support a local family – raising funds as well as awareness.
"It's nice to know that the funds raised are helping someone we know."
If you want to organise a cake sale at your business or child's school, register here.