Promises on tax cuts have so far dominated the Tory leadership race, which should conclude no later than 5 September, according to the 1922 committee.
Fuel duty is one potentially facing the chop as petrol prices rise above 190p per litre, squeezing household finances and crippling small businesses.
According to chief executive of Wandsworth Chamber of Commerce Beverley Corson, the government needs to reduce fuel duty rates sooner rather than later to help small and medium enterprises.
Corson said: "After Brexit, the pandemic, partygate, inflation and the fuel price hikes, the country is in a compounding crisis spiral.
"We say that we are a nation of shopkeepers and small businesses but year after year, unfair business rates, flabbergasting red tape processes and a lack of belief in the importance of localism endures.
"We need a superhero for small businesses to help our shopkeepers and small businesses lead our country out of this downward spiral."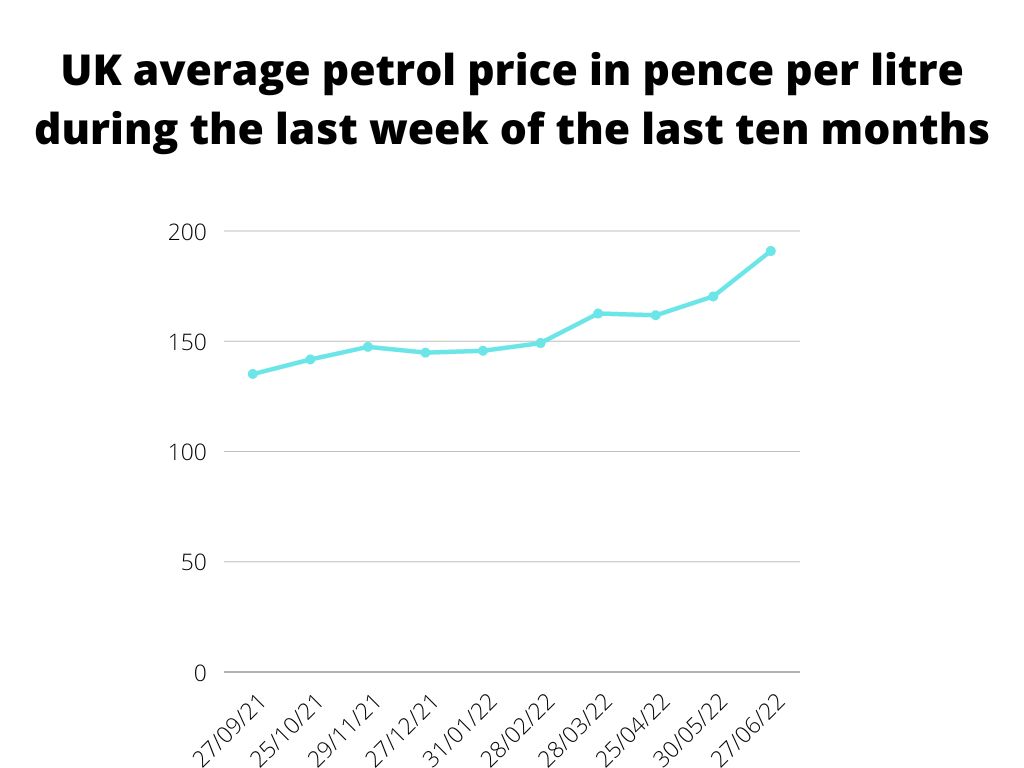 The earlier September fuel supply crisis, in part down to an HGV driver shortage, saw demand outstrip supply, with the BBC reporting storage tanks only reached 45% capacity on average in mid-October, the highest since the previous May.
But the hike in petrol price was restrained compared with what was to come, rising from 134.66p in the last week of August to 141.81p per litre at the end of October 2021, according to government figures.
The war in Ukraine contributed substantially to pump prices shooting up from February to March, going from 149.22p to 162.65p.
According to retail bosses, this was a key factor in driving inflation to the highest levels seen for forty years, with 9.1% reached in May.
The Bank of England had expected 11% inflation to be reached by October, signalling an on-going cost-of-living crisis, and so far economics has dominated the race for the Tory mantle.
Former health secretary Sajid Javid launched his leadership bid with the promise of a 10p cut to fuel duty, while trade minister Penny Mordaunt upped the stakes further, proposing a 50% cut.
Foreign secretary Liz Truss set out her stall for the leadership in a similar vein, writing in the Telegraph she would "start cutting taxes from day one."
Chancellor Nadhim Zahawi, attorney-general Suella Braverman and chair of the foreign affairs select committee Tom Tugendhat have also voiced their low-tax vision for the country.
However, speaking on BBC's Newsnight, Conservative grandee Lord Clarke described the current tax-cutting Dutch auction as "absolutely low-level stuff".
The former Chancellor also warned the boost in short-term demand initially caused by tax-cuts could risk adding to inflationary pressures in the longer term.
This struck a note of agreement with fellow former Treasury boss Rishi Sunak, who cautioned against the "fairy-tale" promises of his rivals.
Sunak had cut fuel duty by 5p per litre in his Spring Statement, as well as imposing a 25% windfall tax on North Sea oil and gas producers, which was voted through the Commons yesterday.
Featured image: Oil (or gas) platform in the North Sea off Scotland, seen from MV "Pollux". (CC BY-SA 4.0)