A Tooting café will combat road rage and cycling stress when it hosts London's first ever mindfulness bike ride on Sunday.
Cyclists who are sick and tired of stressful commutes might be particularly interested in the event, organised by the Pedal Back Café in association with mindful cycling expert Jawad Al-Nawab.
By spending a sunny Sunday morning partaking in a gentle bike ride, it's hoped those taking part will rediscover their love for cycling.
Owner of the Pedal Back Café Ria Moore, 34, said: "Anyone who cycles to work in London knows that sometimes you feel like you've already done a full day by the time you arrive.
"Mindfulness is about taking in your surroundings instead of the negative things in life and cycling is a great way to channel that.
"With our bike ride we want to help people handle the stress of cycling to work."
The group is set to meet at the café, found at Tooting's Broadway Market, at 10am before heading up the River Wandle.
Afterwards, participants will have the chance to return to the café for coffee, cake and a chat about the morning.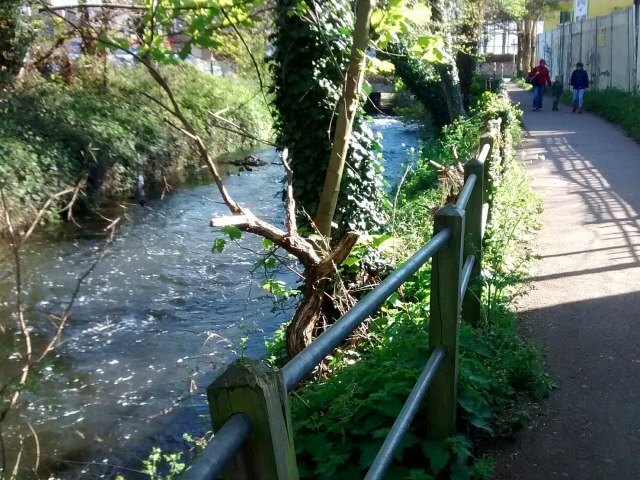 LAZY AFTERNOON: The route travels along the River Wandle
Mindful cycling has gained popularity in New York recently, but while bicycles and mindfulness are both used by lots of Londoners, no-one has put the two together in the UK until now.
That is, until cycling proficiency instructor and mindfulness guru Jawad Al-Nawab, founder of Pedal Back & Balance, contacted Ria and asked if Pedal Back Café would like to help kickstart London's mindful cycling scene.
Jawad will guide attendees through the principles of mindfulness and offer hints on how to chill out on a bicycle among the hustle and bustle of the city.
Ria said: "Cycling in London can be really daunting, so we want to raise people's confidence and help them to enjoy cycling again."
The ride is an opportunity for south west Londoners to try something new and explore the Tooting area.
If the event is a success, Ria and Jawad want to take the idea forward by making it a monthly meet, as well as getting younger people involved in the project.
Tickets are still available for Sunday's mindful cycle, but must be booked in advance. To get involved, visit the Pedal Back Café, give them a call on 020 8127 5420 or email [email protected]. Tickets cost £12.
Picture of the Wandle Trail courtesy of Drew Withington, with thanks