Plans by Sadiq Khan to review the Patrols Plus scheme as part of budget cuts have reignited division over the policy within south west London councils. 
Patrol Plus, commonly known as the 'buy one get one free' policy, allows the Met to fund a new officer for every one paid for by a local council.
However, London Mayor, Sadiq Khan said that the scheme was being reviewed as part of budget cuts for the upcoming year and wished to reassure that this would not lead to fewer police.
Hammersmith and Fulham, Kensington and Chelsea, Kingston, Lambeth, Sutton and Croydon all have officers paid for by the scheme which has allowed them to increase the number of police on the beat.
Council members from both Hammersmith and Fulham and Kensington argue axing the scheme would lead to fewer officers on the streets.
In Kensington and Chelsea, extra police officers are used to tackle gang-related crime and it is feared that scrapping the scheme could lead to a 20% reduction in police officers in the next financial year.
Elizabeth Campbell, leader of Kensington and Chelsea Council, said: "Crime is on the rise and council budgets are stretched. The Mayor must make policing and fighting crime on the streets the priority for 2019."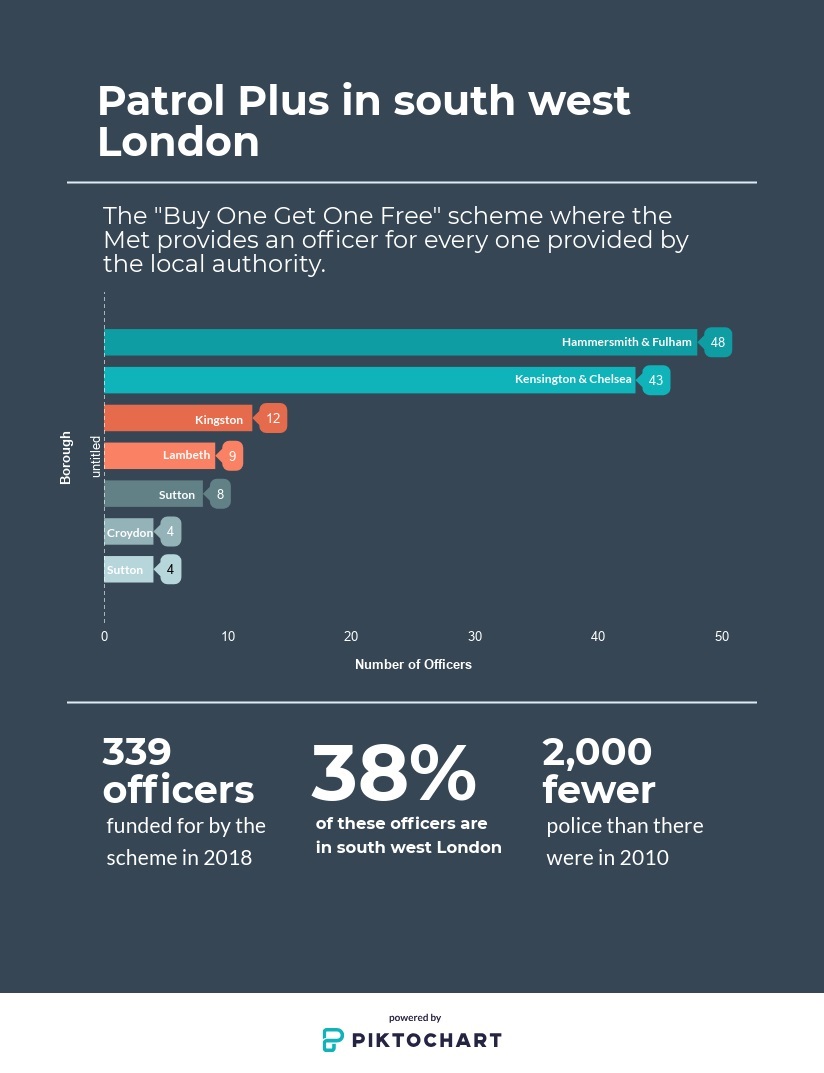 A Mayor of London spokesperson said: "The Met are reviewing the scheme to make sure that officers are used in the most effective way to fight violent crime – and any replacement scheme would help councils while also making sure officers can go to where they're most needed."
"The only reason there are fewer police on London's streets is the £1bn of government cuts to the Met. Sadiq is investing everything possible into our police – including funding a dedicated Violent Crime Taskforce of more than 270 officers – but City Hall simply cannot fill the huge gap left by government."
Crime in the capital has been growing with Met figures showing there were 827,225 offences in 2017-2018 whilst the number of officers has fallen by more than 2,000 since 2010.
Critics say that the Patrol Plus scheme lacks effectiveness as it is inflexible and can contradict Met objectives and place further strain on limited resources.
A Met spokesperson said: "The scheme has delivered benefits for both the Met and Local Authorities in terms of police visibility and overall officer numbers.
"However as our operational demands have grown and overall officer numbers have fallen, the scheme has become difficult to sustain because it is limited to delivering contracted objectives, and the officers are therefore unavailable to fulfil core roles targeting Met priorities, such as violent crime and safeguarding."
This is echoed by some local councils who participate in the scheme who say that the scheme does not allow them to make the best use of their resources.
Chief Superintendent Benatar, of the south west London Basic Command Unit (BCU), said: "While we are working hard as an organisation to reduce vacancies and recruit officers, I would not want to fill any additional funded posts by moving officers from core roles elsewhere on the BCU.
"This would limit my ability to use resources flexibly to manage the wide range of policing demand, which of course includes the policing of Kingston town centre.
"For these reasons I wouldn't support a plan by the council to fund additional police officer posts at this time, for Kingston town centre or elsewhere."
The additional police officers have also not helped Kingston's response rate as the officers are limited to one area leading Kingston Council to not renew the funding for the scheme this year.
Leader of Kingston Council Liz Green said: "We must make sure people feel safe in our borough, but using council money to pay for policing in one specific area is not the answer.
"We need sustained pressure on the government and the Mayor to pay for more police officers."