We're thrilled to reveal the latest edition of the South West Londoner paper – please click on our front page below to access the e-reader.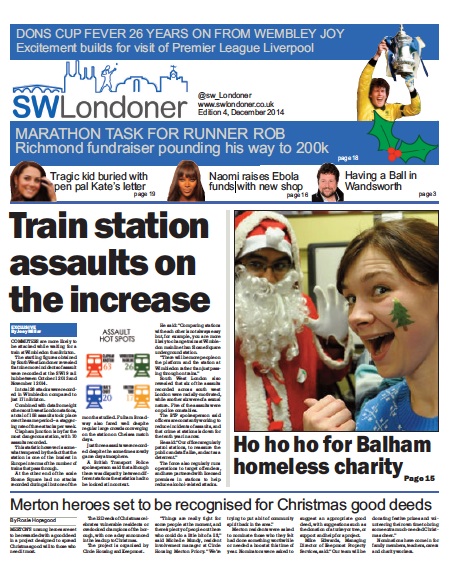 Crammed with all sorts of Christmassy goodies from a penguin named Elsa (after Disney's princess from smash hit Frozen), the Hammersmith & Fulham pensioners who won't be Lonely This Christmas thanks to a council initiative  through to the 30 people who donned Santa suits and beards for a Kingston charity bike ride.
However it's not all festive cheer as our exclusive reveals that commuters passing through Wimbledon station are more likely to be assaulted there than in Brixton.
SWL also interviewed a North Korean defector who revealed his harrowing experiences in the notoriously secretive country before establishing a fresh start in New Malden.
In this edition we also spoke to the family of Kate Middleton's 12-year-old pen pal who tragically lost his cancer battle last month, Richmond's very own Marathon Man who is running 367 marathons in 365 days and the seven-year-old girl who begged her mum to save a Knightsbridge fire station.
In sport, chief executive Erik Samuelson believes AFC Wimbledon's FA Cup third round home tie against Liverpool will be greatest day in the club's short history.
Rosslyn Park's director of rugby Shaun Justice looks ahead to this weekend's crunch top-of-the-table clash with Ealing Trailfinders, while boxer Rakeem Noble targets his first British title.
We hope you enjoy reading it.