The founder of a charity which runs yoga classes for refugees and asylum seekers is calling for specialist yoga to be more widely available following new research showing the benefits it can have on mental health.
Ourmala CEO Emily Brett, 40, trained as a yoga teacher in order to be able to offer classes to refugees and asylum seekers who wouldn't otherwise be able to afford them.
Many of the people the charity works with have fled war-torn countries, experienced torture, human trafficking, or gender-based violence, with the result that many suffer from depression, anxiety, and suicidal thoughts.
Research was conducted for Ourmala in 2017 by Dr. Bernard Colaço, Senior NHS Consultant Rheumatologist at Central Middlesex Hospital. It showed 90% of participants reported a reduction in at least one of their mental health issues as well as an increase in their confidence levels and a reduction in isolation.
A separate report released in August showed that 93% of 44 clients reported a reduction in stress, depression, anxiety or nervousness.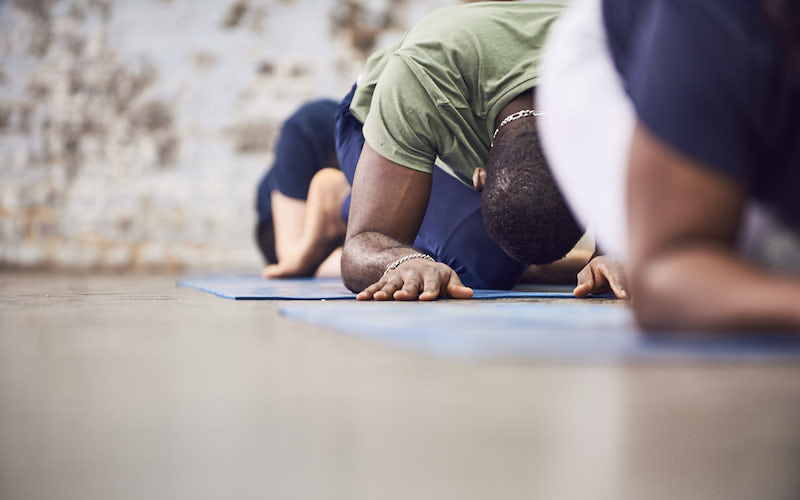 RELAXED: yoga classes are tailored to meet the needs of the participants. Photograph by Peter Schiazza
Ms Brett said: "It's really positive data for your average person on the street but then you consider the starting point for these people.
"Many of them might not actually know anybody in the whole of London. They might not have anyone who is a genuine friend, they might not know if their family or loved ones are alive or not, in their country of origin.
The fact that we've got such high results shows how effective the programme is."
Geraldine Ogbuehi, 38, has been attending Ourmala's yoga classes since last year when she went with a friend. Although at first she was reluctant to join in, now she takes many positive things from her weekly yoga class.
Miss Ogbuehi said: "Yoga helps your mental wellbeing. When you finish you feel relaxed, all your worries are no longer there.
"I feel peace and serenity after class, and all negativity disappears."
She added: "It gives me the strength to go on with my daily activities and helps my mental stability. I have strength."
Ourmala started as a single class run at the Hackney City Farm, and now offers ten weekly 'trauma-informed' yoga classes to women across London and one in Edinburgh.
Ms Brett, who also sits on the board of the Yoga in Healthcare Alliance, said: "Refugees and asylum seekers are so underserved, so underrepresented and so marginalised yet they're so brave and we can learn so much from them.
"So if something is effective on their mental health, then surely it should be rolled out on a much wider basis."
She added: "We would like very much to see funding given to trauma-informed yoga so that it could be rolled out and made accessible to everyone who is seeking asylum in the UK."
Feature image shows Emily Brett leading a yoga class. Photograph by Carl Bigmore