An exhibition celebrating UK grime was unveiled this week in a Brixton courtyard following an explosion in the musical genre's album sales.
The exhibition, part of a series called In Pursuit of the Shot, opened on Wednesday and documents the trials and tribulations of grime artists in London as captured by Reuters photojournalist Paul Hackett.
Mr Hackett's work has been incorporated in to the architecture of the building and is displayed under railway arches and shipping containers.
Live performances from Slew Dem Crew and Lady Shocker played to crowds at the opening.
Kraze, from Slew Dem Crew, said of grime: "It's becoming an everyday genre now. Before it was a bit taboo but now a lot of people have started to gravitate towards it.
"It's going out to a whole different demographic. It's what it's about for music to transcend beyond people, beyond race and spread to the masses. It's giving people awareness of what's going on."
The sharp rise in grime album sales of 93% is set against an 8% fall in all other genres, according to the Official Charts Company.
Where this rise is most predominant is in East and South London where grime's origins are firmly rooted.
Concocted out of the eclectic cultures from East London's tower blocks in the early noughties, grime fuses an unique blend of Jamaican sounds, electronic beats and a cascade of rhymes.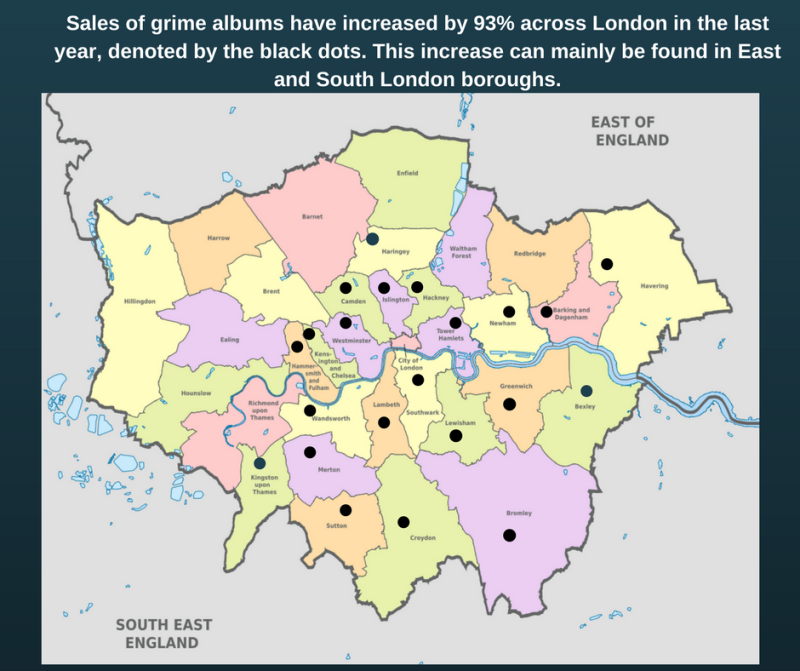 Many argue that grime artists are social commentators reporting on their realities in a wider political movement.
Some say that many lessons can be learnt from this music and it starts by listening to the stories of those trapped in an imbalanced class system.
Kraze said: "People are starting to warm to it now, they are starting to understand it.
"It means change. Change for the better."
The exhibition is located in Pop Brixton on Brixton Station Road and runs until Sunday the 16th July.