To mark International Women's Day, two Labour shadow cabinet ministers visited Tooting Market to discuss the challenges faced by women and female-led businesses.
Tooting MP and Shadow Cabinet Minister for Mental Health Dr Rosena Allin-Khan was joined by Shadow Women and Equalities Secretary Anneliese Dodds for the visit on Tuesday 8 March.
The MPs met the female business owners of BYO zero-waste food shop and vintage furniture store My Old Girl and Me.
Allin-Khan launched a Safe Space scheme in her constituency last autumn, where businesses can sign up to get a sticker letting residents know they can seek help there if they feel unsafe on the street.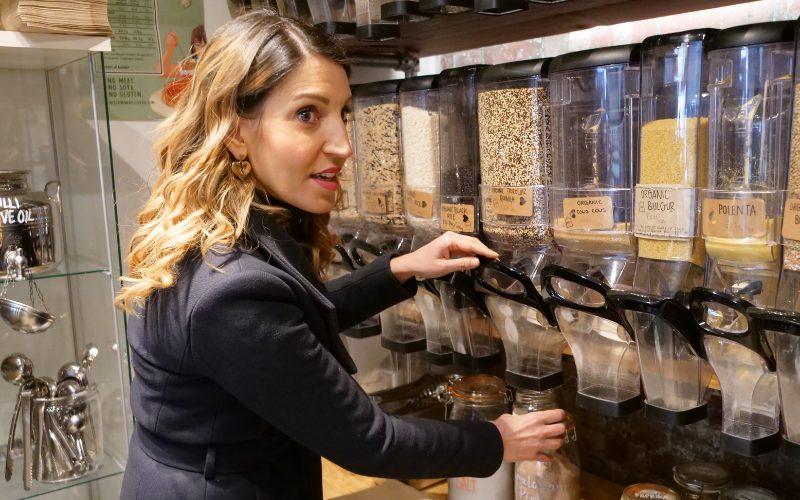 Allin-Khan said: "On International Women's Day, my heroine is every woman today who has got up and shown up for their business, their family, their friends, and had the courage to keep going when times are really tough.
"The horrible murder of Sarah Everard caused more people to speak out about women's safety.
"With Safe Space, there is the practical element where people can charge their phone and get some help, but also a sign to let them know they're not alone in the community."
A YouGov poll last year found 47% of women said their trust in the police has decreased after Everard's murder by police officer Wayne Couzens.
Alongside her duties as an MP, Allin-Khan works shifts as an NHS doctor at St George's hospital in Tooting and has spoken in Parliament about the state of UK healthcare throughout the Covid-19 pandemic. 
She added: "Health inequalities are rife. There are huge difficulties for women and in particular black women to access services they need. That has to change.
"Labour are calling for every community to have a mental health hub that is staffed by those who understand local people and their needs."
Dodds agreed the pandemic has hit women particularly hard, but said many businesses have started to offer more flexible working environments that may improve opportunities for women.
She said: "Businesses have gone ahead and taken action themselves.
"They've not waited for the government to catch up because the government has been very slow on this.
"I'm proud of my colleague Rosena Allin-Khan and the example she's shown working as a doctor in the local hospital here and bringing that experience into Parliament.
"That mix of careers and responsibilities is what women do all the time and we have to celebrate it today."
You can find out more about the Safe Space scheme in Balham, Earlsfield, Furzedown and Tooting here.
Featured image credit: The Labour Party