Putney High Street became the capital's first green bus zone in new efforts to tackle deadly air pollution yesterday.
The bustling main road, that broke legal hourly limits of nitrogen dioxide 1,248 times in 2016, will now only allow buses to travel from Putney station to Putney Bridge Road if they meet the toughest emissions standards.
Mayor of London Sadiq Khan said: "I have asked TfL to remove the oldest, dirtiest buses from our streets and this new route, along with the 11 others we'll be introducing, will make a big difference to the pollution caused by our public transport system."
The new limits are expected to lower toxic bus fumes by 80% and contribute towards efforts to phase out diesel-only buses.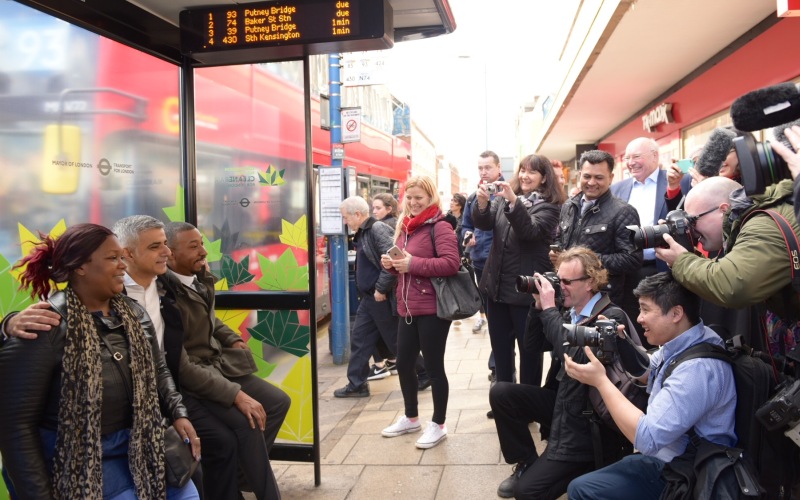 DRAWING A CROWD: Sadiq Khan launching the new buses in Putney High Street 
Chair of Putney Business Improvement District Gary Dyas said: "It is a priority for Putney businesses to continue to lobby to ensure that the air quality on the High Street is improved."
The Mayoral office claims the scheme will benefit thousands of school children as 172 schools will be within 100m of the green zones.
Putney High School headmistress Suzie Longstaff said: "I think it's a great idea, anything we can do to protect the health of our pupils and other Londoners is a good thing.
"Why can we not have all buses in London as green buses?"
A total of 145 buses will be introduced across seven of the highest NO2 level routes in London by 2020.
The next clean zone will cover the Brixton to Streatham bus link this October.
Group coordinator of Friends of the Earth Wandsworth Terence Brown said: "Provisions to reduce pollution from traffic need to be extended to commercial vehicles and at very least diesel cars which also badly affect the quality of our air.
"If the first steps in this direction are taken by TfL, then there is always a hope that other measures will follow."
Wandsworth borough has one of the highest levels of illegal pollution in London according to a report by the Mayor last week.
Wandsworth Society chairman David Kirk said: "We shall be following this experiment with sympathetic interest."