If you were told today that you had limited time left to live, how would you spend your precious remaining days and hours? 
That was the question Kingston mum Clare Sumpner, 45, had to face when she received a terminal diagnosis for her breast cancer last year.
While yours or my first thought may be to leave our jobs, to travel where we hadn't been but always wanted to go, to be selfish in ways we could never be before, her response was anything but selfish.
Clare, a former researcher at the BBC and BLINC Media Intelligence director, set up Around the World with 10,000 Oranges, a crowdfunding campaign to raise money for refugees living in camps all around Europe.
For one week a month – the monthly break from her chemotherapy – she and her family are found travelling around refugee camps handing out oranges to people who have lost their homes and are forced to live in makeshift tents often plagued by rats, contaminated water and disease.
Clare said: "It gives me a reason to get out of bed in the morning.
"I've had two brain surgeries, a mastectomy, an oophorectomy and my prognosis is very poor but we are still going around the world with our oranges and there are many more places in the world on my bucket list to see.
"So this is what is keeping me going."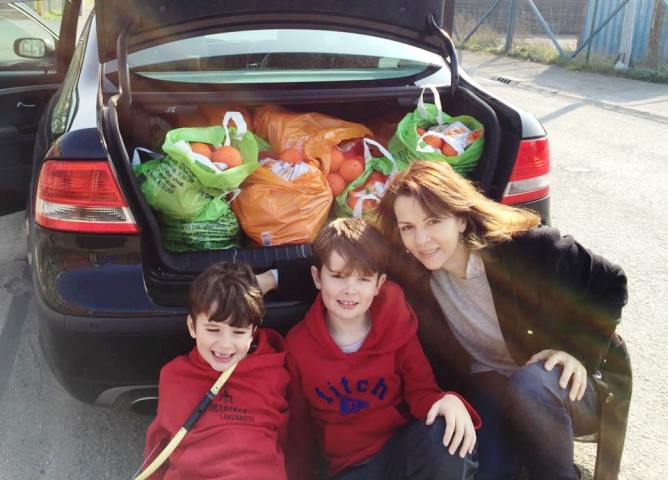 FAMILY AFFAIR: Clare makes the trips an adventure for her young sons
She first noticed a lump in her breast while pregnant with eldest son Eddie in 2007 and after years of on-off treatment it emerged in 2015 that the cancer had spread to her brain, lung, liver and bones.
It was when it spread to Clare's brain – a tumour the size of a small orange – that the similarity between her and the people living in the camps struck her.
She said: "I was thirsty all the time so was drinking lots of water and was told by the doctor to drink citrus drinks so I starting eating oranges.
"I saw pictures of the refugees and there was a parallel. They looked malnourished and I thought oranges could help them too."
Clare, who now eats half a dozen oranges a day, launched the fundraiser online on March 8. The project soon went viral, prompting a second campaign.
Together they have raised £9,000 so far helping to distribute thousands of oranges to hungry mouths and their aim is to distribute 10,000.
She said: "When I first put the campaign up I thought my friends and family might donate a bit but I didn't think much more of it. Half the donations so far are from people I just don't know!
"I think people donated because they thought it was a genuine cause, something that was worth supporting."
The whole brood is involved in Around the World with 10,000 Oranges, Liverpool-born Clare travels with her husband Peter Allinson, 43, acting as driver and videographer, and their two sons, Eddie, 8 and Charlie, 6.
A typical day of orange giving sees the Sumpner-Allinson family visit a local market, fill up a trolley to the brim with oranges and deliver them to different camps.
The family have travelled to Calais, Belgrade, Rome and Kos among other camps so far.
Clare said: "When we told the vendor in Massari in Rhodes the quantity we wanted they behaved as if they'd won the lottery!
"I think one of the best moments so far has been at the Krnjaca Camp in Serbia though. It was amazing, as soon as we opened our bags of oranges children came running up to us from nowhere!
"In the end they pulled the bag out of my hands. They were so grateful."
The campaign is bittersweet, giving Clare the chance to help those in need while spending valuable limited time with her family.
She said: "I want my two little boys to remember this thing we did as a family. It's like an adventure.
"It's a double-pronged thing really. It's good to be able to help the refugees but then it's a good thing for the kids as well. In time they will remember this as something special, something memorable.
"They get very excited about it, Charlie was saying the other day 'mum what if they don't like oranges? Maybe we should get them some apples or bananas? They say 'oh mum not more oranges!'"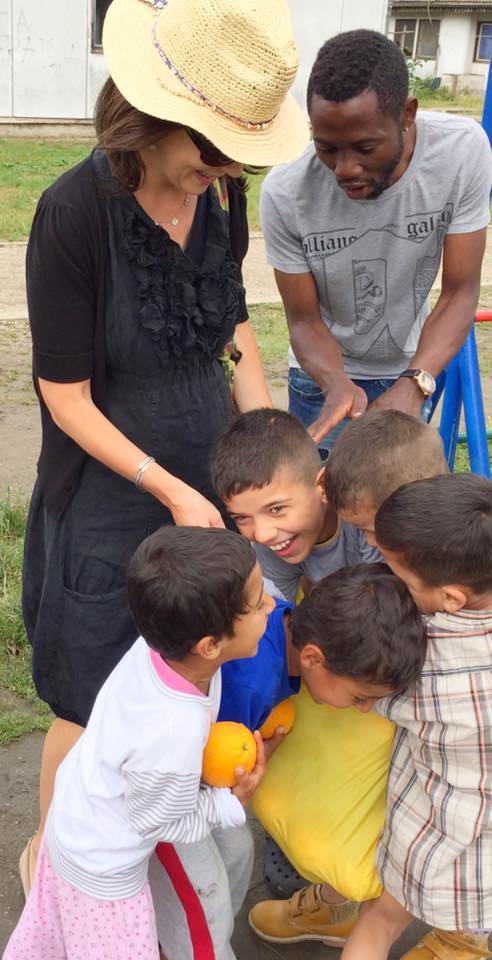 SPREADING SUNSHINE: 'This is something special'
Clare is adamant that this be a happy story, her determination and characteristic energy have earned her endless admiration from her family and friends.
Husband Peter, who she married in January after first meeting 20 years ago, said: "Whenever Clare has a break in her treatment and there's a window to go and deliver her oranges to someone that needs them most, she takes it. I'm so proud of her.
"I can't begin to say how much she's loved by her small but close family; and what a great example she's setting to our children by showing them the magnificence – and necessity – of helping others when they need it most."
In the meantime Clare's focus is on her family, friends and the project. Going through life one orange at a time.
She said: "When you're young you focus on your career and put your head down and try to get ahead. Now I don't care about that stuff at all. I'm focusing on the project."
See Around the World with 10,000 Oranges at https://crowdfunding.justgiving.com/clare-sumpner