Activists gathered in Westminster earlier this month to protest Home Secretary Suella Braverman's comments about asylum seekers, with hundreds turning out in support.
The groups affected, along with their allies, attended the peaceful protest in Parliament Square on October 1st, organised by Pride in London, in collaboration with African Rainbow Family.
Protesters arrived with banners and placards, joining angry chants of "refugee rights are human rights" and shouting passionate cheers of agreement with the speakers addressing the crowd at the front.
The protest comes in light of Braverman's comments made at an event in Washington DC on September 26, where she argued that fearing discrimination or persecution based on gender or sexual orientation should not qualify asylum seekers for international refugee protection.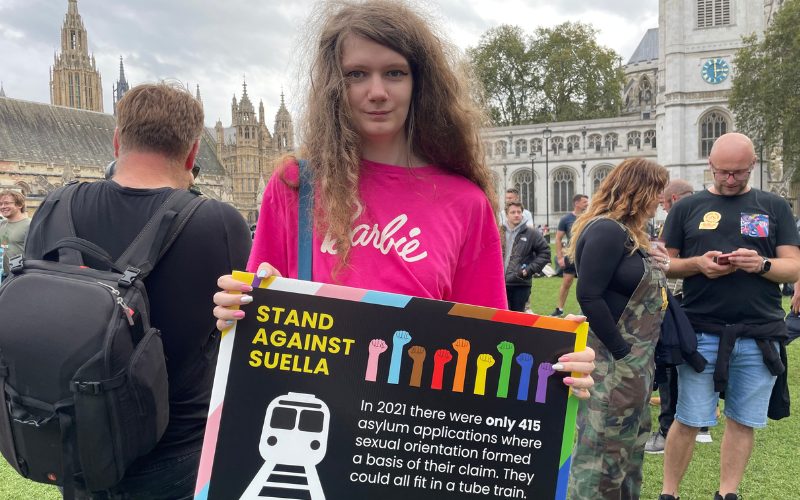 Student Samantha Coupe, 22, attended the protest and said: "Suella's policy will kill a lot of LGBT people.
"It will kill them and the Tories do not care at all. Simple."
Medical student and activist, Aryam Marafi, 22, is a refugee from Kuwait and was also outraged by the Home Secretary's claims.
She said: "If you don't think being a woman or being gay is enough to qualify for refugee protection, then perhaps you should try living in countries with laws that allow violence against women and gay people."
Marafi also called on the United Kingdom to consider its history of colonialism within the debate.
"Since Britain is responsible for exporting anti-homosexuality laws across the world, it has a unique responsibility to welcome queer refugees in this country," she added.
Braverman has always promised a hard line on those seeking asylum in the UK, consistently citing her "dream" and "obsession" with sending asylum seekers to Rwanda, from the moment she began her first stint as Home Secretary in September 2022. 
In October 2022, just six days after being reappointed by newly-elected Prime Minister Rishi Sunak, Braverman faced backlash for claiming southern England was facing an "invasion" of illegal migrants.
A charity supporting LGBT+ people seeking asylum and refugees of African and wider BAME heritage, African Rainbow Family (ARF), co-organised the event in collaboration with Pride in London.
Refugee Advocacy lead at ARF, Adeniyi Balogun, spoke at the protest and works with LGBT+ asylum seekers throughout their journey.
Adeniyi said he felt personally attacked by Braverman's statement, and said: "it is a direct confrontation to the LGBTQ+ community and a direct attack on the people we support."
He also spoke about the distress her comments caused LGBTQ+ asylum seekers, saying: "we've had to increase our referrals to counsellors and the mental health of most of our service users has deteriorated largely."
Reflecting on the mood of the protest, Adeniyi said there was real solidarity amongst those attending, and that everyone was united against what the Home Secretary had said.
He added: "There was one voice, and the voice was that gay rights are human rights."
Balogun also felt strongly about the UN Convention on Human rights, and felt Braverman was undermining the work which had gone into it.
He said: "What Suella has done is try to take the UK away from being a very prominent part of the UN Refugee Convention and undermine the effort of the founding fathers [of the Convention]."
The Home Office declined to comment.
Featured image credit: Poppy Lindsey