A Kingston University art graduate who is dotty about dalmations salvaged an array of Disney merchandise to create a monochrome mountain for her final year project.
Sophie Filipiuk, 22, unearthed the canine cache based on children's novel and film 101 Dalmations at car boot sales, fetes and charity shops in London and her native Warwickshire.
Sophie, from Leamington Spa, explained that the project Dal-Nation had given her an intriguing opportunity to delve into the world of fanatical collectors and observe the pride they took in their hoard.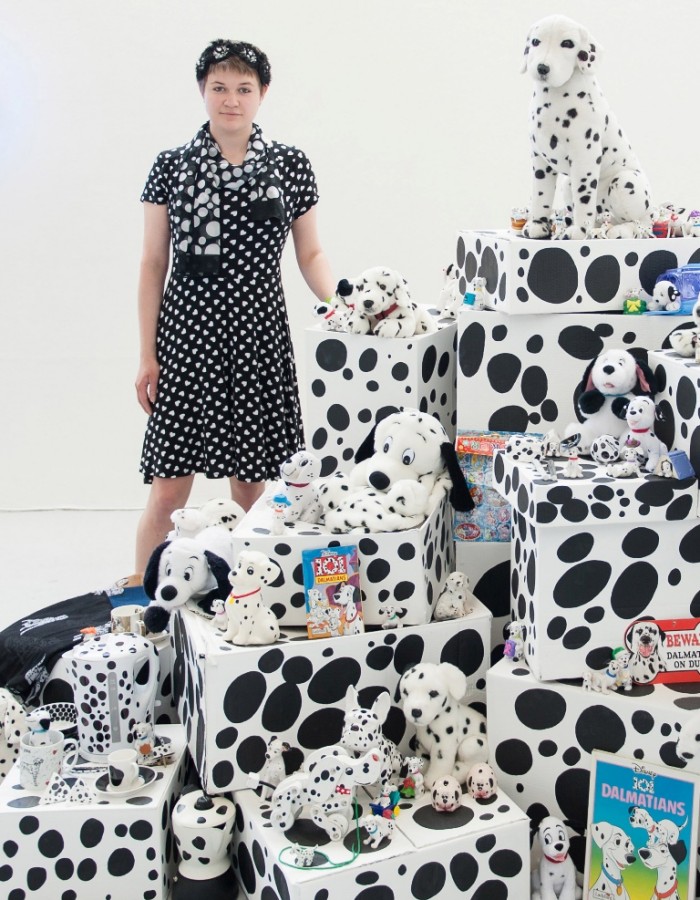 SPOT ON! Sophie poses with her dalmation-themed final art project

She said:  "Hoarders are often portrayed as overly compulsive people who have to tunnel through their junk, but I believe there's actually a fine line between collecting and hoarding.
"One man's trash is almost always another man's treasure – my goal was to encourage people to view these often wonderful collections as something other than a slightly outlandish sideshow."
Sophie revealed that her magpie tendencies are inherited from her parents who collect stamps.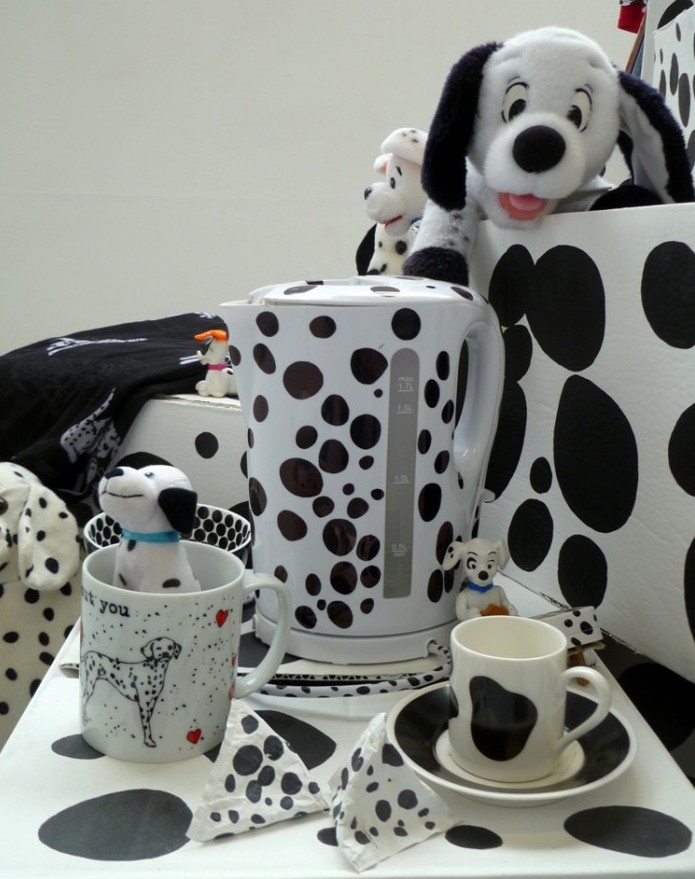 SPOT OF TEA? Sophie decorated a kettle and teabags to form part of the installation

"I'm from a big time collecting family I have spent my life growing up on car boots or summer fetes spending time collecting bits and pieces," she said. "My parents are extreme stamp collectors – they've got a whole room full of them!"
Sophie explained that she was inspired by other artists who had placed dogs at the centre of their creations, including Flora Caulton's etching DOG and Cornelia Parker's work of an entire black and white room of art shown at RA Summer Exhibition 2014.
David Remfry's Dog Dreams at RA Summer Exhibition 2015,  a piece featuring an etched dalmatian, also proved an inspiration for the project.
"This proves the public really does like a good black and white dog themed artwork!" she laughed.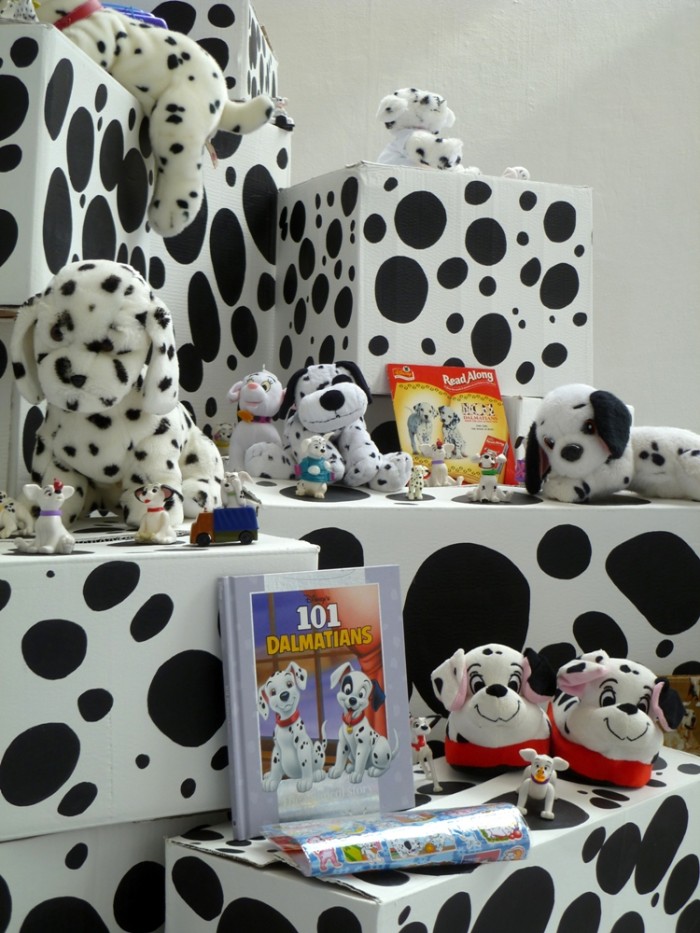 DOTTY ABOUT DALMATIONS: Just some of the goods on display in Dal-Nation

The installation features 201 pieces of toys, books, kitchen equipment and other home accessories featuring the print on top of huge spotty cardboard boxes.
"My favourite pieces are a bit depressing – they don't look anything like dalmations and are wearing crazy outfits!"
Sophie is adamant that hoarders shouldn't be pigeon-holed by society just because the size of their homes might hinder how their collections can be displayed.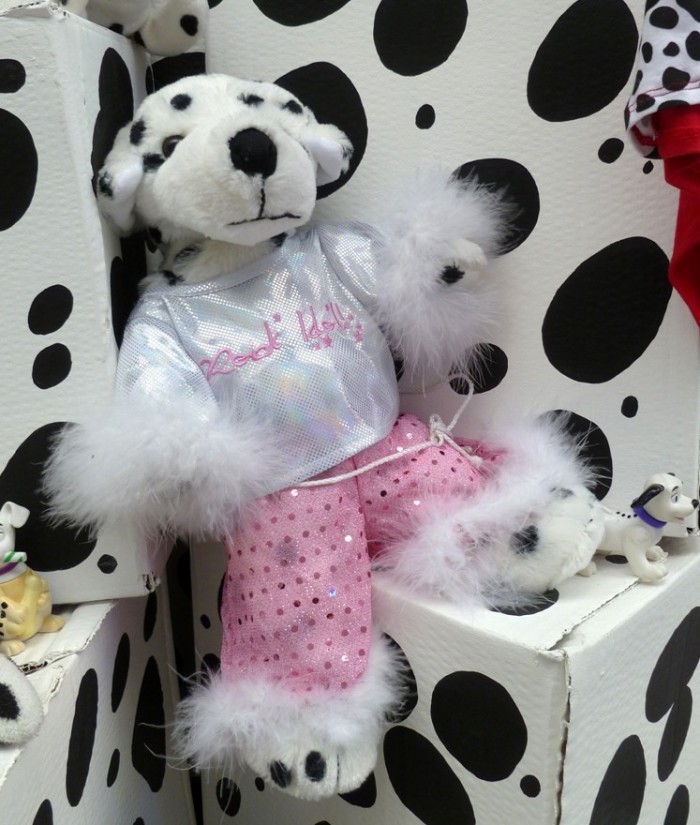 PINK TO MAKE THE POOCHES WINK: This dog sports sequins and marabou feathers
She said: "I wanted Dal-Nation to glorify and celebrate the process of accumulating and displaying massive collections.
"My goal was to encourage people to view these often wonderful collections as something other than a slightly outlandish sideshow."
To see more of Sophie's work visit www.sophiefilipiuk.com