Cosmetic surgery rose by 102% from 2021 to 2022, the highest annual increase recorded in the UK in 18 years.
An audit performed by the British Association of Aesthetic Plastic Surgeons (BAAPS) confirmed that this is the first recorded triple digit rise, and numbers have well exceeded pre-pandemic levels.
In 2021, 15,405 cosmetic surgeries were performed, compared to 31,057 in 2022, which begs the question: what explains this considerable surge?
The stalling of surgery during the pandemic would seem a logical theory, but the reality is more complex.
Marc Pacifico, President of BAAPS, said: "The post pandemic bounce is quite interesting. In my practice and speaking to my colleagues, it wasn't that we had a clogged up waiting list that needed to be addressed after the pandemic, it was predominantly brand-new patients."
Pacifico speculated that restrictions during covid allowed people to save up, suggesting greater financial means correlated with a rise in surgery numbers.
He said: "Some of those people who might have been considering plastic surgery then had the funds they weren't spending on travel, commuting and socialising, and could use them on themselves."
Social Media
Sociological research often cites the rise of social media as a motivating factor in people going under the knife in pursuit of perfection.
However, Pacifico believes that social media has proliferated greater understanding of the subtleties of cosmetic procedures.
He said: "Prospective patients are much more informed than they've ever been through the internet and social media, and there's more of an understanding and acceptance about some of the nuances that maybe, beforehand, were harder to explain."
TikTok and Instagram Reels have played a pivotal role in opening up discussions and explanations on cosmetic surgery.
Surgeons can use these platforms to widen their exposure and share information on the intricacies of different procedures, as well as speculate about what surgeries celebrities have undergone.
Pacifico added: "What we're finding is a much more savvy, well-researched potential patient who appreciates some of the nuances now because they're being discussed on social media a lot more.
"Therefore, in our consultations, we're able to go into more depth and there's more of an immediate recognition of the nuanced aspects."
Former BAAPS President Rajiv Grover compiled the annual audit of figures, and his accompanying statement concurs with Pacifico's theory.
Grover said: "During the pandemic, social media became a powerful tool to connect and inform the public.
"Knowledge of plastic surgery has traditionally been through word of mouth, but this has now risen exponentially through digital word of mouth via Instagram.
"People are now seeing first-hand the transformational effects of cosmetic surgery on both physical and psychological well-being through the testimonies of real people."
So social media has added clarity, which can increase patient confidence, and may offer a potential explanation for the rising figures.
Kaeleen's Story
Kaeleen Stammers, 25, had breast reduction surgery in June 2022, after suffering constant back, shoulder and neck pain for eight years.
She said: "One day it dawned on me that I would have to live like this for the entirety of my life – that was not an option.
"I became so frustrated with the size and weight of my breasts as I couldn't do any movement without being in agony– I thought it's either I get them surgically removed or I'll do it myself.
"When that thought crossed my mind, I realised my mental health was deteriorating if I was considering hurting myself: that was the day I decided something had to be done and by fire or force, I was going to get the help that I needed."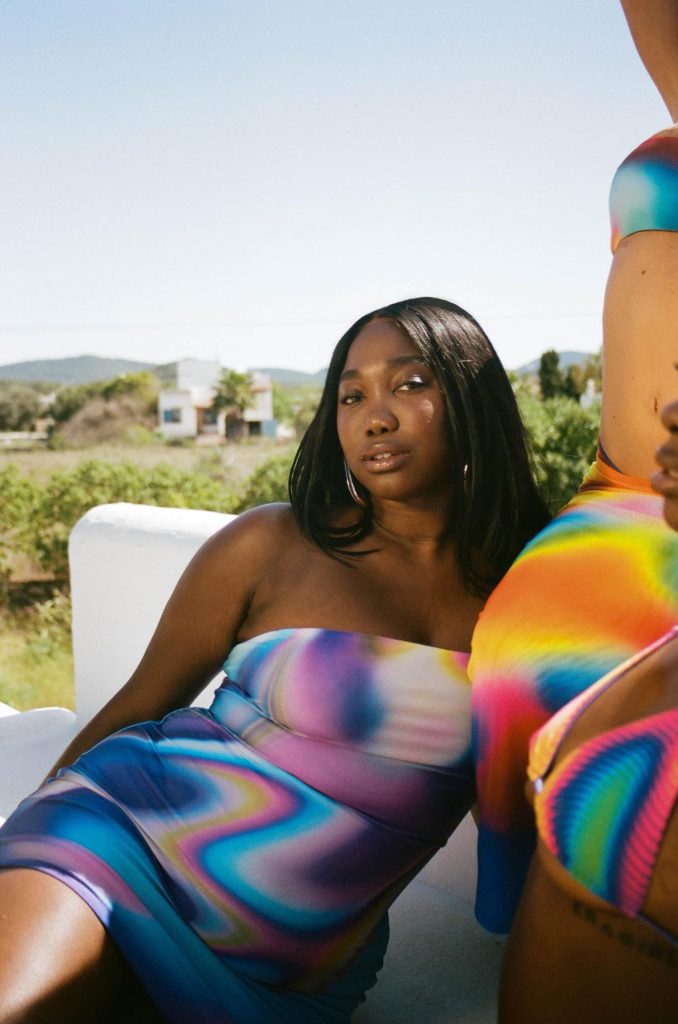 Kaeleen, who had her reduction during the year of surgical boom, explained the role social media played in informing her decision.
She said: "Social media aided my decision massively.
"I made a point to be a part of the UK Breast Reduction Group, where women share their thoughts, feelings, opinions, and the realities of the surgery and life afterwards.
"There was an overwhelming number of middle-aged women saying they waited too long, and their best years were behind them, but now still enjoy every minute of their newfound freedom."
Given the financial cost of cosmetic surgery, Kaeleen had applied through her GP to have a breast reduction on the NHS.
She was rejected due to her BMI, which she believes to be impacted by her breasts, leaving her feeling helpless about her options.
Yet it was the information shared on social media that convinced her to go down a private route.
She said: "I think it was my saving grace, as the results of NHS breast reductions I witnessed on Facebook groups were appalling in comparison to privately funded operations.
"This pushed me to book my surgery with urgency."
Stories like Kaeleen's lend themselves to Pacifico's argument that the accessibility of information online has correlated with a surge in prospective patients taking the leap to go under the knife.
But when dissecting the rises in specific surgeries, another interesting factor emerges.
The Zoom Effect
The surgery that saw the largest upsurge in the UK in 2022 was a brow lift, rising by 163% in 2022, with 400 surgeries performed compared to 154 in 2021.
Pacifico believes the reliance on video communication platforms during covid may account for the soaring popularity of this procedure.
He said: "People have coined the term 'the Zoom face', and I think – without a doubt – the fact many people were starting to look at themselves, often looking down in the least flattering position, made them much more self-aware and critical of their appearance.
"Several patients have described that when they're on a Zoom call, they will put their head in their hands to pull their skin up, so it's not looking droopy.
"A lot of people became self-conscious about their facial ageing in a way they weren't so aware of beforehand, because they had never spent that much time with their video image on the screen."
Pacifico explained that a rise in brow lifts could also be due to increased understanding, as some patients weren't aware that this was the area they wanted to address.
He said: "Many people will come asking about an upper eyelid lift, which is a very popular and common procedure.
"But what many people are unaware of is the fact that their brow contributes significantly in some cases to the appearance of their upper lid."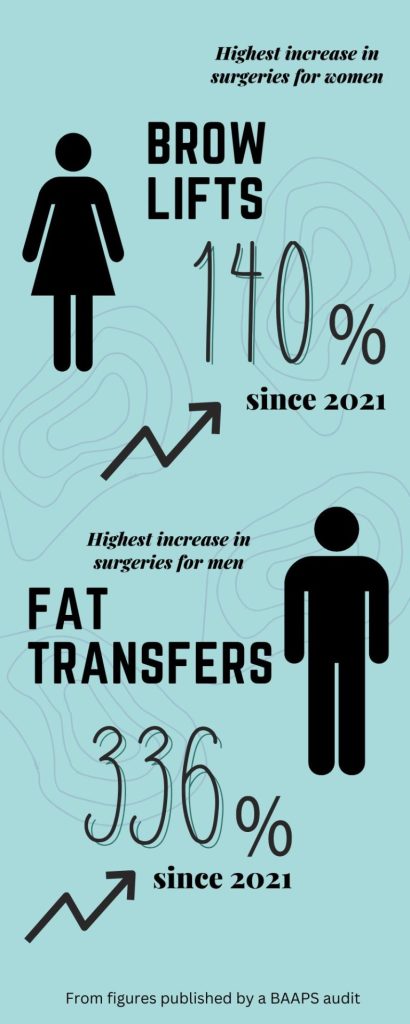 Cosmetic Tourism
While cosmetic procedures in the UK had a stratospheric rise in 2022, so did the number of botched procedures from cosmetic tourism, where patients travel abroad in search of cheaper options.
A BAAPS audit published in 2022 stated that 324 patients required corrective surgery after returning to the UK in the past four years.
The annual number rose by 44% in 2021 compared to the previous year, a period when people were being advised against elective surgery and unnecessary travel.
Pacifico said: "It's a real issue: the sad reality of surgery is that any surgeon anywhere in the world can have a complication with a patient.
"Surgery, by definition, is not risk free. But it's so much more than the risk of the surgery itself, it's also making sure the patient is appropriate for surgery and making sure aftercare and follow up and accessibility is as it should be."
Pacifico explained that one of the big risks with cosmetic tourism is where those two ends either side of the surgery are not adequately catered for.
He added: "Either someone may not be the best candidate for surgery, or it may not be followed up the way we would deem appropriate, and that's where a lot of people can run into trouble."
The rise of complications associated with cosmetic tourism give weight to the crucial need to research surgeons and the facility they're going to be operating in, which can be even more difficult when going abroad.
Pacifico advised that surgeries should be members of their national societies, and in the UK, surgeons should have the qualification FRCS Plast after their name.
BAAPS is the aesthetic society in the UK, and there will be an equivalent society that members should be a part of in other countries.
Crucially, the facility where the procedure is conducted in the UK should be registered and regulated by the Care Quality Commission.
Final Thoughts
As Pacifico highlighted, all surgery comes with risk, and the proliferation of information on social media should not be taken as a confirmation that surgery is necessary or a result of acting on impulse.
However, for patients who had been considering surgery for a while, it seems 2022 provided a combination of factors that made surgery more attractive and accessible.
And for some patients, cosmetic surgery can be transformational to both their physical and mental health.
Kaeleen said: "The surgery has transformed my life for the better – more than I ever believed it could.
"As a model, I now get cast for 80% more jobs than I did before.
"I signed up for yoga and pilates when my scars were healed enough which I have been doing regularly and I have successfully strengthened my body to a point I know I can begin to pursue my love for netball and other sports again after eight years, without injuring myself – this is something I didn't believe was possible."
If you are considering cosmetic surgery, make sure to follow the guidance above during your research, and visit BAAPS' website for more information.
Cosmetic surgery can be attractive to people in a vulnerable position with their mental health or body image, so make sure to discuss your plans with a friend or loved one or reach out to Samaritans (116 123) or Beat (0808 801 0677) for support.
Kaeleen's interview and case study was faciliated by BAAPS.
Featured image credit: Piron Guillaume on Unsplash