Nine disability school projects got the chance to play at the Oval for Surrey CCC's Disability Cricket Championship last week.
The event on Friday, February 2 saw the teams take part in seven-a-side Kwik Cricket games to determine, along with winners from tournaments in Kent, Middlesex and Essex, the attendees for finals day at Lord's in October.
Surrey CCC Participation Officer Gavin Reynolds was delighted with the turnout, representing a significant growth in disability cricket over the past few years.
He said: "We started this four years ago, every year since it's increased so that we can now run three more of them.
"The cricket is great, but it's more how we can develop them as a person once they go back into everyday life. Ultimately when you leave school and go to college, that's where life really begins, you're out of your comfort zone.
"Hopefully it'll inspire another batch of kids to come through and start playing more cricket."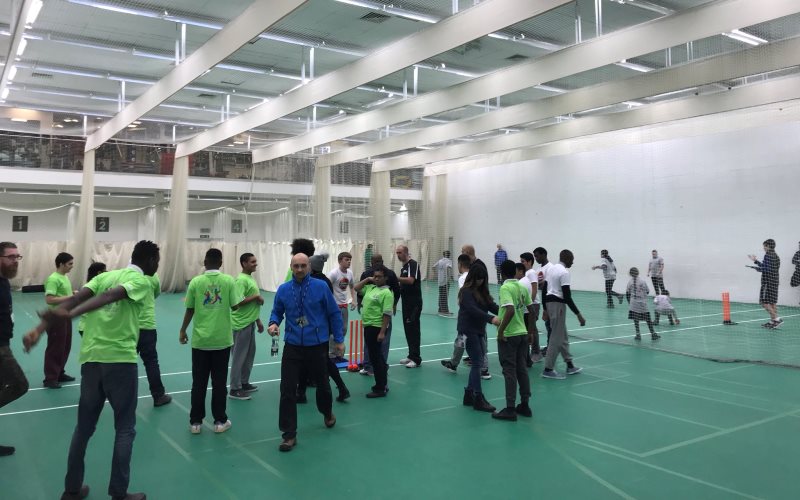 Determining the teams to advance to finals day still hinges on the outcomes of the other counties' tournaments, although Carew Academy and St. Philip's, of Sutton and Kingston respectively, put themselves in pole position by finishing in the top two spots.
The tournament's lasting message however was not about mere winners and losers.
For many involved in disability sport, success is measured on alternative parameters, and achieved through the mere fact of getting there in the first place.
Teachers from the Link in Croydon said: "A lot of the work we do is on social interaction – even travelling up here and the protocol of doing something in a team, it's a really good experience.
"Coming to mix with other people, going to unfamiliar places, experiencing things that they might not be exposed to at the weekend or on holiday, that has a real impact."
Echoing these statements, Richard Brown, from Cricket Green School in Mitcham, saw the day as the perfect opportunity for his pupils to get involved in a game that teaches them so much more than how to bat and bowl.
Mr Brown said: "The hope is that one or two of them at least will think 'oh I really love this' and go out and play on a weekend or join a club.
"Cricket is not something that the kids talk about all day every day, but them actually coming and accessing it, it gets them talking about it.
"It teaches you general etiquette, manners, rules, patience, all sorts of skills that are transferrable into life."
Surrey were supported in the event's organisation by Lord's Taverners, the UK's most prominent youth cricket and disability sports charity.
Lord's Taverners' Head of Cricket Programmes Henry Hazelwood hoped the day would bring challenges not just for the participants, but also the way we view disabilities as a society.
He said: "We're giving these guys a chance to meet new groups, get out of their normal environment and do stuff they wouldn't normally be able to do.
"This programme's not about cricketing outcomes at all, it's about personal development – we're trying to give these guys new skills that will help them later in their adult life.
"With disabilities in sport, it's about challenging the perceptions – it's not what you can't do, it's what you can do."
Featured image courtesy of Gavin Reynolds Surrey CCC Foundation, with thanks