Lecturers at Lambeth College have walked out today, threatening indefinite strikes, in a row over new staffing contracts.
The strike was organised by the University and College Union (UCU) and centres around new contracts for the staff introduced by the college, which the union claim they were not consulted on.
The UCU said although it welcomes the recent decision by the college not to impose new contracts on staff employed before April 2014.
They are unhappy with the two-tier contract system and want the new contract removed or a new one drawn up.
UCU regional official, Una O'Brien, said: "The situation at Lambeth College is now very clear and the management cannot be in any doubt at how angry staff are about the new contracts."
"The college needs to sit down with us to talk through changes to staff contracts and work towards finding a solution staff are happy with."
Further to today's strikes, the union plans five more strike days this month and say if the new contracts are not revised they will walk out indefinitely from January 19.
English and Maths Lecturer, Grace Owolade-Coombes, said the problem lies with the increasing markestisation of education.
"Everything is about business and we've found that our working conditions have got worse and we're really stressed already," she said.
"To work more hours and have less holiday is not something that any of us feel like we can work with without our delivery being affected. It's not just about contracts, its about what we're providing students as well."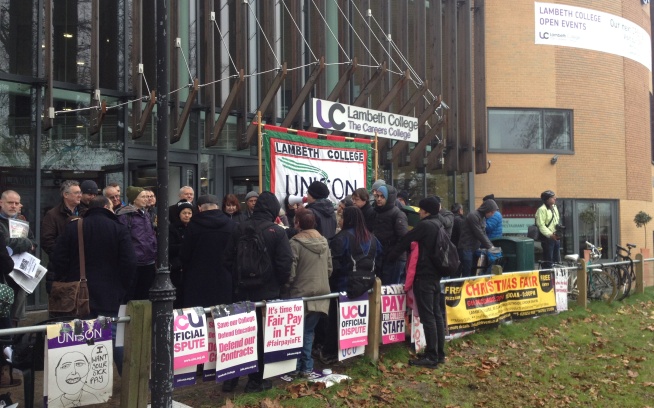 However not all are in favour of the strikes. Christian Campana, 19, is a business student and believes the strikes are disruptive to lessons, and not the right method of protest.
"We are left to study without teachers because they are always striking," he said.
"I'm in favour of them fighting for their rights, however I don't think this is a good idea because no one is left in the classes to help the students actually learn."