A Twickenham pop-up café which saves surplus food from landfills is celebrating its first birthday this month.
The Real Junk Food Project (TRJFP) saves food destined for the bin and transforms it into nutritious delicious meals for the community on a pay-as-you-feel basis.
Crissy Weller and Clare Box set up the project with the environmental aim of saving surplus food and a social element of bringing the community together. 
Miss Weller, director of TRJFP, said: "I love food, food makes me so happy, and I love sharing food. I'm environmental and that's why I really like this project, because its base is environmentalism and then the offshoot of that is really social, it is across the board and is open to everyone."
TRJFP has since partnered with Tesco, Co-op, Waitrose and Harris and Hoole in Twickenham. They donate food through a charity called FareShare, the UK's largest charity that is fighting food waste and redistributing it to frontline charities.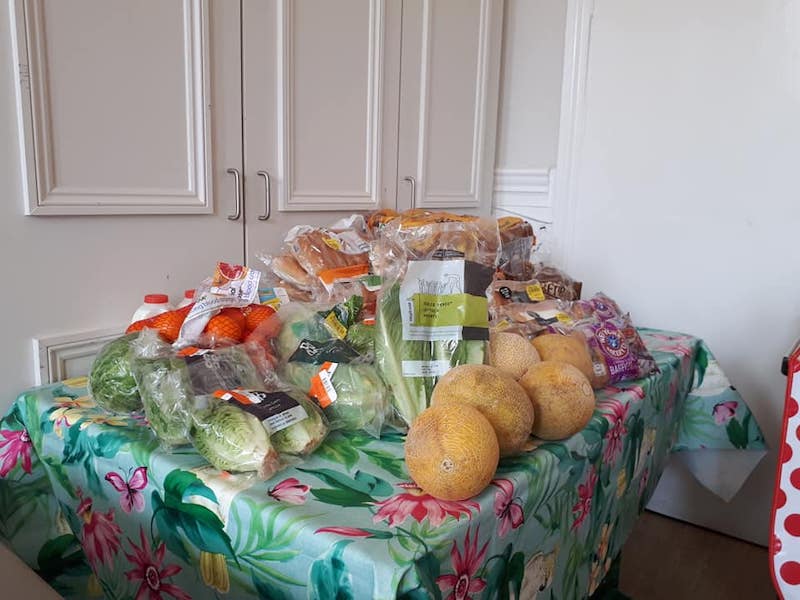 SURPLUS: Excess food is saved from landfill and used to feed the community.
They get a text Sunday night from participating supermarkets and bakeries and early on Monday morning they collect the food. Mrs Box said: "We hit the ground running on Monday morning, we have no idea what food we will get."
The project runs on a team of volunteers who create ideas in the morning after they receive the ingredients and get to work in the kitchen to cook up a storm.
They cook around six different dishes every Monday, boasting treats including homemade couscous, chicken stir fry, apple tatin, banana bread and an array of freshly squeezed juices, smoothies, pastries and breads.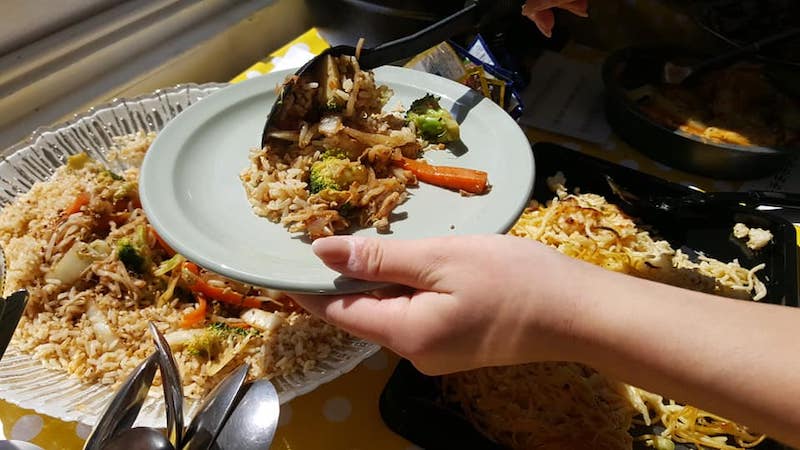 SAVED: The team do not know what ingredients they will receive. Photo credit Trish Gant.
Mrs Box said: "I hate food waste, I've always hated food waste that is why we weigh everything to see how much surplus food we are saving."
According to TRJFP, the project saves on average 100-150kg each week and over the past year has saved 4 tonnes of food and fed more than 1,000 people.
Any leftover food is taken to homeless shelters and foodbanks around south west London to avoid any food waste.
This pop-up café has grown in popularity with around 50 people attending each lunchtime.
Miss Weller said: "Food is a really nice way to bridge gaps across the community, you can sit and share conversations."
She added: "We are trying to save the environment, now we need to get the government to get rid of all the plastic that everything is packaged in, it is a crime that good food goes to landfill. Plastic will not disintegrate, we need to go back to brown paper bags.
"To save food we need to experiment with our flavours, don't be scared to try new combinations of ingredients, as a lot of people can open the fridge and throw away out of date food."
The project is growing rapidly and they are hoping to set up similar ventures across west London with the same principle. Mrs Box said: "This concept is about empowering people to do their bit for the community and environment."
TRJFP is held every Monday from 11am-1pm and every Tuesday from 2pm-5pm at the ETNA Community Centre in Twickenham.  For more information visit the Facebook page.