Swapping sequins for sneakers, an edgy Kingston University student will be taking sportswear to the catwalk at Graduate Fashion Week this month.
Lydia Bolton will be showcasing her Missy-Elliot-meets-Clueless collection 'A Girl who wore tracksuit to the Prom' at the Truman Brewery, Brick Lane, on Monday June 6.
The university will be one of more than 40 celebrating graduate talent across the annual four-day event.
"Tracksuits are often generally classed as not that fashionable so I wanted to see how fun they could be and push them to the state that they could be worn to a party," said Lydia.
"They're still over the top so you're always standing out.  You're not being a wallflower."
The 22-year-old, who lives in Kingston, completed her Art Foundation at the university in 2013 before embarking on her three-year degree in BA (hons) Fashion.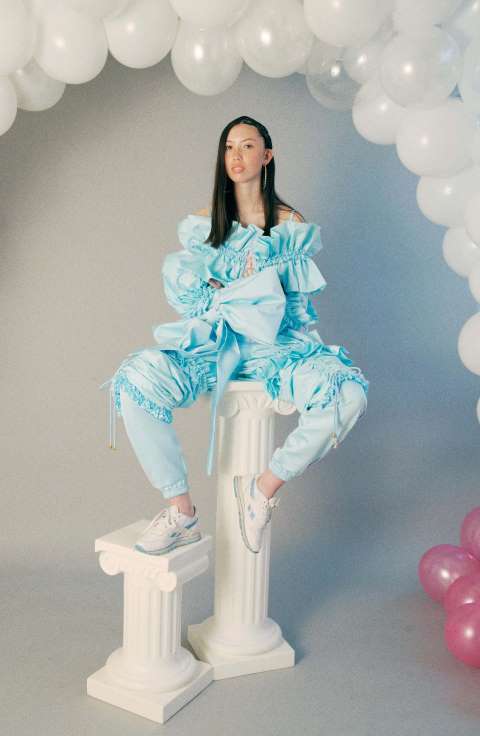 ORIGINAL DESIGNS: Lydia believes it's important to be unique
Inspired by the lack of tracksuits in high-end couture, Lyida wanted to create something that would be glamourous without restricting movement.
"You won't feel like 'ooh it's a bit tight', you'll just feel great," she said.
"And you will always have the most amount of fun when you feel good."
Coming from a creative family, Lydia said she has always held a passion for art and fashion, finding herself constantly drawing people in clothes.
She would love it if everyone started wearing tracksuits instead of dresses, and has one particular client in mind already.
"If Missy Elliot was wearing my designs would be fab as she is super-street styley," the designer said.
"I think it's important to be unique and original. My designs are like ultra-female tomboy."
The Graduate Fashion Week charity organisation was set up in 1991 to unify UK and international universities while generating a platform to highlight new creative talent.
Attracting 30,000 guests each year, the event is bound to draw in high-profile audiences, with both Vivienne Westwood and Nick Knight recently announced as lifelong patrons of the charity.
Lydia is one of 22 students chosen from the University of Kingston after a panel of four judges scored their final-year collections at the degree show last week.
"It is slightly scary but also exciting," Lydia said.
"The show will be a really good fun final celebration of all our hard work."
Like most fashion students, Lydia has big ambitions.
She said: "The dream would be to have my own label but I think I need to work first before I get there."
Images courtesy of Lydia Bolton, with thanks