The Met Police united forces across south west London in a bid to tackle knife crime last week.
Operation Sceptre is a national anti-crime campaign focused on taking knives off the streets to help reduce the amount of people involved in knife crime.
Every year, a specific week is dedicated to increasing action to tackle crime and violence, and this year Operation Sceptre took place from Monday 26 April to Sunday 2 May.
Operation leader of the South West Basic Command Unit (BCU), Superintendent Andrew Wadey, said: "We really want to stress that south west London is a safe space to live, work and study.
"We have some of the lowest rates of serious violence in London but there are still minor cases that need to be dealt with.
"Often when you talk about knife crime to people it seems like an abstract concept, thinking it won't ever happen to them.
"This week we have been targeting high offenders linked to drug supply, AMPR operations, our neighbourhood teams have been doing weapon sweeps, and our young cadets have been working closely with the community.
"Young people often feel like they need to carry a knife to protect themselves but data shows it puts you more at risk."
Studies have found if a young person carries a knife they are three times more likely to be a victim of knife crime.
Officers will be working alongside the British Transport Police to deploy knife arches and drug detection dogs to deter criminals.
They will be targeting high harm offenders wanted for knife crime offences and will be patrolling violent hotspots around the community's in London.
Alongside enforcement, officers will be talking with young people in schools and other youth premises, offering details of available support services.
Wadey explained that everyone should be aware they can contact Crimestoppers if they are worried someone they know are on the fringes of knife crime or violent criminality.
Crimestoppers is an independent charity that gives you the power to speak up and stop crime, 100% anonymously.
The South West BCU covers the boroughs of Kingston, Richmond, Wandsworth and Merton.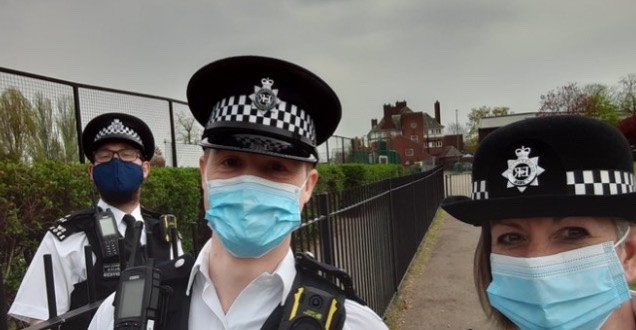 They work closely with organisations like Hard Calls Save Lives, which is a campaign sharing a series of short films made by mothers who have all lost children due to knife crime.
Wadey said: "We work with some incredible groups.
"We really lean on these groups to deliver the message and work with young people to show the dangers of carrying a knife."
Londoners are being encouraged to hand in knives at any of the 12 nominated police stations across the capital.
Another option for depositing knives are the 'Words for Weapons' knife bins, the locations can be found here.
Commander Alex Murray, the Met's Violence Lead, said: "The impact of knife crime on families and communities is devastating.
"We are asking communities to work with us and if they know of any violence in their area, report to Crimestoppers.
"It might feel like a hard call, but it could save the life of someone's son or daughter."
Featured image supplied by the Met Police.