Battersea Dogs and Cats home have teamed up with Classic FM to create a soothing selection of songs to keep cats and dogs calm during fireworks.
From 7pm-9pm on Saturday 3 November, Classic FM presenter Bill Turnbull will present a show specially tailored to keep four-legged friends calm during the fiery festivities.
The programme will include specially selected songs with no repetitive beats or loud noises, as well as dedications to listeners' pets and advice from Battersea for pet owners.
It is the first time Classic FM has dedicated a programme to pets and Mr Turnbull is very excited for the challenge.
He said: "This will be their radio refuge. The music we play on Classic FM is always relaxing, but what we've got lined up is even more chilled than usual and a lot of it will be pet-related.
"There is a piece that Elgar named after his cairn terrier called Mina, and John Barry has got a lovely lyrical composition called Crazy Dogs.
"I've been very happily presenting to humans for the past two-and-a-half years on Classic FM, so hosting this show will be a pleasure and possibly a step up!"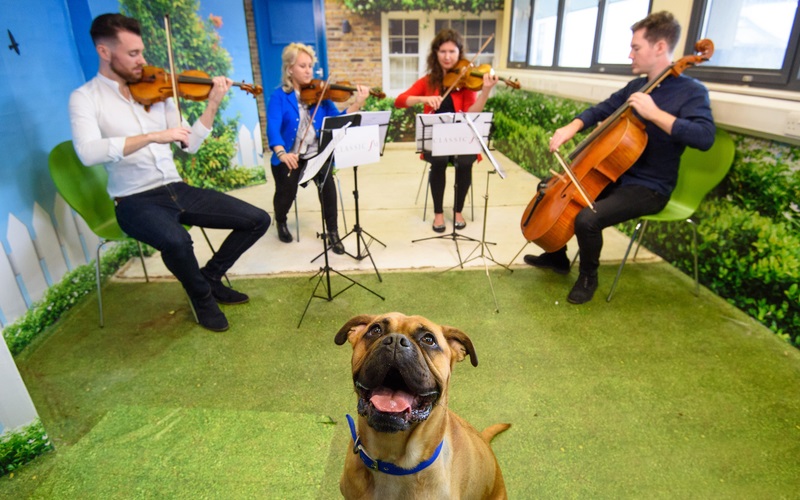 GIVE A DOG A BOW: Maisie enjoying a classical music performance
Bonfire night can be especially stressful for pets as the loud noises and flashes trigger a flight response.
According to the RSPCA as many as 45% of dogs in the UK show signs of fear when they hear fireworks, meaning bonfire night can be really ruff for pets and their owners.
Battersea centre manager, Steve Craddock, said: "There are some simple steps that owners can take to keep their pets as happy and stress-free as possible throughout the evening.
"Across all three Battersea centres, our kennel and cattery windows will be blacked out and we'll play soothing music, to minimise our residents' stress levels. All of these are things people can do at home too, to help manage their pet's anxiety levels."
To ensure that the music was up to the discerning standards of their animals Battersea held a classical concert for some of their residents.
String quartet Classical Pop Ups performed for two-year-old Boxer crossbreed Maisie, two-year-old Greyhound Burgess Tommy, and six-year-old crossbreed Alfie.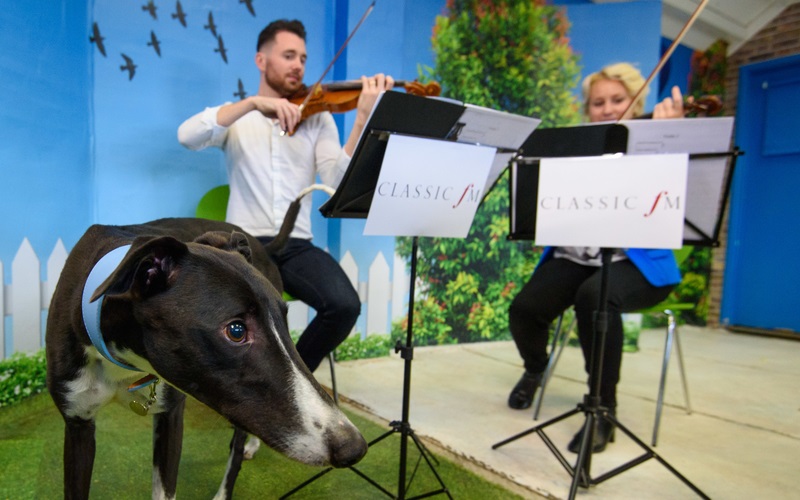 PAWS FOR THOUGHT: Burgess Tommy takes in the soothing sounds.
Canine behaviour adviser, Bonnie Brincat, said: "Maisie was hopping around and she seemed to like the music. She was really interested in it and everything that each individual musician was doing.
"I think Alfie was taken aback initially by the size of the instruments. I'm not sure he'd seen a cello before but after a while, you could see that he grew in confidence and the sound of the music helped him.
"Burgess Tommy would have liked to have been taught to play some of the instruments and he was keen to know what was going on!"
Following the success of the concert, the rest of the residents will be treated to a range of soothing songs on Saturday.
Can't wait until Saturday? Play your own pet playlist.
Camille Saint-Saens: Carnival of the Animals: The Swan Claude Debussy Suite Bergamasque (3) 'Clair de Lune'
Edvard Grieg: Peer Gynt Suite No.1 (1) 'Morning'
Edward Elgar: Mina
Eric Whitacre: The Seal Lullaby
Gabriel Fauré: Pavane Opus 50
Johann Sebastian Bach: Sheep May Safely Graze
John Barry: Crazy Dog
Ralph Vaughan Williams: The Lark Ascending
Wolfgang Amadeus Mozart: Piano Concerto No.21 in C major (2)
For more information go to https://www.classicfm.com/music-news/battersea-pet-sounds-bill-turnbull/