By Christopher Knowles
October 29 2019, 16.55
Follow @SW_Londoner
Sloane Square's Cadogan Hall might not be the first venue that springs to mind at the mention of Manchester's favourite troubadour, John Bramwell.
In early November, John will play at The Ritz in Manchester where the sprung dance floor will bounce with raucous appreciation and, leg hitched on a beer crate, he will lead a choir of the devoted.
But, ahead of this week's concert with the Full Harmonic Convergence, John enthuses: "I saw Cadogan Hall in a film one afternoon and I thought, if that is a venue in London that's where I should be playing.
"The next day Cadogan Hall was suggested by the promoter. I'm taking the supernatural vibe on that. There was definitely a sign."
John has his gaze firmly fixed on 'quite a posh gig' in SW1 but he recalls his gigs in south west London with fondness: "The Half Moon in Putney is one of my favourite venues. Amazing history!
"When I was a teenager I read about Costello playing there, and Kate Bush."
With a new record slated for 2020 titled The Light Fantastic, John and his newly assembled quintet will break new creative ground with 'moments of massive expansiveness'.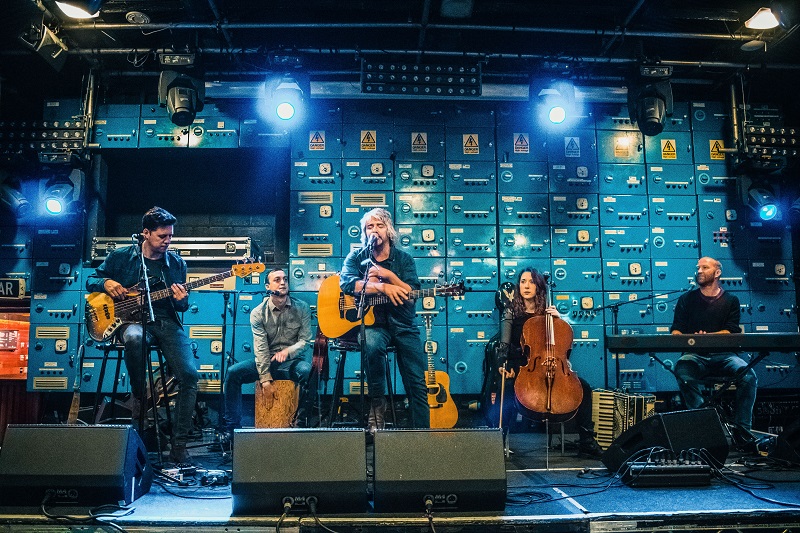 But Bramwell states: "The thing with me is it is melodical and lyrical and that doesn't change. The main part of the gig is to play seven songs from the new album, lots of I Am Kloot stuff."
He will also play two songs from his first release You, Me and the Alarm Clock, an album that appeared on The Guardian list of 'the greatest albums you've never heard'.
John will offer the Cadogan Hall crowd the 'chance to be immortalised' as he will record the audience's singing and fuse this sound into his forthcoming album.
He explains: "I am going to get them to sing an A, and a relative minor so an F sharp, and I am going to get them to sing an E. Then when you put those three notes together but with eight-hundred voices singing each note then you've got something quite different.
"I'm going to have to get the timing right."
These amateur vocals will be later incorporated into the tape-looping tech of the mellotron creating unusual sound layer to support his characteristically intimate and wry vocal style: "It's typical me. I'm trying to get as many voices doing backing vocals without paying for it."
John is one of England's most captivating and uniquely brilliant songwriters and performers. He cites Aztec Camera's Roddy Frame as a major influence on his "impressionistic writing style lyrically. You just feel what he's writing about. It's full of great word play. Not that clever clever smart arse word play. He can't help but be naturally poetic".
The quality of the naturally poetic flows from John. He says: "My songs, they are not necessarily really about things. They are of things. They are atmosphere sometimes.
"You feel the meaning. That is the point of writing. It's to infer what it is you're on about rather than just say it. Otherwise why write a song?"
There is softness about his latest work that recalls his wonderful early songs: "I feel a richness and a sonority in my voice now."
He is energised by the connections between his new project and his early recordings: "I'm lucky in a way because we never made it big big. With no investment at all I'm able to do whatever I like."
John creates a thought-tormented music that seems effortless and timeless; the secret to his creative achievements might be traced through simple pleasures and a commitment to giving space to his craft.
He is now a happily 'itinerant' artist who plays to adoring audiences by freely touring Northern Europe in his motorhome. He says: "Driving is great.
"Don't tell the authorities. You can do it without thinking. It frees up the unconscious part of the brain. This is where great melodies and poetry come from."
John's Cadogan Hall debut promises to be one of his most memorable concerts and he can't wait to take a new stage: "The turn out for this gig at Cadogan Hall is amazing.
"I am really chuffed and it just remains for us to do a really good gig."