Saturday's All-Ireland Hurling final replay between Kilkenny and Tipperary live on Sky Sports 3 promises to be a classic.
Sky Sports have well and truly arrived in GAA Land with close to half a million viewers watching the game in Britain.
The popularity of hurling on these shores is growing with every broadcast, with Joey Barton being one celebrity fan awe-struck by the skills of the game.
Watching this GAA some pace and intensity to the game… DUBvMON #skysports3

— Joseph Barton (@Joey7Barton) August 9, 2014
SW Londoner is aware that many viewers are still confused over the rules and with that in mind, let's take a look at how the real 'beautiful game' works.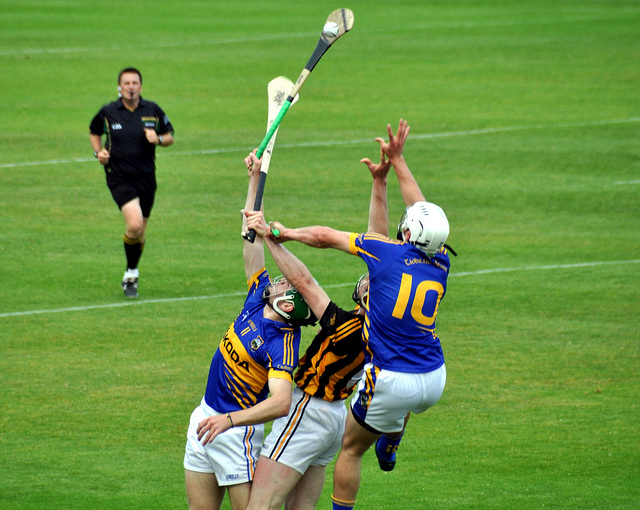 Tools of the trade:
In essence hurling is about 30 men running around a large grass field, all in chase of a tennis-ball sized chunk of leather called a sliothair.
Each man wields a lethal plank of wood carved from an Ash tree – this is called a hurley and is similar in size and shape to a hockey stick.
Aims of the game:
The aim of the game is to use the hurley to puck (hit) the sliothair over the crossbar of a rugby-style target to score a point.
A goal is scored by driving the ball into the net under the target which is defended by the goalkeeper, this is worth three points.
Number of players/timing:
The 30 men are split into two teams of 15 and face off against each other over two halves.
Each half consists of 35 minutes plus injury time and due to the speed and aggression involved, injuries are frequent.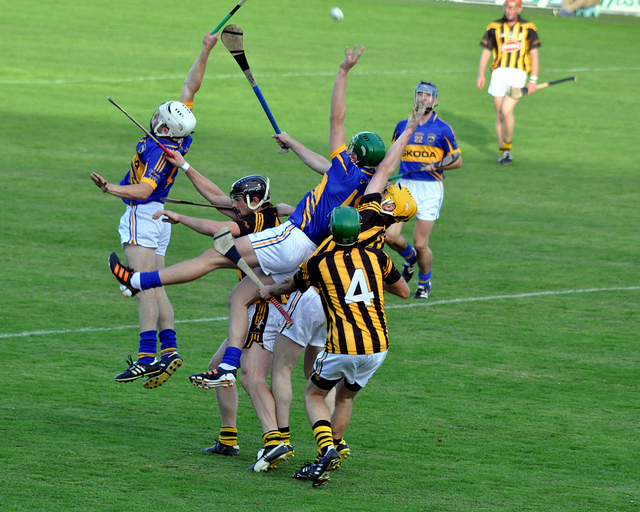 Skills of the game:
Apart from the obvious requirement of scoring points and goals, there are a number of other important skills needed when plying this ancient art.
There is the solo run, for example – a method by which the player balances the sliothair on the hurley and charges at full speed until he either releases it or has it taken from him.
Fielding or catching, whereby a player plucks an airborne sliothair from the sky whilst having hurleys swung violently at their hand in the process.
The guys that have perfected this art are prone to a couple of broken fingers during their career as it is one of the most dangerous and difficult skills to master.
Amongst the less fashionable skills of the game are hooking and blocking; hooking is done by using your hurley to clip your opponent's as they wind up a shot.
Blocking is a more hazardous piece of skill, as you jump out in front of a shooting opponent and use your hurley to block his, thereby preventing the shot.
Throw in jostling (comparable to two rams battering into each other) and you can see that the game is pretty physical.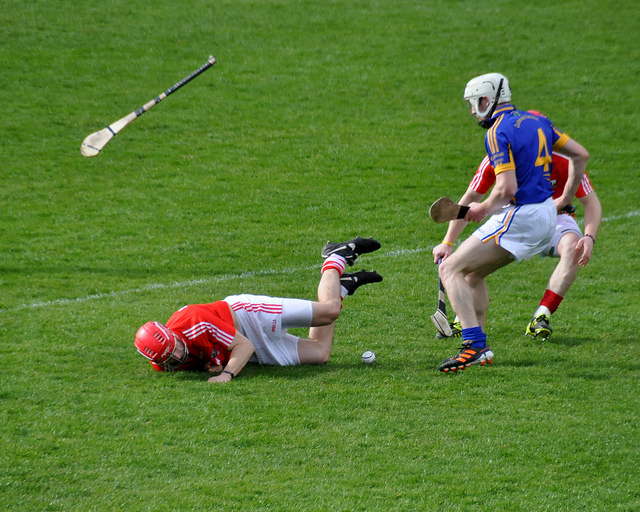 Sideshows:
Amid the score-getting and general mayhem, you will frequently see off-the-ball scuffles and the sort of bone-shuddering challenges that wouldn't look out of place in a street fight.
"See bone-shuddering challenges that wouldn't look out of place in a street fight."
Most of these result in a caution that is the equivalent of a yellow card in soccer, with only the most extreme event leading to an actual sending off.
Even managers are not off limits, with exchanges between them and players taking place regularly.
Protective equipment:
For all the physicality of the game, the only mandatory protection the players have is the helmet and face guard which are much similar to an ice hockey mask.
It is advisable to wear shin pads or a hand protector (the ash guard), but with the level of machismo in hurling, it is rare to see a player wear protection.
Watch the Kilkenny v Tipperary 2014 season highlights here.
Now that you know the basic rules make sure to tune in on Saturday, you won't be disappointed by the fastest game on grass!
Featured image courtesy of Brendan Rankin, with thanks
Inset pictures courtesy of Johnno100, with thanks
Video courtesy of TG4, with thanks