In a pint-sized industrial unit at the end of a leafy Putney cul-de-sac, Yeeld's founder, Doug Barr, leans against a shelving unit filled with trays and trays of bright green salad shoots.
"There's billions more people coming on the planet in the next couple of decades. How are we going to feed them if we're already at capacity in terms of farming?" he said.
He thinks he may have found the answer in a centuries-old farming technique, which is taking root in cities around the world: hydroponic vertical farming. Using purified water and timed LED lighting, modern hydroponic growing is a city-friendly farming solution that does away with the need for fertile soil and sunlight.
Founded last autumn, Yeeld supplies foodies in south west London with a source of nutritious leafy greens that are 'hyper-local'. In fact, Mr Barr says that his salad won't travel further than the limits of the M25, from floating seed tray to fork.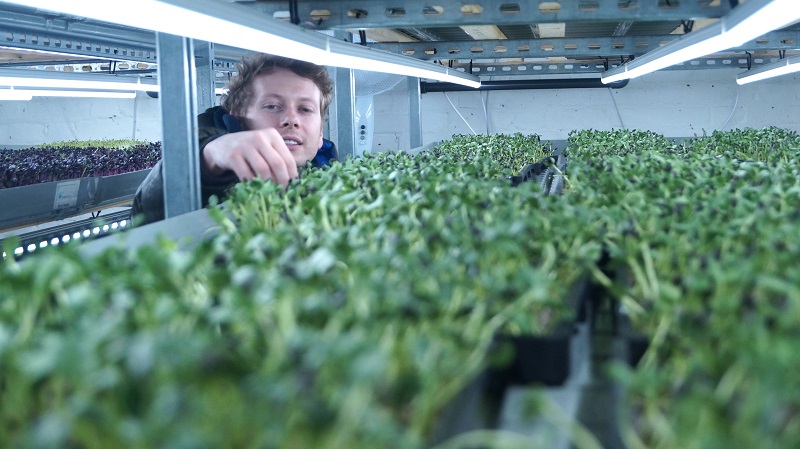 PICK OF THE BUNCH: Yeeld's products include Putney Pea Shoots and Richmond Radish.
"I thought that the timing for this is very good at the moment. Everyone's plant-based, vegan, flexitarian. Everyone wants local produce, everyone wants transparent produce – they want to know who's touched the produce," he said.
At the moment, Yeeld more than delivers on this front: punnets of 'Putney Pea Shoots' and 'Richmond Radish' are harvested, packaged and delivered by Mr Barr, who is something of a one-man-band, to a handful of local kitchens every morning. He reckons the whole process, from harvesting at 4am, to dropping off the produce, takes around 2 hours.
He also takes care of the sowing himself. According to Mr Barr, the growing technique used in Yeeld's south London industrial unit is more or less the same as that employed by trailblazing ancient Babylonians and Chinese, who pioneered hydroponic farming. Apart from the useful addition of timed, customised LED lights, the basic principle remains the same.
Seeds are soaked in water and put in the dark for 4-5 days to germinate. After this, the farmer transplants them onto a recycled wool material in flooded water beds. The wool gives the plant roots something to hold on to, and the LED lights above encourage the sprouts to grow. There's no soil, no fertiliser and 12 days after planting, the greens are ready to harvest.
Although a relatively straightforward procedure, it is a lot of work for one pair of hands and the green-fingered founder says he spends around 5 hours every day in the unit, before getting to work on promotion and administration.
But soon, Mr Barr is soon hoping to expand. Already, he is negotiating with a supplier in a New Covent Garden market and he hopes that securing a central supplier will increase Yeeld's reach, cut down on transport costs and mean he can spend more time engineering the next phase for his business.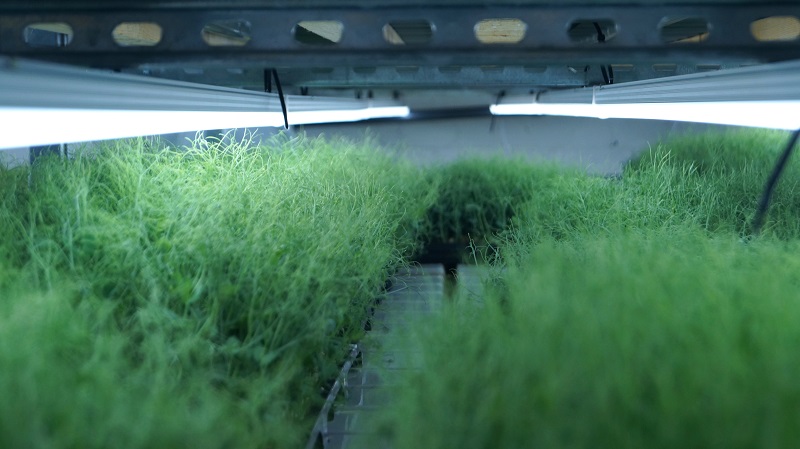 STEADY GROWTH: Mr Barr says his business can expand because it can scale up and solves a problem.
Indeed, he's very clear about what this looks like – he believes Yeeld can go global.
"Whenever you start a business, it has to answer two questions, especially when you're pitching to investors. It has to be scalable globally, which this is, and it has to solve a problem, which this does," he said.
A model of steady growth has been Mr Barr's blueprint from the very start. His reaction, when asked exactly how he made the transition from city banker who spotted a gap in the market to green-fingered entrepreneur?
"A lot of googling.
"I started in the loft of my apartment, experimenting with different plants, much to my girlfriend's amusement. Then I gradually scaled it up a little bit, until she said 'right – out!'" he said.
When quizzed about the limits of hydroponics, Mr Barr is frank about the constraints, but optimistic for the future. Hydroponic growing, he says, is best suited to leafy greens. He plans to slowly move from growing microgreens, a 'niche' product favoured by chefs and serious foodies, to growing the likes of spinach, and that perennial millennial favourite, kale.
Microgreens are immature versions of plants with edible leaves. They are packed full of flavour and nutrients, and used as garnishes or salads. Mr Barr recommended trying the 'Fulham Fresh Mix' in a salmon salad, for a flavoursome, healthy meal.
It's clear however, that salad leaves won't do much to feed the extra 2 billion people that the UN predict will come onto the planet by 2030. But Mr Barr is not deterred.
He said: "I think we're where the computer market was in the 80's. They didn't have all the answers, but they just kept innovating.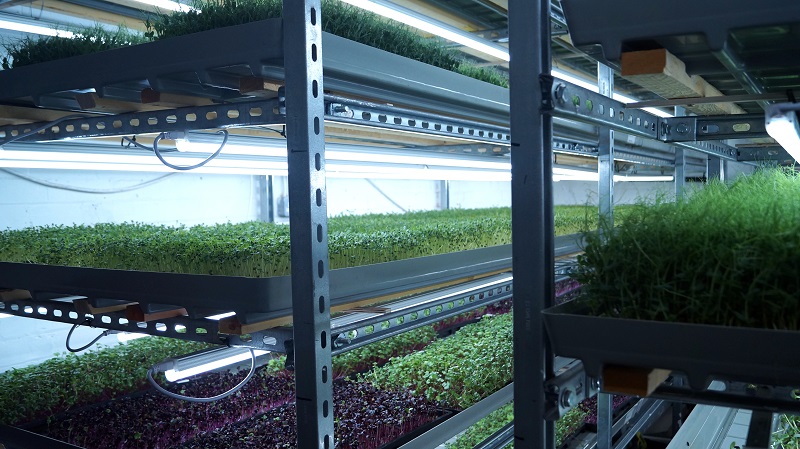 THE TEST OF TIME: The techniques used at Yeeld are based on ancient farming methods.
"As more money starts pouring in, you'll see more innovation and eventually a whole product range you can offer as opposed to just salads and leafy greens."
Indeed, some of the bigger, flashier vertical farms springing up in cities stateside have already started growing more substantial produce, like peppers and tomatoes.
And it seems others agree – the vision of Yeeld's founder has won the attention of big players in the business world. This month, Mr Barr was welcomed on board a start-up program run by Virgin. Yeeld was one of 6 companies chosen to take part in the 7-week course, which will give its founder the chance to pitch to investors and kickstart a crowd-funding campaign.
If all goes well, he hopes to pull together £500,000 to take his green revolution to the next level. This would mean waving goodbye to Putney and moving further into London's suburbs, where there would be more room to scale up.
And if Mr Barr has his way, then life beyond the M25 would only mark the beginning of the journey.
"A big market for this would be China, where there is something like 125 cities with a population of over 1 million, the middle class is huge, there's 300 million-odd millennials – that's pretty much the same population as America" he said.
For more information about Yeeld or to order produce see here.