Some men are profiteering from the housing crisis, using main-stream websites like Spareroom and Gumtree to rent out half of their double bed exclusively to women.
SW Londoner spoke to ten men over seven days who were targeting women in adverts selling the other side of their bed for reduced rent.
One man offering to share his Whitechapel-based room to 'females only' for £400 per month revealed in subsequent messages that he seemed to be looking for more than just a roommate.
He said: "I desire to share the bed. I'm looking for someone who I can spend my quality time with: travelling, movies, going out for meals, night outs, going on holidays."
When asked to view the property, he requested to see a photograph before confirming.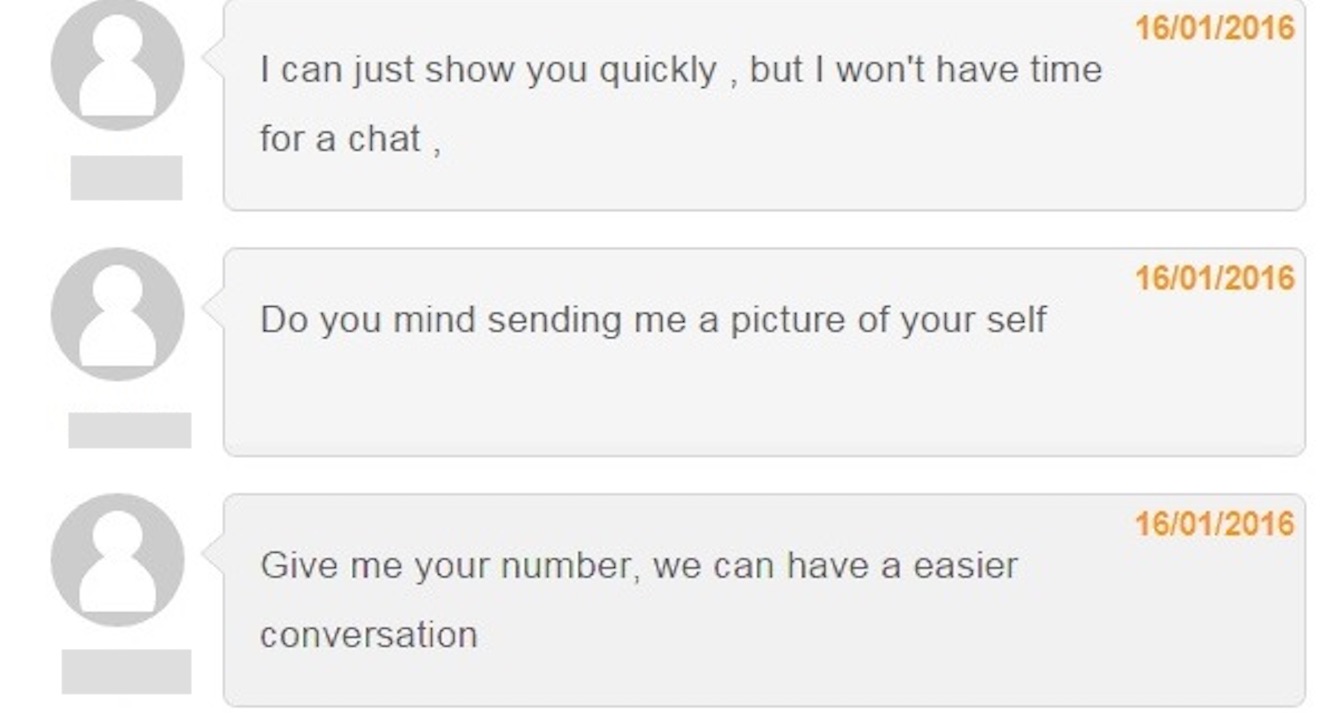 Another man looking for a 'female preferred' bed-mate in Roehampton for £280 per month explained his motives in the advert: "Just want to save some money and why not have good company and a chat on days off."
He avoided answering any general questions about the flat and repeatedly asked to see a Facebook profile, even after being told it was deleted for personal reasons.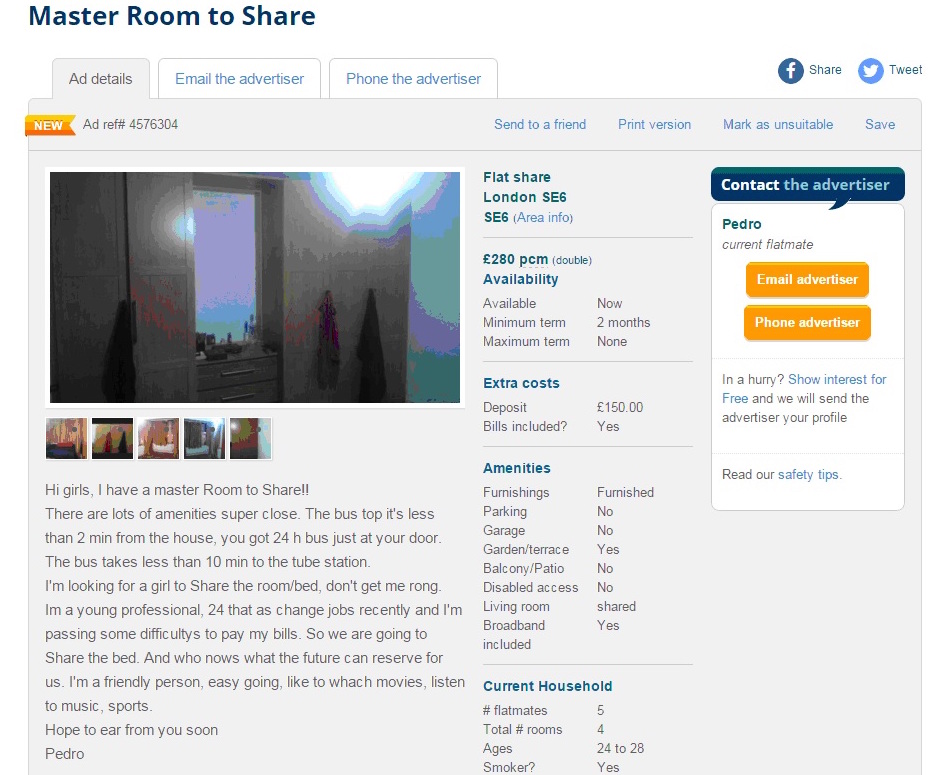 One Brixton-based man established contact to offer sharing his king-sized bed rent-free in return for splitting the bills only.
After exchanging just one message, he said: "You can move in with me anytime. You will feel at home with me."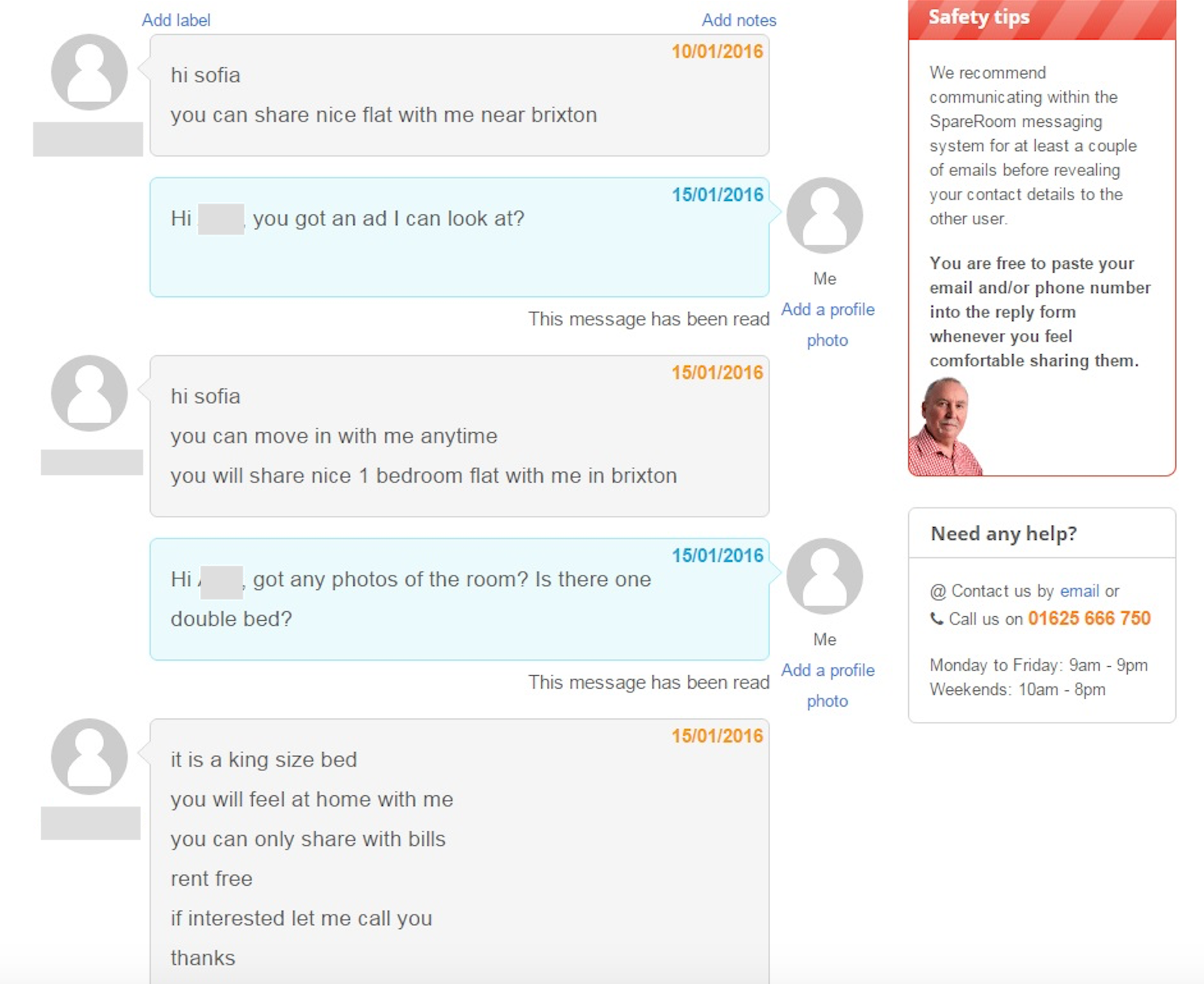 In other adverts addressed solely to women, one man was looking for a female who 'possesses a rather adventurous spirit' to share 'all facilities with bachelor' for £400 per month in Crouch Hill.
Another advertiser looking for a girl to share his bed for £280 per month in the SE6 area speculated: "Who knows what the future can reserve for us."
SW Londoner found bed shares available for as little as £50 per week, slashing £802 per month off the average London rent.
It is not difficult to see why bed-sharing can be a tempting prospect in the capital, where rents are at an all-time high and are predicted to soar by another 34 percent before 2025.
The reality is that many desperate Londoners are forced to resort to bed-sharing just to pay the bills.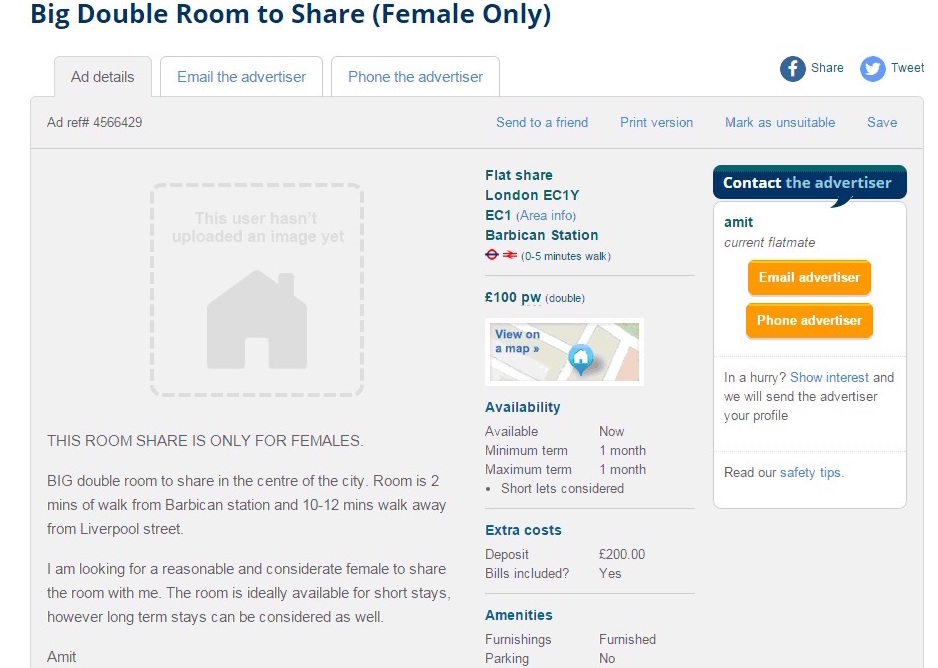 One woman has a double room in zone four with her partner but, because his visa expires at the end of the month, she is now forced to advertise for a bed-mate.
She lives in a three-bedroom-house inhabited by ten occupants, with up to four people sharing one bedroom.
She is a customer assistant for a major high-street retailer but is unable to cover rent of £550 per month alone.
Another person looking to buddy-up works for a furniture design company and sees bed sharing as the most effective way he can save money.
He said: "I won't even say to my parents that I will share. Not even to friends because they will think I don't have money and other bad things."
Two people contacted by SW Londoner confirmed they had filled their half-a-bed vacancy within two days of posting their advert online.
Tom Copley, City Hall Labour's housing spokesperson, told SW Londoner: "Londoners have long been used to flat sharing with strangers because of soaring rents in the capital.
"But people being forced to share rooms and even beds with strangers shows just how acute the housing crisis has become.
"No one should be forced into these conditions."
A SpareRoom spokesman claimed they have seen an increase in people sharing bedrooms to keep rents down.
He said that all adverts on the website are moderated for signs of anything unusual or suspicious and those that are not initially quarantined will go live but are still checked.
The spokesman added: "Ultimately with bed-sharing the choice is down to individuals but we're not comfortable with people advertising bed shares on SpareRoom."
A fake advert posted by SW Londoner on SpareRoom, for a man looking for a woman to share his double bed in Tooting, passed the moderating process.
Three people made contact within 24 hours and all of them requested to view the house directly, without asking for any further details.
Deborah Garvie, policy officer at Shelter, said: "The fact that renters are resorting to such extreme measures is yet another symptom of our capital's drastic affordability crisis.
"With home ownership almost completely out of reach, millions of Londoners now live in unstable and expensive privately rented homes.
"But sky high rents along with problems such as rogue landlords, poor conditions and extreme overcrowding mean that for many, rented accommodation is no place to call home at all.
Sadly, it looks like London's bed-sharing trend could be here to stay.