This Christmas the Military Wives are back with their biggest release to date with Home for Christmas featuring more than 1,000 wives from choirs across the UK and overseas.
Inspired by the huge success of their number one single Wherever You Are in 2012, 65 choirs have set up and joined to release an inspirational collection of 12 Christmas carols and songs.
In addition to the title track Home for Christmas the album also features six classic carols personalised with lyrics reflecting what Christmas means to the military community.
Lucy Bannister, a member of the Military Wives Choir South London said: "It was very emotional recording the carol because my friend's husband had just gone away but he is coming home for Christmas so it was very real to be singing about coming home for Christmas.
"She just needed a big cuddle and by being in the choir together we can relate and I could do that and be there for her."
The Military Wives Choir Foundation was set up in 2012 by Nicky Clarke and Caroline Jopp after recognising the support and enjoyment it could offer the military community.
With service personnel moving around and being deployed from home for long periods of time, life can have its challenges and difficulties for wives, especially during the festive season.
"By having the choir even though you still feel lonely you aren't because you have that support network, friends, who you can talk to and have a laugh with," said Mrs Bannister.
"It can be very isolating and heart-breaking especially on our patch because husbands go away at different times and for six or even nine months at a time."
The foundation aims to ensure a lasting legacy of choirs, giving women in the military a chance to come together and share the enjoyment and pride that comes from singing together.
"We try to meet up at least every week and we chat a lot before which makes it very hard sometimes for our conductor but we can't help it we just like to chat and have a laugh," the military wife said.
"I have definitely made friends for life here and know that we are in it together and it's amazing being with these girls and we all just know what each other are going through."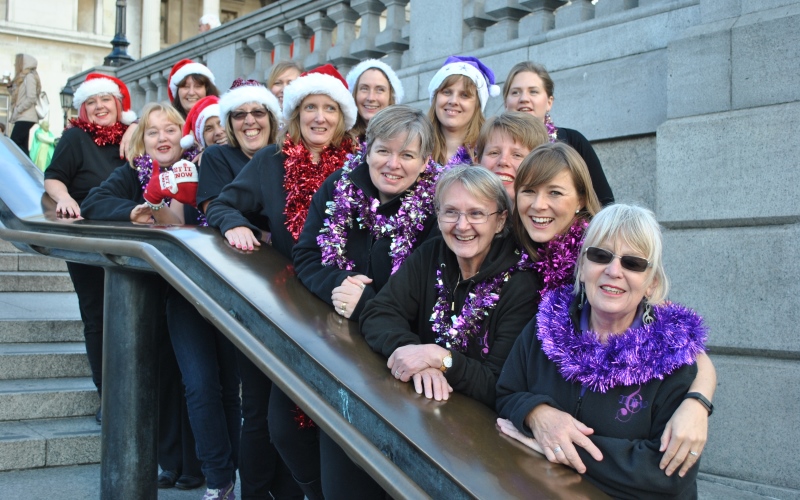 Even if feelings of heartache and worry are not often discussed, the ladies in these choirs all know when to be there with the tissues or go out for a glass of wine.
Since 2012 the MWCF has enjoyed huge success including incredible performances at the Queen's Diamond Jubilee, the Classical Brit Awards and the Festival of Remembrance.
"It was incredible but very scary and nerve-wracking when we were singing for the Queen because it is like you are singing for your husband's boss," said Mrs Bannister.
"I can't quite remember where we were but Prince Harry has come up to us before and well I get very star struck but it is just amazing."
The women also teamed up with legendary singer Lulu to release hit single Cry and performed with her at 35 of her UK tour dates in 2016 with all proceeds of the song going to the MWCF.
"I love performing with these girls – we have performed at some unbelievable places including for His Majesty the Prince of Wales and Princess Beatrice," added the singer.
Just two years after the foundation was born, singers from 42 of the choirs took centre stage at the Royal Albert Hall in a special Proms to commemorate the start of World War One.
The sell-out concert featuring the Proms Military Wives Choir was directed by Gareth Malone, a patron for the foundation, and formed part of the BBC's annual Proms series.
Mrs Bannister said: "I think Gareth has a soft spot for the choir – he has been to visit us many times and he is such a lovely person."
Due to be released Friday, December 2, the title track Home for Christmas is tipped to be a huge contender for the Christmas number one – beating this year's X Factor hopeful.
"I really hope it gets to number one as it would mean so much to me and all the wives especially because of the time of year it is," Mrs Bannister said.
"We always meet up on Christmas Eve so that those who are on their own know that they aren't on their own – we go for drinks and everyone can bring their family and it's such a lovely evening."
It isn't just the women who flourish from the enjoyment and strength that the choirs encourage but it is something that their families appreciate and back as well.
The Military wife said: "My husband is really supportive of the choir and thinks it is great watching me perform whenever he can.
"Also my daughter loves the choir and will sing along in the crowd because she already knows most of the lyrics as I sing them so much around the house – she is already asking when she can join."
Spending this Christmas with her husband and two children the Military wife knows how lucky she is to be able to spend a family Christmas at home.
Mrs Bannister said: "Christmas is very traditional and we always start off with opening the stockings on our bed before seeing family later on in the day."