Battersea's Fara Williams' international career is approaching an incredible 15 years and yet her dedication, drive and love of football remains ever present.
Since making her international debut as a 17-year-old against Portugal in 2001 Williams has amassed a record-breaking 153 caps.
The women's game is unrecognisable from how it was when Williams made her breakthrough, with more money, better facilities, professional contracts and a heightened public interest.
Williams, 32, said: "We are certainly more backed by the FA now. The FA put in central contracts in place in 2009 and have really come on and supported us even more.
"The fact that the league is professional, now that we have sponsors that support the game and the games are shown live is very important.
"If you think back ten years ago to now the demand for women's football is a lot higher and we as players are certainly recognised a lot more."
Last summer at the FIFA women's World Cup in Canada, Williams and the England squad under Mark Sampson excelled and impressed finishing with an unprecedented bronze medal.
If anything the aim would be to make the team better and stronger.
At the inaugural edition of the SheBelieves Cup in March, England suffered narrow defeats to the United States and Germany but secured a point against France.
Despite this Williams believes the experience was beneficial for the players and has only re-iterated their progress in recent years.
Williams said: "There's massive confidence in the squad — what we showed at the World Cup was that we are able to compete with the best.
"The SheBelieves Cup continued that and proved that we are there or there about with the best teams in the world.
"The margins are so small now between us and the other teams and that is proved with our ranking going up to fourth."
The majority of the World Cup squad has remained in place and Williams believes this is imperative moving forwards ahead of the UEFA Women's Euro Championship in 2017.
She said: "I would imagine the core of the squad to stay the same for the next two years.
"If you want to build a successful team off the World Cup success, if you make massive changes then it would take another couple of years to start again.
"We are building and strengthening as we go and I doubt that you would see massive changes within Mark's set up.
"If anything the aim would be to make the team better and stronger.
"The core squad has to stay together because for us to improve we have to continue learning together and already we are making some small changes within how we are playing.
"Even in the World Cup everyone saw that we were adaptable as a team with our formation, players and style of play.
"We are now trying to submit a definite style of play and formation that we are familiar with and anyone can be picked within."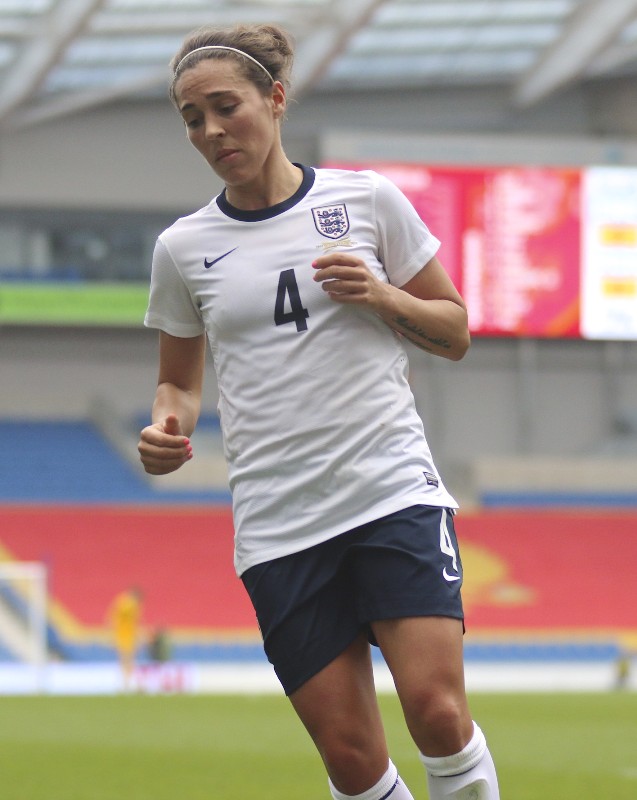 RECORD BREAKER: The England ace has an impressive 153 caps to her name 
At the start of the year Williams made the decision to leave Liverpool and join Arsenal to start a new challenge in her successful career.
Between 2004 and 2015 Williams played for both Everton and Liverpool enjoying FA Cup success in 2010 with Everton and winning back-to-back FA Women's Super League titles with Liverpool in 2013 and 2014.
Williams said: "It's been great. It's a new challenge moving away from home, home is Liverpool as much as I am born in London.
"I spent nearly 12 years of my life in Liverpool so it was difficult to up sticks and move down but I am settled off the pitch now which is the main thing.
"On the pitch we have not had much luck on our side. We have had to play two 120 minute games in the FA Cup.
"We have had to play against Man City in the league with 10 players for 80 minutes so it's been tough.
"However, we are still in the FA Cup and we have got a great opportunity in the semi-finals at home to Sunderland."
Williams has enjoyed the opening couple of months at Arsenal under the leadership of a new manager in Pedro Martinez Losa.
She added: "He's a coach full of ideas and very enthusiastic about the game and for a player like myself it was an opportunity to go and work under a foreign coach which I have never done before and help me develop my game.
"Since I have been there I have learnt new things and I am enjoying being coached and developed by him."
Williams joins a strong list of current England internationals at Arsenal including England regulars Casey Stoney, Alex Scott, Jordan Nobbs and Jodie Taylor.
We have a squad more than capable enough to be finishing in the top two and competing in the Champions League.
Despite this Williams says that did not play any part in her decision to join the Gunners instead speaking about her desire to win trophies and play Champions League football.
She said: "It wasn't any player in particular, it was a personal decision based on my own demands and how I want to be in the England squad for a long time and want to win trophies on a domestic level.
"At the time when I was thinking about signing my contract with Liverpool I wasn't sure or confident in the squad that we had at the time that it was going to be competitive.
"I knew that Arsenal had great players where I had to compete week in week out at training just to be able to play, so it was more about me wanting to stay at the top of my game in order to maintain my place within the England squad."
Williams is upbeat about the prospects for Arsenal this season and is eyeing up another FA Cup title and her first at Wembley.
Williams added: "The FA Cup final this year is at Wembley which is massive for any player.
"If you ask any female football player growing up they would want to play in an FA Cup final at Wembley so that is certainly something as a player we all want to achieve.
"The semi-final is a priority because that is our next game but if we get a positive result then our focus switches straight to the league.
"We have a squad more than capable enough to be finishing in the top two and competing in the Champions League."
Last season Arsenal finished third in the league and have strengthened their squad further including the signing of England striker Taylor from Portland Thorns in America.
Williams said: "We have just signed Jodie and I am sure fans will be looking forward to seeing her play back in the UK and it is a great opportunity for her to express herself in our league which she hasn't done for quite some time.
"We all know from her performances at the World Cup what a great player Jodie is.
"We have signed some great players and I guess it adds to the headache Pedro is now going to have with the amount of players he has at his disposal."
Last season Chelsea were the champions of the WSL 1 finishing just ahead of Man City but Williams believes there is far more to the league than just Chelsea, Manchester City and Arsenal.
Williams said: "In the league all the teams are competitive and the teams have different styles and with the league only having nine teams in it anyone can really beat anyone.
"That is what makes it even more interesting. I believe now the gap between the so called favourites and those predicted to go down is much smaller.
"Birmingham were one of the teams predicted to struggle but having played against them this season they have a style which is very competitive and which tends to upset the more fancied sides.
"Notts County have made some signings and Liverpool have had a good start to the season so I think this year is going to be the most interesting in the league so far."
Arsenal will face Sunderland on Sunday in the SSE Women's FA Cup semi-final at Meadow Park.
Images courtesy of Marcus Campbell, with thanks