On a miserable rainy morning I find myself banging a Calor gas canister marked 'bell' at the locked gates of eco-squat, Grow Heathrow.
Grow Heathrow is currently home to around 50 people but looks completely dead save for a few greenhouses and a cabin emblazoned with 'Beet It Bailiffs'.
I've come to meet the people who have made this disused land their home and volunteer my help as the community develops the site.
This weekend it's all hands on deck as members' work on builds including an eco-shower block, insulating living quarters, and making wood burners to prepare for winter.
Grow Heathrow has been part of Heathrow Villages' community since 2010 and despite the several dozen adults officially squatting there, they have the support of the council.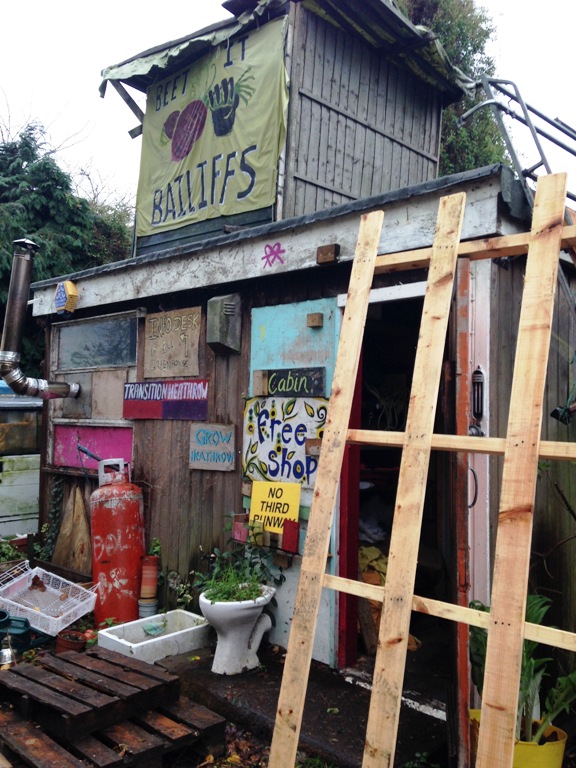 Eventually Bobby, a volunteer with long ginger hair and a nose ring who towers over me at 6ft, appears to let me in and lead me into a greenhouse – the camp's hub.
This is the main communal area, consisting of a clothing donation wardrobe (which anyone can help themselves to), an arts space and a sitting area made of sofas and a pair of old bus seats complete with seat belts.
A woman gets up, from the group of half-asleep people relaxing in the sitting area, to pull me into a hug and introduce herself as Rose before offering me a cup of home-grown sage tea.
The weather might be chilly, but the atmosphere is nothing but warm.
Making Myself At Home
Rose leads me through a door into a living room space, surprisingly stuffy due to a wood burner in the centre.
There is a dining area and a kitchen as well as a sofa with a dog snoring on it.
Rose explains that Grow Heathrow is a non-hierarchal community, anyone who wants to stay for an extended period is voted on by current residents at the weekly meetings.
Molly, who has been here for a couple of months with partner Willow, made their case at the last meeting to become long-term volunteers and set up a bender, similar to a tent, to stay through winter.
While the agreement isn't official yet, she feels positive.
"I love living here. Everyone is so nice – it's a really good place to be for me. A real good sense of community," she said.
From an initial team of six, the community has developed to how it stands today – currently housing approximately 50 people, from small children to adults in their late 40s, and assorted pets.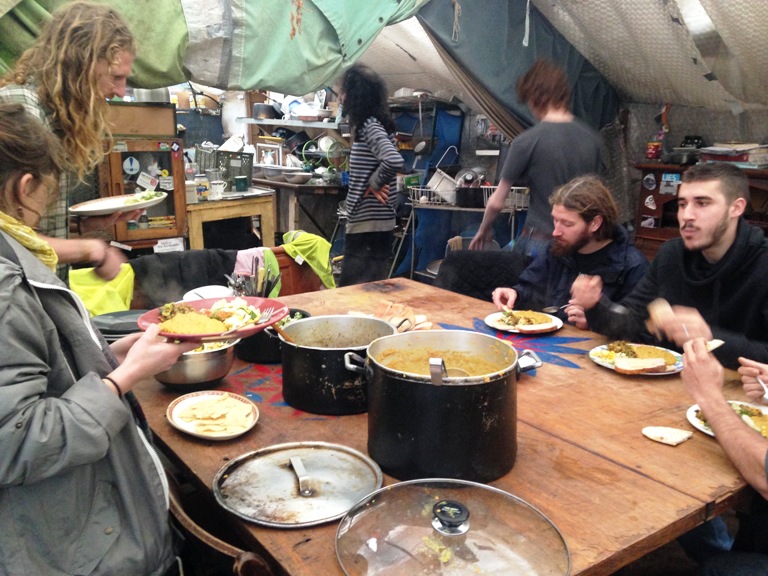 Among their supporters, Rose cites shadow chancellor John McDonnell, MP for Hayes and Harlington, for his help in the project's growth.
"He's been fantastic. He's a good man to have on our side and has been incredibly supportive," she says.
The council even supplied trucks to help remove more than 30 tons of rubbish from the previous dump site used by fly-tippers.
Technically though, bailiffs can kick them off the site – earmarked to be part of Heathrow's third runway – at any time and the group are engaged in an on-going legal battle in order to stay.
"It's kind of scary," Rose said. "But the residents have been really helpful, and we hope that won't happen any time soon."
All the residents here are activists, especially concerning the potential third runway at Heathrow, which is due to drive up noise pollution, air pollution, and knock down homes in the area.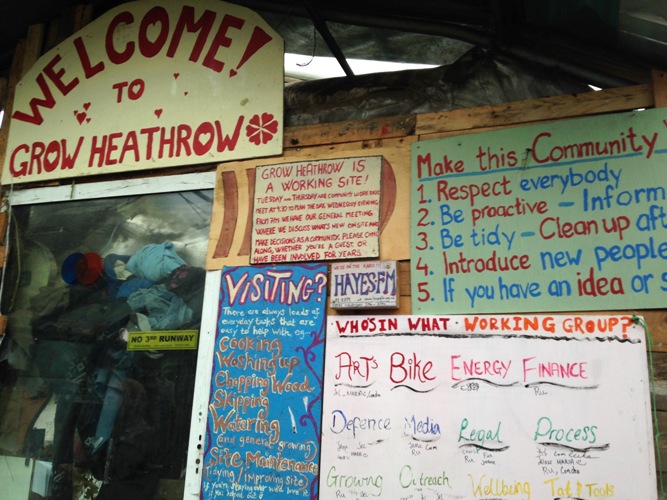 Less than 100 metres from their front door is Harmondsworth Village, half of which is due to be demolished should the runway go ahead.
The morning meeting sets out jobs for the day and despite leaving woodwork class in school with all my fingers intact I'm not confident of my building ability.
More tea and fruit salad is shared while we wait for the rain to subside. The roof of the outside seating space is beginning to leak.
The Layout of the Land
The centre of the camp comprises of three greenhouses. The first is the living area and kitchen and the second a storage space, currently stocked with hay bales for building houses and insulation.
The third is a workshop. Parts of bikes are strung along the walls, while someone else is currently working on a door for the wood area of their house.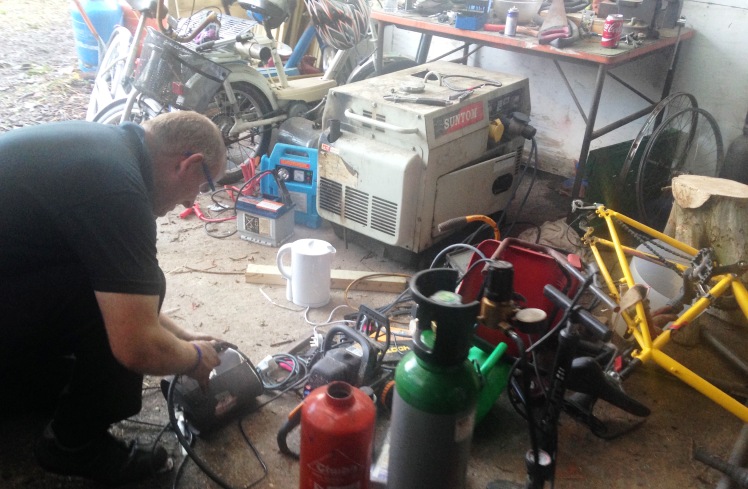 There are separate living quarters, including four tree houses, a number of tents, and houses made from wood.
Strawbale House is the most striking – a solid building with foundations of wooden pallets and tires, walls made of hemp and clay and a glass bottle and can roof.
Inside is where the community meditate and mediate any issues in the campsite. It's a sacred space to everyone, especially those on the camp site who suffer from mental health issues.
Outside is a clay oven and more sofas, next to a recreation room with a pool table, piano, bar and stage for open-mic nights.
Hunter/Gatherers
I'd heard about Grow Heathrow, a mythical commune in the grounds outside Sipson village, populated with bin-diving hippies.
As it happens, they do source food by 'skipping' local supermarkets, which tops up donations and what they can grow.
However, it makes me laugh when David* Googles the route to the nearest high-end supermarket.
"I might as well go for the good stuff if I'm driving. It really is much nicer stuff than other supermarket chains," he explains.
Long-term resident Luke also recalls a time running into trouble with the same supermarket.
"They said we were stealing the food, even though it was being thrown away," he said.
"They compromised and said they didn't want us taking anything with their brand on it, because if we got ill from it or they were seen to be giving food away then it would damage their brand's image. How crazy is that?"
While they maintain a good relationship with whole food traders and local supermarkets who donate food, other supermarkets lock their bins and threaten so-called 'freegans' with legal action.
"We've never got in any serious trouble," says David.  "I've only ever been given a stern telling off."
The Circle Of Life
The ethos of the community is the 'Circle of Life' – I hear the Disney song sung on more than one occasion during my visit.
This is most obvious when I'm shown the toilets, with a sit down urinal for girls, and a stall lovingly nicknamed 'Pootopia'. Everything returns to the land.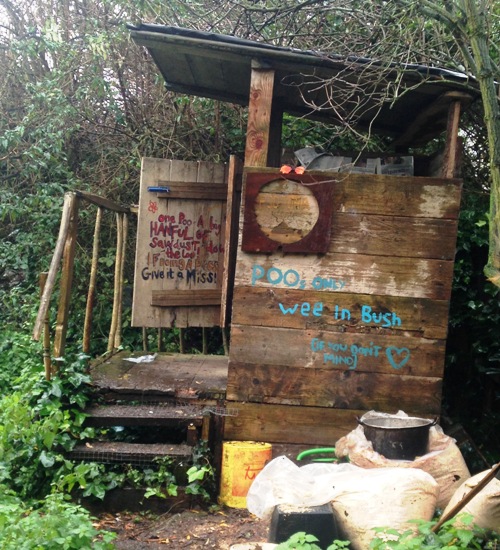 The group use urine to create fertilizer biochar, while sawdust is added to the faeces to create compost.
A more graphic example is the discussion between two residents of what to do with the rat one of them has trapped after days of it annoying him.
The other suggests they hang it over the chicken coop, with the idea flies will get to it, create maggots, which will eventually drop into the coop and feed the chickens.
"It's just rat corpses, who could be offended?" they jest.
Getting My Hands Dirty
Ultimately the bad weather forces the group to cancel the solar panel workshop and the insulation which can only be done in a dry climate to prevent it rotting.
But for a few hours on Saturday, the eco-shower build goes ahead and I'm left cautiously wielding power tools.
There's a girl who looks 16 working above me with a jig saw and I pray she's more adept at these skills than I am.

But when volunteers start drilling in panels, the potential of what it is to become takes shape remarkably quickly.
But I can't help but feel sad that a place like this that people have put so much time and work into can be torn down at any given moment.
Living Off-Grid
Grow Heathrow is really a tiny, hidden, and completely functional village.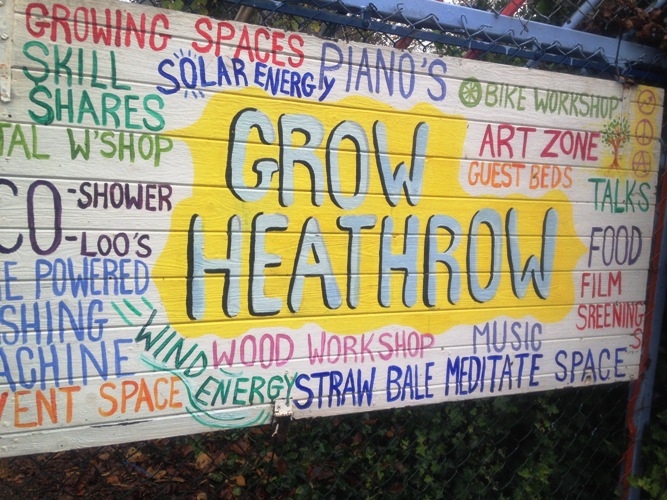 Rose states that while they don't have a hierarchy, people's strengths get put to use in different ways.
Most people who live on the site have part-time jobs to still maintain an income.
The group pays water bills but apart from that they are off-grid, solar panels provide on-site energy and homemade wind turbines generate enough for light and electricity.
They have a bike-powered washing machine and a shower where the water tank is heated by sunlight or fire, which again cuts the need for electricity.
The eco-shower build will add more showers and a drying room.
Energy is stored in batteries for less sunny and windy days, but if there isn't enough, they 'go old school', according to Claire.
"We bust out candles," she said. "I kind of prefer it, I think it makes the place look nicer."
What strikes me most is how easy they've made it look. As someone used to home comforts, I didn't miss much –they even had the internet. It was warm, cosy and surprisingly homely.
At several points I ask what the catch was to living there, the main complaint was that not everyone pulled their weight.
However the proactive attitude of other members and visitors to the campsite, so frequent they have a guest cabin, balanced everything out.
In the evenings the main greenhouse is lit with chandeliers of fairy lights attached to bike wheels and pallets that hang above the tables.
The area is filled with music and inspiring conversations on what people plan to do next and how they can save the world one bit at a time.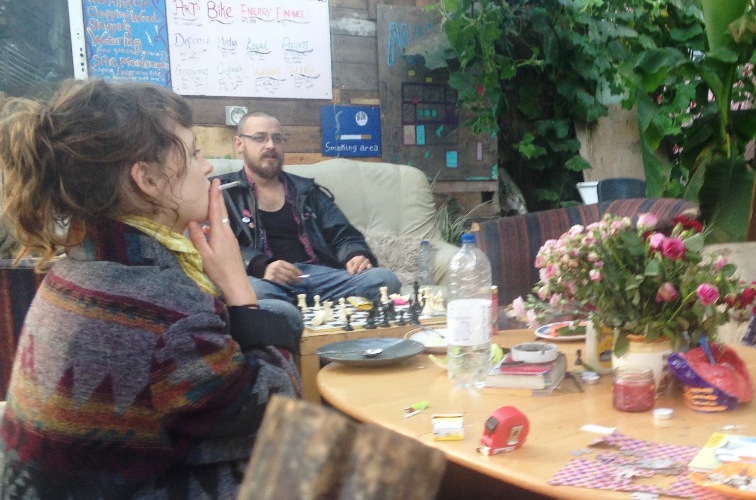 No one is here permanently and everybody is aware of that but it's a home for people when they need it.
At home I make dinner using an electric oven before washing in an electric power-shower but as I lie in bed watching TV, with the radiator on, it all felt a little wasteful.
You can find out more, and take part in Grow Heathrow's work by getting in contact with them at www.transitionheathrow.com
*Some names have been changed.