Do you think you know your ravioli from your riccioli, or does the thought of making a classic Italian pasta get you all in a tangletelli?
A Battersea cookery school has the answer for amateur chefs feeling appreh-penne-sive about whipping up a batch of freshly-made fusilli.
Mosiman's cookery school has newly reopened and launched a series of pasta making master-classes with top Milanese chef Stefano Dell'Aringa.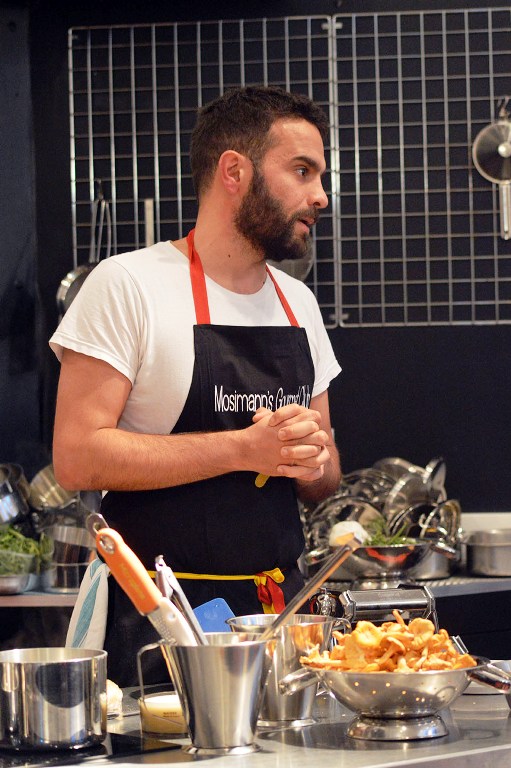 MASTER CHEF: Stefano Dell'Aringa led the class
SWL went along to Mosiman Academy, a converted Victorian schoolhouse tucked away in a quiet little corner of Battersea, to check out the conchiglie.
Upon crossing the threshold we were greeted with a glass of champagne, always a warm welcome, and despite its size and location, the kitchen is friendly and warm thanks to the well thought out design.
The champagne went down well and after a brief chat comparing favourite dishes with some of the other would-be pasta masters we were gathered together by Miranda Godfrey.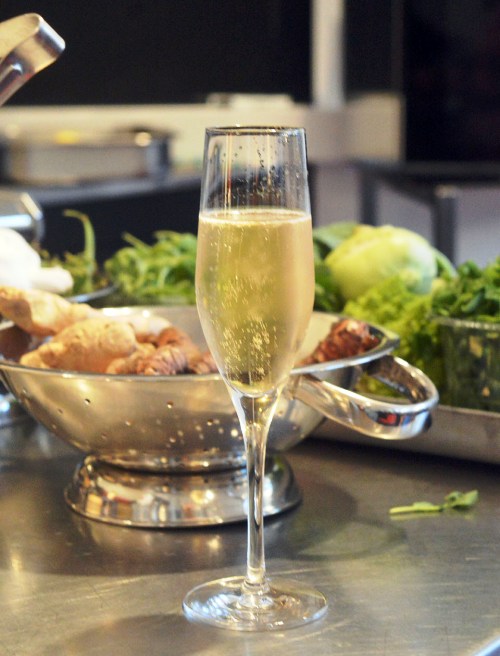 CHEERS! A glass of bubbly broke the ice
Miranda is a professional chef who, as well as running her own cookery school, has been organizing these courses for four years.
She introduced us to Stefano Dell'Aringa, who owns and runs the Italian Supper Club which hosts monthly dinners bringing the passion of south European dining to Londoners.
Stefano says he likes to use English ingredients and cook them with an Italian twist, he also boasted he has been eating pasta for 36 years so is something of an expert.
The first dish we were to prepare was tallarine, a noodle-like pasta, with pecorino cheese, nutty Scottish girolle mushrooms and traditional English herb lovage.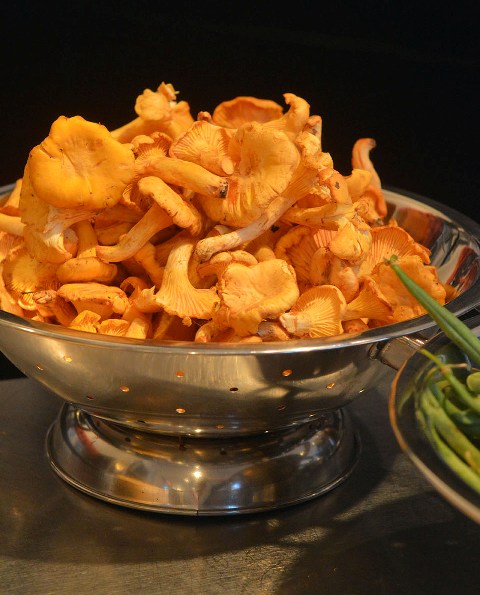 FINE DINING: Tempting piles of fresh ingredients
The second dish we were going to tackle was tortellini stuffed with mozzarella and anchovies, as well as a fresh fruit juice of celery, apple, cucumber and lovage.
Stefano explained the pasta-making process without pretention, carefully outlining the process with a close attention to the detail involved.
"I could tell you a story about my grandmother, but everyone says that and it's boring." Stefano joked as he folded tortellini.
We were paired up with another tortellini trainee and given balls of dough and pasta making machines to prove that Jamie Oliver has competition on his hands.
We were paired up with another tortellini trainee and given ingredients and pasta making machines to prove that Jamie Oliver has competition on his hands.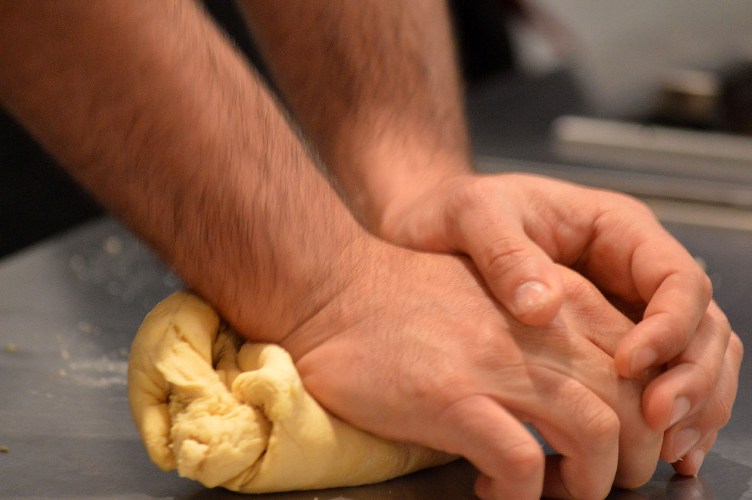 PUT YOUR BACK INTO IT: Reporter Robbie worked up a sweat over his dough
After an explanation of how to make the simple dough using eggs and flour, we set to work, kneading the dough in the bowls, and were advised that a bit of sweat would help!
Once we had the dough into a ball we had to fold and refold it until it was a very firm, the opposite of short-crust pastry, apparently.
The sweat was good advice as we had to really put our backs into working the dough, and having a partner to share this task with was a great help, if a strange way to get to know someone.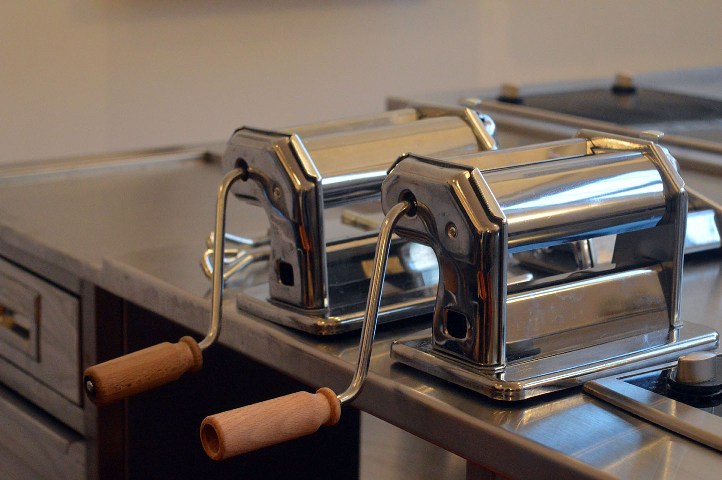 MAGIC MANGLES: Sinister looking machines made sublime pasta
Putting our hand-flattened pasta through the pasta making machine, which is best described as a mini mangle, was great fun and pretty easy.
After squeezing the dough into long sheets another attachment is added and this time the mangle divides the sheets into the thin strips of pasta we were going to cook.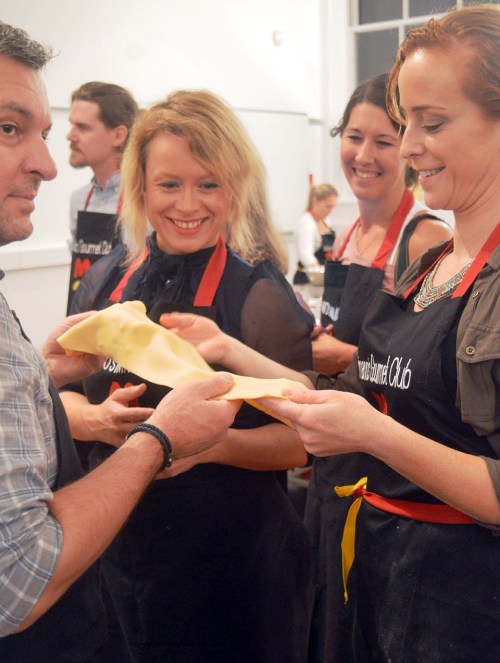 THEY SEE ME ROLLIN': Stefano shows off his skills
Separately we took the another couple of sheets and cut out circles as you would do with shortcrust pastry and put a little dollop of a mozzarella and sardines mix in the centre of each circle.
This was my favourite part as we then took these circles and folded and pinched them into lovely little tortellinis to later be cooked in a chicken stock.
The tortellini was cooked very briefly in the stock and served just like that, almost like a soup, and was delicious.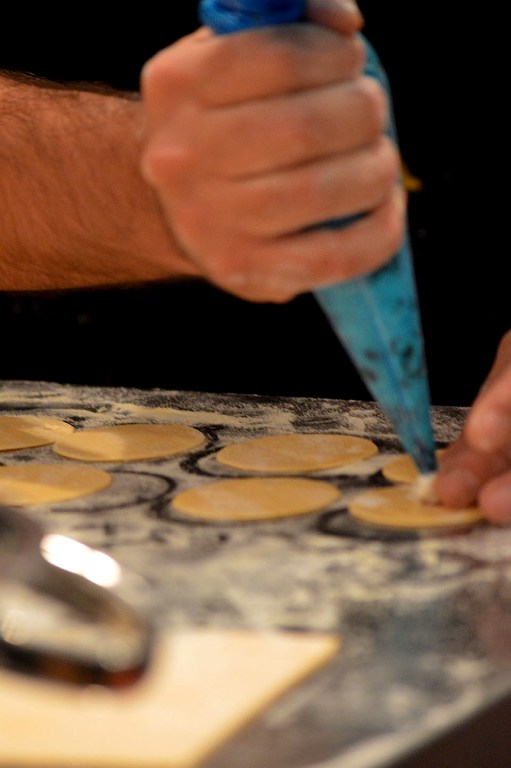 PIPED TO PERFECTION: Delicate tortellinis were a hit
Our attempts to make the tallarine were less successful as we ended up putting in too much garlic. However the actual pasta was very well cooked.
Despite our over zealousness with the garlic we all agreed that we'd like to be doing this at home, because the pasta was delicious and because we want to show off our new skills.
Needless to say, after an hour and a half none of us were thinking of opening up our own restaurant, but thanks to Stefano and Miranda's careful guidance we had made some pasta to be proud of.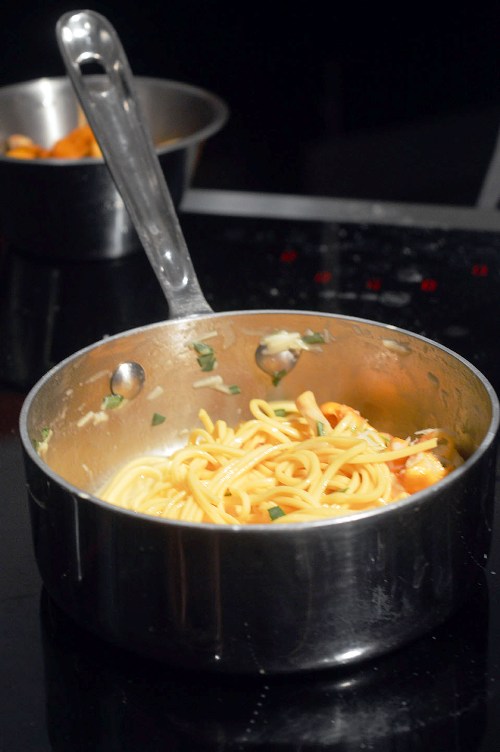 BUON APPETITO! Hungry chefs enjoy the fruits of their labour
There are a range of different classes available during evenings and weekends and even a school-run friendly ladies lunch club in the pipeline.
If you would like to try your hand, all details can be found by clicking here at Mosiman Academy