Battersea beer drinkers can rejoice as Wandsworth Common Beer Festival is back this Halloween offering barrel-fuls of boozy treats.
The festival at La Gothique restaurant and bar is hidden within the gothic grandeur of grade-II listed The Royal Victoria Patriotic Building.
The restaurant's owner and beer aficionado Mark Justin launched the event eight years ago and now hosts it every February, July and October.
More than 100 of the best new and seasonal beers, ales and ciders from across the country have been sourced for the festival with John Crampton and Cafe Racers providing live music.
Festival and restaurant manager Elliot Baker explained that this time of year is perfect for sampling a wide range of beers.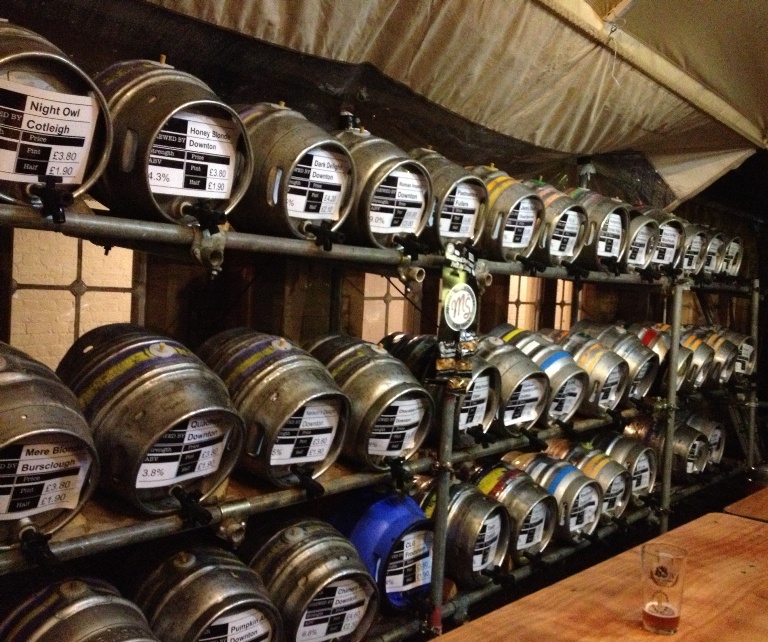 He said: "The reason we choose the Halloween one specifically is because it's the perfect temperature to have the beer.
"We've got all seven from Sarah Hughes this year and they've never been out of where they come from [Black Country] so it's a first for everybody."
The stormy walk up towards The Royal Victoria Patriotic Building's dramatic facade for Wednesday's sell out preview night was distinctly horror-movie like.
Eerily quiet with a cemetery close by, the Gothic masterpiece with a chequered past sunk silently into Wandsworth Common's shadows.
Thankfully the beer festival hidden within was a warm and homely haven with pint glasses and beer lists handed out upon arrival.
The white event marquee stood in the restaurant's fairy light-lit garden with a bar running along one side and high tables to nurse pints on.
The glinting rows of beer and cider kegs were handled by friendly, knowledgeable servers and labelled with signs detailing their vitals (name, brewer, alcohol percentage and price).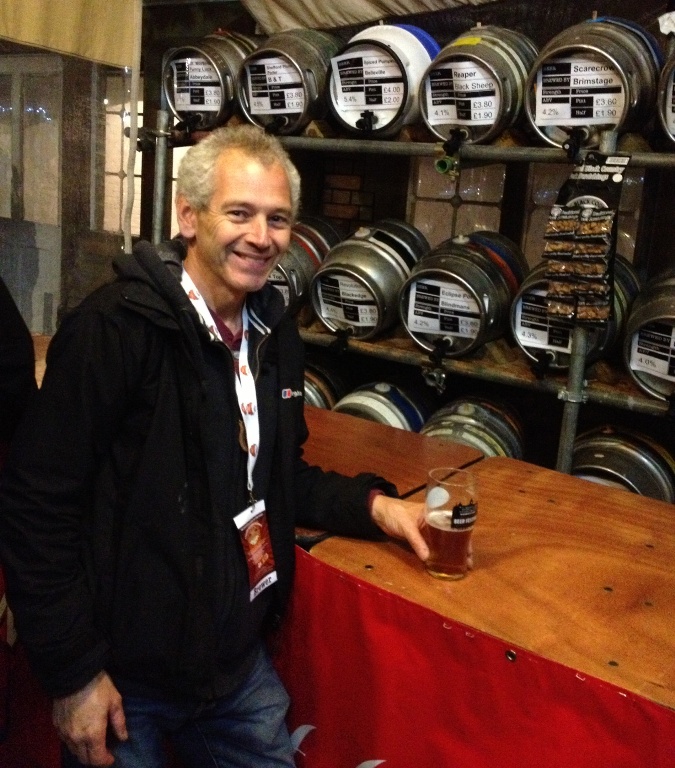 Suzie was one of just a handful of woman there and came all the way from Gravestead with her brother.
"We've been to quite a few beer festivals and we've enjoyed this one," she said. "It's a nice atmosphere, it's fun, it's friendly and you get to try loads of new beers."
The only hint of Halloween was the rare pumpkin beer on offer, an American idea realised using British ingredients.
Belleville Brewing Co is a new microbrewery run by a group of Wandsworth dads whose children attended a nearby school.
They debuted their spiced pumpkin beer Trick or Treat at last year's Halloween festival and is now a bestseller.
Brewer-director Adrian Thomas revealed how they make this special brew.
He said: "We take 10 pumpkins and we roast them hard so they're quite caramelised and we squish up all the flesh.
"Then the flesh goes into the mash with the rest of the grain. Then in the copper we put a spice mix of cinnamon, all spice, nutmeg and ginger.
"There's four or five us, mostly in London, who are brewing what I call proper pumpkin beer."
Arrived from up north for @WandsworthBeer #beer #halloween #wandsworth pic.twitter.com/b8euFkTlNr

— Nathan Appleyard (@naddz_Xllll) October 30, 2014
It's worth coming down to the festival to try 'Trick or Treat' alone as Belleville Brewing Co will only deliver to Wandsworth and very few of its surrounding areas.
The laughter and chatter lasted right up until closing so never fear, there's no beer festival nightmare here only an unexpected spooky delight.
Wandsworth Common Halloween Beer Festival is open until November 1.
Tickets are £5, (£4 before 5pm), and can be bought online and at the door.
You can find more information here.