With Depeche Mode's Just Can't Get Enough blasting from the restaurant's speaker system, we just couldn't get enough of new seafooder Roe at Pop Brixton.
Brixton is noisy. Buses crammed with commuters rearing to get on roar past and market traders have competitions on who can shout the loudest to lobby for your attention.
But nowhere in the south west London neighbourhood is as loud as Roe.
And that's because everyone in this seafood restaurant in Pop Brixton is talking to one another.
They chat across the tables, they shift from seat to seat, and couples clink their glasses. But why?
Rows upon rows of aged wines, Yōkai beers, and glasses look down on the intimate 32-seat space, with the narrow seating designed to encourage diners to chat to one another; a sin in most of London but the law of the land here.
As Irish chef Simon Whiteside hands you your menu, he looms over you with a soft smile. Talking us through the stripped-back and ever-changing menu that he designed, he asks: "Are you both okay to share?"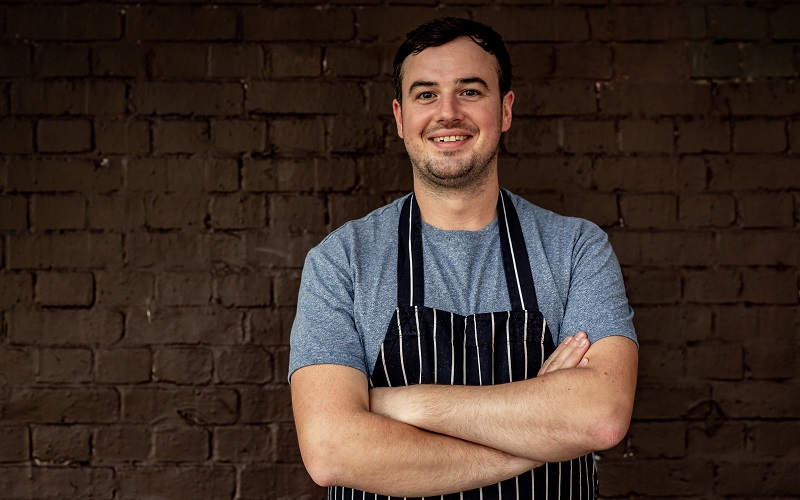 ALWAYS SMILING: Chef Simon Whiteside can be seen in the kitchen throughout your meal. Photo credit: Justin DeSouza
Me and my friend gleefully agree. After co-founding the much-praised Hook in Camden, Simon's latest and first solo venture is one where ordering as much off the menu as you can is the only way.
Roe opened earlier this month, and Simon serves up a seafood menu with a whimsical Irish twang to it in the shipping container-turned eatery.
One highlight being the small plate, ink and Guinness soda bread with seaweed butter.
Joined by mackerel pâté and whipped smoked cod roe, I overheard one punter shout: "It's even better than rye bread and hummus!"
If that's not a glowing review, I don't know what is.
Larger plates set you around £14-16 and one is confit sea trout with sea greens (£15).
The trout stands in a pool of creamy oyster and sorrel emulsion, but what made the dish more flavourful is knowing that all its ingredients were sourced sustainably from both the British and Irish coasts.
Bulkhead lights make Simon and his team visible in the back kitchen and his booming laugh can often be heard mid-mouthful of the deliciously salty monkfish carpaccio with cauliflower purée and pickled shitake.
In this tiny open kitchen, with just one other chef, Simon makes everything on the small menu, from the array of fried fish dishes to the chocolate soil sprinkled stout cake with, of course, Bailey's cream.
He works the counter, too, often delivering the dishes himself to the colourful customers the store attracts. It's Pop Brixton, the area's hip quarter, after all.
Simon, 34, is a Balham boy himself, having moved there with his family from his hometown Dún Laoghaire, County Dublin, Ireland.
Growing up in the coastal community, whose tourist website describes itself as an "attractive place that embraces creativity and entrepreneurial flair," Simon went onto work with the best chefs in the industry for the next 17 years, including the legendary Raymond Blanc.
Having taken a previous venture, Bia Mara, to Belgium, Roe seems decidedly low-key and homey. But Roe brings Simon the freedom from investors he needed to thrive.
Speaking after our meal, Simon, still grinning, said: "The reception for Roe has been fantastic.
"There's been loads of ups and downs as we were unsure of how the communal tables would go down.
"But it's going well and becoming more family-friendly in style as people are interacting more and more, it's fantastic."
And if there's one person that can get silent Londoners to talk to one another, it's Simon.
Feature image credit: Justin DeSouza