Forget the Champagne region or the Loire valley, the wine world has a fresh new contender from Tooting as London grape-growers pooled their harvests to make a vintage vino last weekend.
More than 50 green-fingered gardeners arrived carrying buckets and large bags crammed with grapes to be turned into bottles of Chateau Tooting by The Urban Wine Company.
The company's founders, neighbours Richard Sharp and Paul Miles, are excited by their wine's growing popularity and with this year's harvest potential.
Richard said: "It's been great – one member brought enough grapes to produce 50 bottles!"
A little more than a ton of grapes were collected which could produce almost 1,000 bottles of wine which will be shared out between members as well as be for sale.
Richard and Paul started their company in 2009 when relaxing with a tipple from halfway around the world they realised they were in 'an urban garden of Eden' and wondered if they could make wine from London grapes.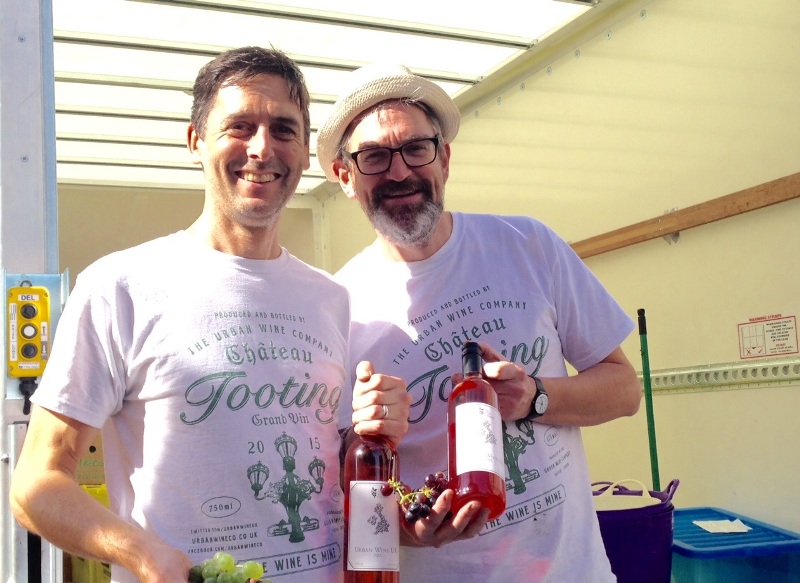 DRINKING BUDDIES: Richard and Paul show off their 'surprisingly drinkable' produce
"One of the things we have had significant success on this year is we have managed to get our wine into some restaurants," said Richard.
"For us that's really gratifying because we have got our wine positioned with an eclectic blend of brands."
Chateau Tooting is currently on the menu at Lamberts restaurant in Balham and Tota in Tooting as well as 20 other retailers across the UK.
Richard said that so many fruits are donated that even members with small harvests earn a bottle as there are usually more than enough grapes.
The number of grapes required to produce a bottle of wine is roughly 2kg – approximately the amount that would fill a wash basin.
"It was an impossible project when The Urban Wine Company first started," Richard added.
"The fact that it works, that members turn up and have something they enjoy, and a group of London gardeners can make a wine – and it's a great wine – is success for me."
Sheila Sharp, Richard's wife and volunteer at The Urban Wine Company, said: "Last year we had the harvest a bit late but this year we are perfectly in timing with French harvest which is in September."
Sheila said that the company has only produced rosé for the last three years but this year they plan to divide the grapes up to produce white, red and a sparkling blush.
She added: "We have had people travel in from Windsor, Oxfordshire and someone has just come from Forest Gate, so it's no longer just Chateau Tooting, it's all over Greater London."
Grape-grower Alex Kerr, 29, from Fulham said: "The experience has been really good.
"I woke up early and looked outside. It was a beautiful day so I started harvesting all the crop, bundled it into the car and have come down here – it's been a lot of fun!"
The grapes will be turned into wine at Halfpenny Green Vineyards' winery in Staffordshire and be bottled ready to drink in March 2017.
For information on becoming a member visit: www.urbanwineco.co.uk