The newest restaurant by the team behind the Social Pantry launched with an inviting summer garden party in Ealing.
Soane's Kitchen is located in the walled Pitzhanger Manor garden in Walpole Park which provided the perfect setting for an intimate 'escape the city' themed event.
Like the other restaurants by chef and entrepreneur Alex Head, the ethos of the restaurant is on making light and natural dishes, growing its own food and using locally sourced ingredients.
"For me, as a business owner, my aim is to be as sustainable as possible whilst ensuring that every meal we deliver is as delicious as the last," said Head.
Leaning into the natural theme, the event was complemented by impressive stalls displaying cheeses, charcuteries and beautiful desserts and petal-based makeup and nail art.
The kitchen's offering came in the offer of small plates, bursting with flavours and delivering a creative twist on simple dishes.
You would think that pork crackling is a difficult item to update for the discerning palette, but it turns out an apple and thyme dip manages to do just that.
Other standouts were a roast cauliflower with a tahini dressing it was impossible to have too much of and the deliciously indulgent ham hock croquettes with a pea puree.
Dips heavily dominated the menu, from the truly sensational like a beetroot and hummus dip with just the right amount of garlic, to the slightly questionable whipped marmite confection (where the dominant flavour sadly was still marmite).
The drinks on offer were equally impressive with a cocktail station featuring bartenders tirelessly assembling four different cocktails, complete with flourishes like flower petals and glitter frosting on the glasses.
The Summer Garden Punch was a particular standout, made with Ketel Vodka, Long Jing Dragon Well green tea, Läckö Slottsaquavit and other similarly difficult to pronounce ingredients, with the end result being a refreshing drink with a pleasant hint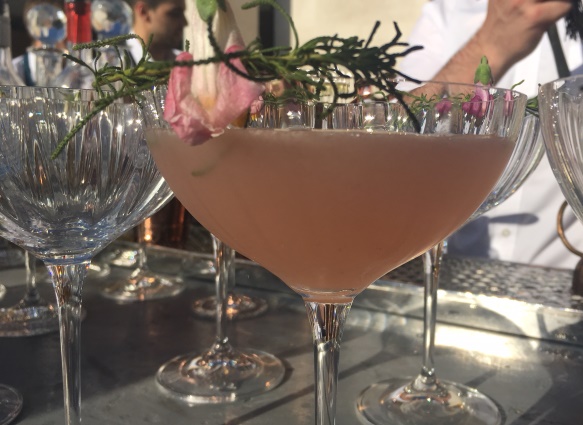 CHEERS: Classy cocktails are an impressive addition to the dining experience 
The entertainment was provided by a gospel choir who delivered a somewhat baffling but nevertheless entertaining repertoire of nostalgic 90s pop and R'n'B hits.
The seventh site of Head's franchise in total and third one opening this year, there are plenty of plans ahead for Soane's Kitchen, including community gardens, a guest chef series and bottomless brunches.
In her speech, Head stressed one of her favourite aspects of her business is the decision to employ former offenders among her staff.
"Let's just say, no one ever went to prison for being boring," she joked.
Where: Soane's Kitchen, Pitzhanger Manor, Walpole Park, Ealing, W5 5EQ
Opening times: Monday-Saturday 8am-10pm
                            Sunday- Brunch only 11am-4pm