It is said that punk came into existence because of the excesses of glam rock. The extravagance of artists like T. Rex sparked a rougher, back to basics approach to rock that found form in the likes of Sex Pistols and the The Clash. Simple didn't have to be boring.
It's ironic then that the the best thing about the Glam Rock Afternoon Tea at K West Hotel & Spa is the tea and scones. Excess and novelty are present, and they will no doubt please the more indulgent among us, but they're not where the experience shines.
K West sits on the site of the old BBC Kensington Studios. Photos of the likes of David Bowie and Bob Marley hang on the walls of its Studio Bar & Kitchen, where afternoon tea is served 2pm to 5pm each day. For £28.50 per person the package includes a selection of nine teas – fronted by a custom Tea Rex concoction – and three courses of afternoon nibbles.
As a nod to the hotel's musical heritage, each portion is served on a suitcase turntable. (Despite my best efforts, I'm afraid the turntable didn't spin.) The teacups and saucers are mismatched psychedelic fare, and vinyl records that have seen better days are used as placemats. Mine was Street Life: 20 Great Hits by Bryan Ferry and Roxy Music.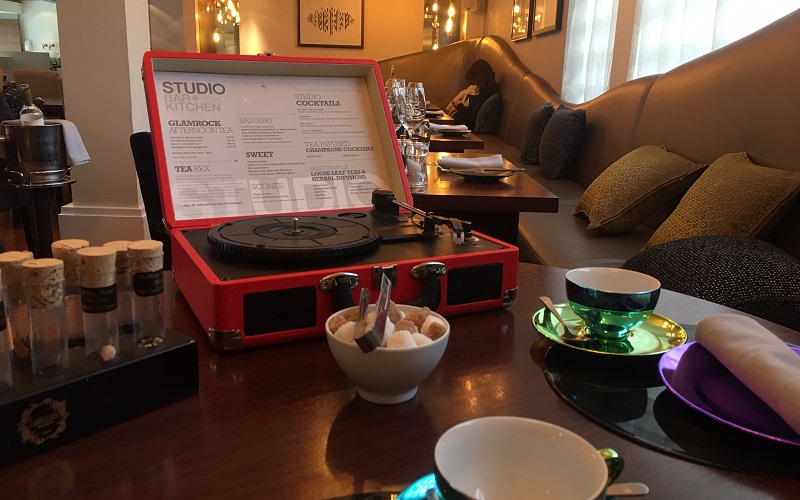 INDULGENT: The set-up is colourful and novel.
It's a colourful setup, and the food matches. The finger sandwiches, which make up the bulk of the savoury course, are made with pink, white, and brown bread filled with elaborate mixtures of fruit, cheese, and fish. An eclectic serving of sweet treats comes next, followed by scones.
The courses are a hodgepodge of pleasant sounding, often pleasant tasting treats. The sandwiches are good, the crab and avocado nibbles that accompany them are better. The Red Velvet Bomb is luxuriant with a beautiful strawberry splash, while the Prosecco jelly seems like a waste of perfectly good Prosecco.
The highlight of the nibbles is undoubtedly the scones, which are hot and crumbly, freshly made in the kitchen, coated with lemon and rosemary glazes, and served with generous portions of jam and cream. It's hard to argue with good tea and fresh scones, however un-rock and roll that may sound.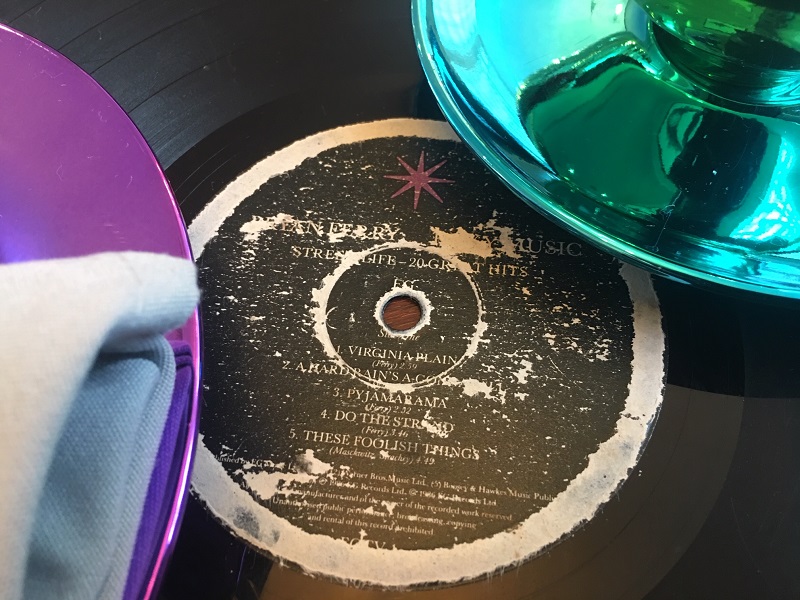 IN A SPIN: Vinyl and a turntable are used as table furnishings for the afternoon tea.
Indeed, to get the most out of the Glam Rock Afternoon Tea, don't lose sight of why you're there: tea. Although Tea Rex is the 'default' option and a pleasant novelty, there are eight other types to choose from, all of which are made by K West's supplier, Camellia's Tea House.
Customers can have as much teas as they like, so take advantage. It was only once I started trying teas that I started to enjoy myself, despite the shortage of puns. (Surely a Chamomiles Davis option isn't too much to ask?) The peppermint was rich and warming, while the fresh lemon tea was a no-frills treat. My only regret was not trying more.
Glam Rock Afternoon Tea for two would cost £57. Options involving cocktails or glasses of champagne edge the combined cost above £80. It's a good experience, just be wary of the cost. If you're keen on tea, I suggest finding a fellow fan, sticking to the basic option, and drinking tea until you both start seeing hallucinations of Marc Bolan.