What did you have for lunch today? A sad sandwich, insipid soup or some lacklustre leftovers?
As South West London is leading the raw food revolution we decided to sample Bonapeti, a company offering plant-based meals delivered to your door for a more nutritious nosh.
Here at SW Londoner we're divided into dedicated meat-eaters, adventurous omnivores and a would-be vegan with a commitment problem (cheese) so we've a broad palate to test what Bonapeti promised to be restaurant-quality meals.
A three-course meal, including a side dish, was duly delivered to our door and three intrepid writers weak with hunger tore open the box for a late lunch on a very busy afternoon.
With a menu devised by chefs trained by Yotam Ottolenghi, we had high hopes for a mouth-watering meal.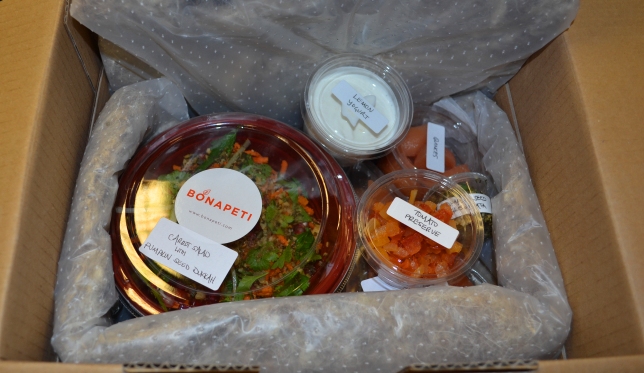 BOX OF DELIGHTS: The food was smartly presented in hand-labeled tubs
First up was baked kohlrabi with a spiced tomato preserve and pumpkin seed gremolata served with kale, roasted onions and mustard seeds, a combination that stoutly proclaimed its robustly healthly credentials.
Kohlrabi is one of the lesser-known root vegetables, it's part of the cabbage family but is obstinately squat like a turnip, with a similar taste.
This layered bake, with potato and butternut squash was earthy and although the tomato stock was supposedly roasted, the overall flavour was watery and weak.
It was much improved by a sprinkling of the salty, citrusy gremolata, a pumpkin seed saviour for this puritanical dish.

BAKED TO PERFECTION? The main course received mixed reviews
While the vegetarian was tucking in happily, the meat-eaters were suspiciously poking the microwaved kale and wincing, we moved onto the carrot salad with pumpkin seed dukkah.
As both the dressing and the dukkah (another seed sprinkle) was left out of our order we made do with shredded carrot, red onion, pomegranate and fresh coriander.
It was a hit, fresh, crunchy and nicely seasoned even without the missing topping, this dish had us duelling with forks to spear the last shreds of carrot. At £4.95 it was generously portioned for a side dish and would make a filling lunch on its own.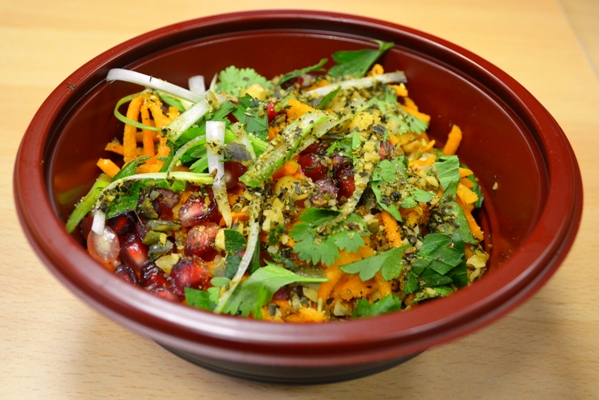 WHAT'S UP DOC! The carrot salad was a unanimous hit
Something had obviously gone awry with our order as the third dish we dipped into, the squash noodles with sesame miso dressing and a shiso, fennel carrot and seaweed salad, was also missing a promised ginger dressing.
This was the only truly raw option and was reminiscent of a fresh Thai salad with noodles and shredded vegetables including mooli, seaweed, peppers and choy.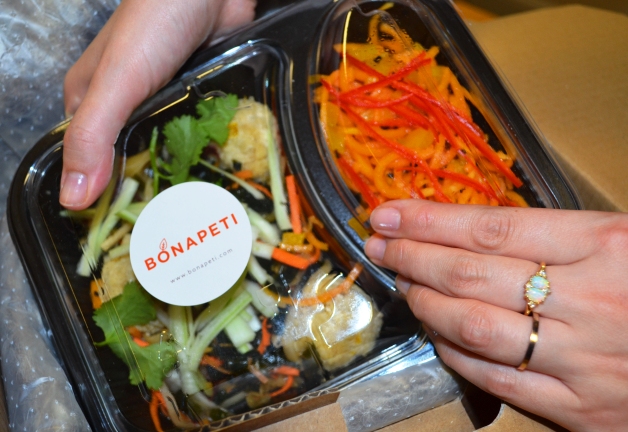 This dish came with a cold smoked cashew cream that divided opinion, declared 'fishy' by some repulsed diners and greedily gobbled up by others.
The 'fishy' tang came from the seaweed and miso but anyone with a fondness for Japanese food would be familiar with the umani taste, that strong savoury flavour that makes everything from miso to marmite so moreish.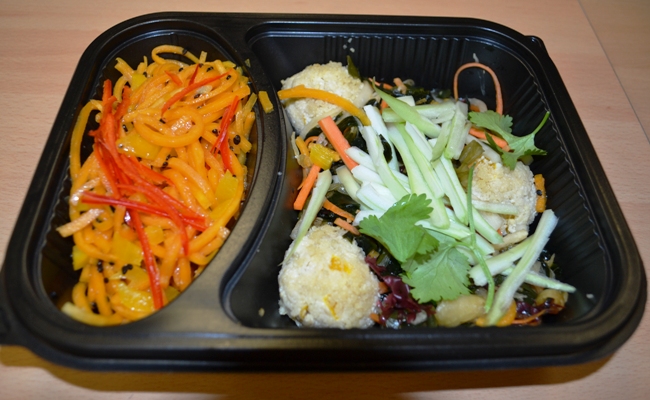 COLD COMFORT: Asian fusion food suits the 'raw and pure' movement
This was definitely one for the hardcore health foodies, cold raw vegetables take some getting used to, they're fresher, crunchier, surprisingly filling and have the added bonus of making you feel much more smug.
The dessert, at £3, was the only course to contain wheat, dairy and eggs, whereas the other courses had been both celiac and vegan-friendly.
A strange choice considering it's really easy to rustle up vegan cakes – one of the more satisfying aspects of going animal-free.
We had semolina and honey cake served with poached quinces and yoghurt, and who can argue with cake in any form?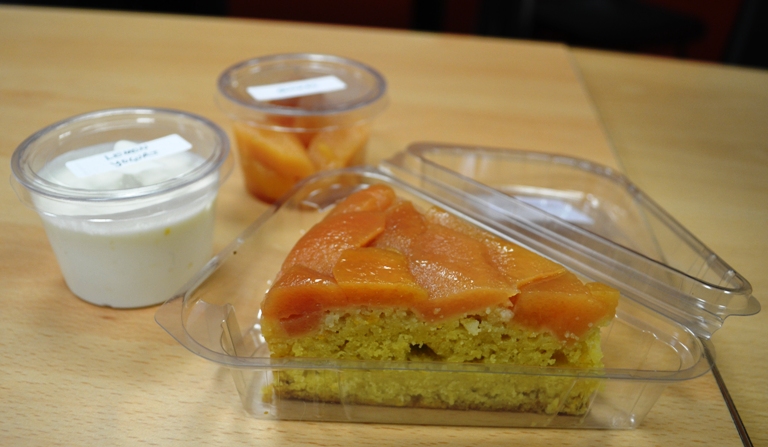 It was sticky with honey, crumbly and moist and came with an extra pot of poached quinces and a generous portion of lemon yoghurt.
Having recently had to cook a gluten, nut, dairy and meat-free meal, it was an utter pain and a delivery service like Bonapeti would be useful when entertaining people with awkward dietary habits, or raw foodie fanatics.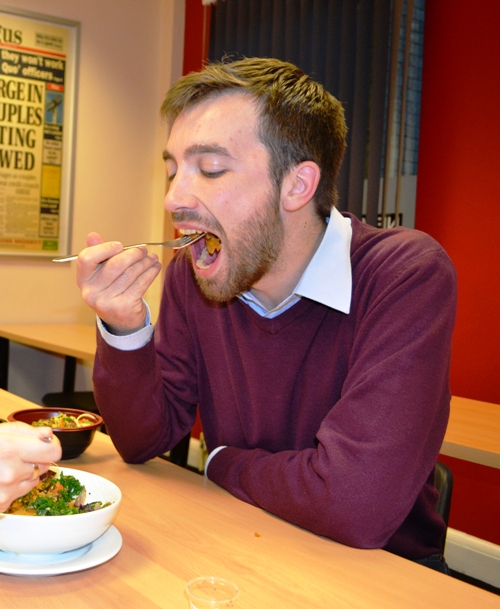 INTREPID: Sports editor Graham Moody braves meat-free food
With main courses hovering around the £10 mark, the prices aren't that different from your average takeaway, the only difference is this isn't delivered within 40minutes – the food comes within a three-hour time slot so plan ahead!
Overall it didn't convince the office omnivores but those of you who already flirt with veganism, or would happily choose kale crisps over fries, this one is the home delivery for you.